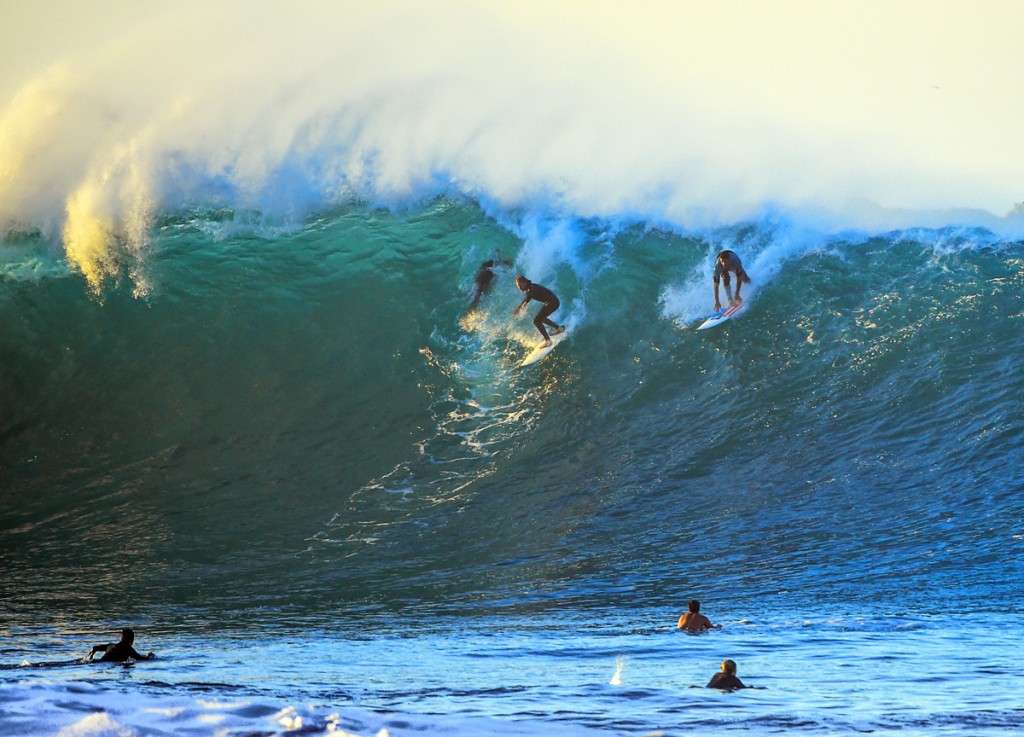 Hurricane Marie brought big waves to Newport Beach this week.
And with big waves come big crowds, in and out of the water.
More than 50,000 surfers, body boarders, swimmers and onlookers crowded the peninsula Wednesday, according to authorities.
Located off the coast of Mexico, Hurricane Marie was causing large surf and strong rip currents along the Southern California coastline this week, according to the National Weather Service.
The city prepared for the waves and crowds with more lifeguards on duty, police patrolling the Peninsula and constructing sand berms.
The swells kept the lifeguards busy with 73 rescues and about 8,000 preventative actions on Wednesday, according to city Public information Specialist Mary Locey. Additional lifeguards were also on duty, she added.
"It has been a busy day," Locey said.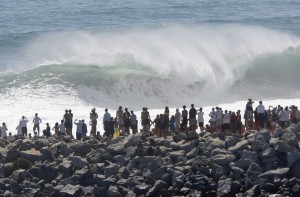 "In anticipation of the large surf and swells, sand berms were constructed by the City's Municipal Operations Department," according to a city statement.
Some waves breached the berm and caused some minor flooding in certain areas.
"In addition, some beach spectators have been hit by these waves as they come up the beach," it continued.
Wednesday's surf was "very large and dangerous," Locey said.
Lifeguards estimated, at their peak around 11 a.m. Wednesday, the surf was at 10 feet with sets up to 20 feet. They stayed in the 10 to 15 foot range until Wednesday evening.
The rip currents were also very strong, Locey added.
"Only highly experienced swimmers should enter the water during this type of surf condition," said Chief Lifeguard Rob Williams. "The ocean can be highly volatile and swimmers must know their personal limitations. That surf is powerful and causes strong rip currents that pull along the shoreline and out to sea."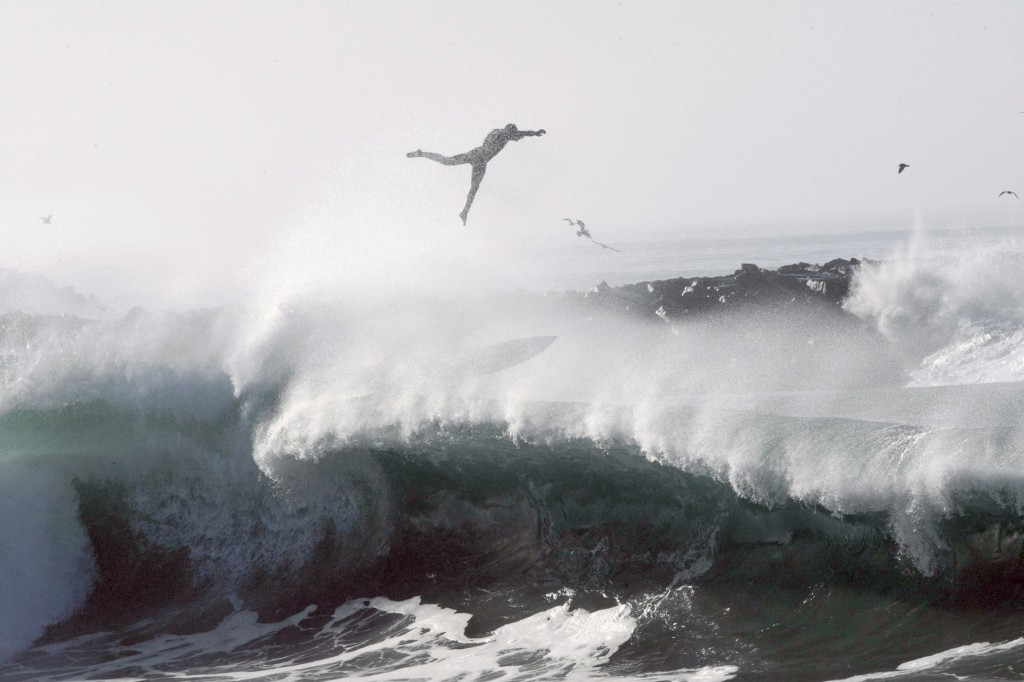 Any swimmer caught in a rip current should stay calm and swim parallel to the shore until they are out of the rip current, Williams said.
Wednesday morning lifeguards only allowed experienced surfers, body boarders and body surfers to enter the water and made numerous public education announcements to deter less experienced swimmers out of the dangerous conditions.
Lifeguards took the opportunity to educate beach visitors about the hazards of the surf and ocean conditions, Locey said. They directed them to safer locations or out of the water completely, she explained
"Beach visitors are generally understanding the hazards and remaining on the sand," Locey said.
Only a few injuries have been reported.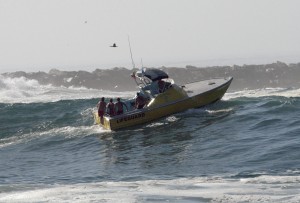 A body surfer suffered minor injuries in the water near the Wedge around 9 a.m. Wednesday, according to authorities.
He was assisted by four lifeguards to a waiting rescue boat where initial treatment was performed. He was then transported to Newport Beach paramedics inside the harbor.
About 10:30 a.m. Wednesday a stand up paddler/surfer went through the Newport Pier with the current.
"His board went on one side of the piling and he went on the other side, trapping him in a strong current where he was unable to free himself from his board/leash," a city message explains.
Lifeguards from the beach and a rescue boat helped remove his leash and bring him and his board back to shore.
There were no other serious issues other than the traffic gridlock in the Peninsula area, Locey said.
The large crowds created heavy traffic and severely limited parking on the Balboa Peninsula. It was a "virtual gridlock" near Newport and Balboa boulevards, a city message warned.
Newport Beach police officers kept a heavy presence in the area to keep traffic flowing and ensure vehicles would not block roads.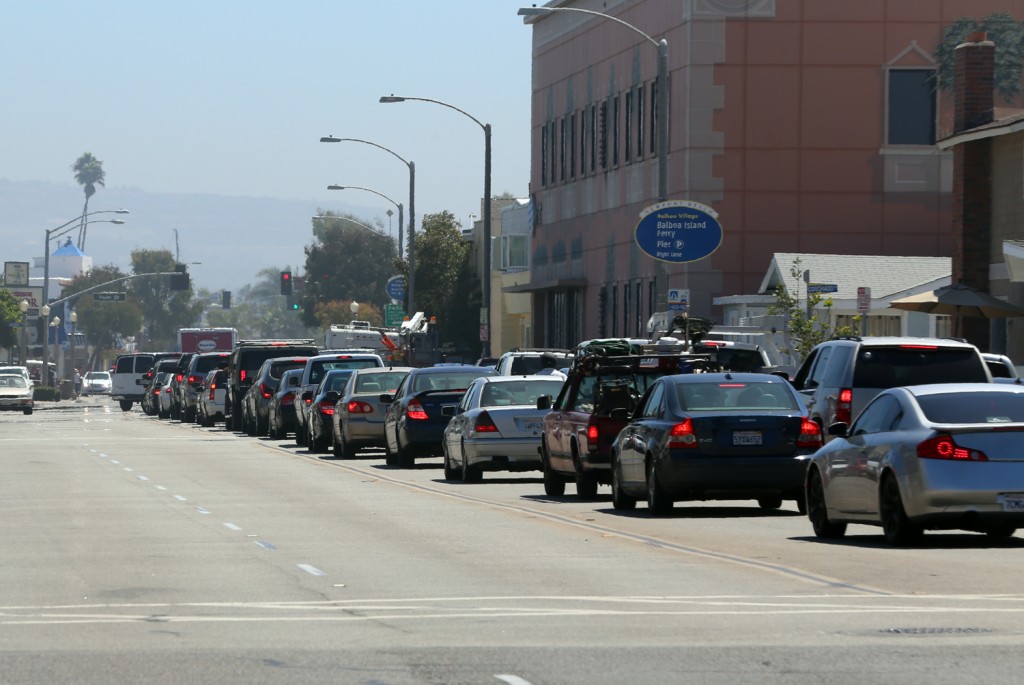 "We realize that many find the big waves fun to see, but we also want folks to have a good understanding of what to expect once they arrive here," Newport Beach  Deputy Police Chief David McGill said.
A city message encouraged visitors to use public transportation, bicycle or walk to the area.
Around noon Wednesday, city officials estimated it taking an hour to travel down the peninsula. Parking was nearly impossible and cars circled continuously.
The high surf and strong rip currents continued Thursday, despite Marie being downgraded to a Tropical Storm.
Newport Beach Lifeguards offer the following safety tips to always remember:     Check with a lifeguard before entering the water; swim near a lifeguard; never swim alone; use a floatation device; surfers and body boarders should have a leash on their boards; body boarders and body surfers should wear swim fins; parents should never leave children unattended while at the beach; don't dive head first into any unknown water; and don't dive toward the bottom into oncoming waves.