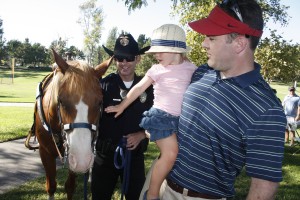 By Elizabeth Greenberg | NB Indy 
An estimated 500 Newport Beach residents turned out at Bonita Canyon Sports Park on Tuesday to celebrate the annual National Night Out event, hosted by the Newport Beach Police Department.
A smaller National Night Out event was held simultaneously at Spyglass Hill Park.
The nationwide event allows police departments around the country to strengthen and better their relationship with the public. The main focus of the event was to educate the public on crime prevention and the many services provided by the police department.
"Here, we get along with our police so well, and we don't have to interact a lot, so it's good to get to interact with the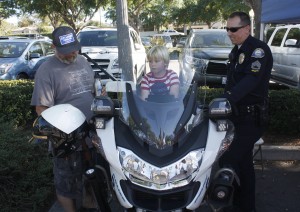 public at this event and say, this is who we are, these are the services we provide, this is how you contact us, and we are here for you," Officer Andi Querry, the event organizer, explained.
Mounted police horses, the K9 unit, bicycle patrol, motorcycle police, a SWAT tank and even a few reptiles joined police officers and volunteers as they shared information and free hamburgers with the public.
The friendly atmosphere enabled citizens to approach police officers and ask questions, as well as learn about crime prevention tactics from professionals.
Many branches of the police department came out of the shadows and presented themselves to the public. Some new and some rarely seen, all were eager to educate the public on what they do.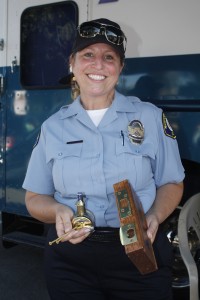 A new SWAT vehicle was a favorite at the event. The vehicle was less than a year old, and was a surprise to many Newport Beach residents. According to a SWAT officer, the team is only two years old and does not get called on often. However, they often aid other districts, and work closely with Irvine.
The Mounted Police Unit, comprised of two horses, greeted the public on Tuesday.
"The horses undergo intensive training to adapt them to urban neighborhoods, so they don't get startled," Officer Shawn Dugan said. The two horses, Levi and Itchy, are mainly utilized for crowd control, and had the most work this year on the Balboa Peninsula over the July 4 weekend.
Showing off their new bicycles, the new bike patrol had a booth and educated kids about bike safety while telling parents about their job.
"We can easily ride about 28 miles a day," Officer Brandon Rodriguez said. "I really enjoy it, it's tough, it keeps you in shape, but I enjoy it. The bikes are brand new, and really well built, and they can carry a lot of gear, plus we carry all our gear. So it's a tough job, but I love it."
The K9 unit brought a couple of police dogs out for the public to meet, while Animal Control partnered with Reptile Rescue, an organization that rehabilitates or relocates injured or out of place animals. They brought with them tortoises, snakes, legless lizards, spiders, and lizards for children and adult to pet or view. Reptile Rescue deals will all types of reptiles, but mainly with pets that were released into the wild.
Activities for children included face painting, balloon animals, and games that encouraged children to form comfortable relationships with the police force. Kids could also create sun catchers with little notes to their parents or grandparents to remind them to lock doors and windows or turn their alarm system on.
"At this event I'm really trying to get the messages out to the parents, but the best way to do that is through kids," Officer Querry admitted. "If you tell a kid to do something, like lock the car doors or roll up the windows, and their parents forget to do it later, then that kid is not going to shy away from telling their parents about it. By getting the kids involved and educating them, I can make sure to get the adults here too, and have the kids keep an eye on their parents."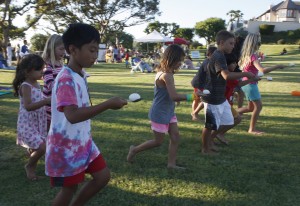 Spyglass Night Out
The residents of the Spyglass Hill community held their own National Night Out event at Spyglass Hill Park.
This community picnic was organized by the Neighborhood Watch Program in conjunction with the Newport Beach Police Department.
"We started this three years ago," said Therese Loutherback, the event committee chair. "We wanted an event where people could meet and greet, get to know each other, and help each other out to prevent crime—pick up newspapers, report suspicious people. So many residents are doing that now, it's been quite successful. The picnic has gotten bigger every year—we had over 250 people attend, which is the most we've ever had. We also had 20 sponsors, so we could offer free hamburgers and free ice cream to everyone."
In addition to the food, there were sponsor booths and activities for kids, Officer Kyle Cammak from the Newport Beach Police Department answered questions and gave advice. Mayor Ed Selich and City Manager Dave Kiff both attended the event.