The 2015 Governor's Cup 49th Annual International Junior Match Race Championship sailbing regatta hosted by Balboa Yacht Club was held last week, with the final races last Saturday off the Newport Pier.
Competition was fierce with the two Newport crews staying in contention until the final race day, where – under light winds and sunny skies – Cruising Yacht Club of Australia took top honors and won the series.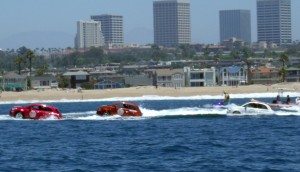 In past columns I mentioned the antics of the Character Boat Parade and the Balboa Island Sculling and Punting Society. We now have a zany new spectacle to report.
Several Sea Do's and a couple of offshore inflatables were leading a car race up the coast. No, I wasn't having flashbacks from the 60s because I took photos of a Fiat, V.W. and a Japanese style sedan racing each other up the coast, on the water. It appeared the V.W. was the fastest running, sometimes 30 knots or so in short spurts. I wasn't close enough to see tires or a hull due to those areas were below the water line. This was a first for me.
Sunday the lovely Judy Belle and I anchored in the Turning Basin at the Southwest corner of the Anchorage Area. Adjacent to us was an avid group of young folks between 7 and 17 years old racing with yacht club coaches and parents watching the large group.
The results are the following for the Lido Isle Yacht Club Mid-Summer Regatta:
CFJ FLEET
1st        David Wood (BYC)
2nd        Harrington Bubb (BYC)
3rd        Michael Farris (BCYC)
LASER FULL FLEET
1st        Anthony Zorayan (BCYC/LIYC)
LASER RADIAL FLEET
1st        Alexis Miller (NHYC)
2nd        Joseph Hertzberg (BCYC)
SABOT A FLEET
1st        Pearce Mendoza (BYC)
2nd       Morgan Pinckney (NHYC)
3rd        Joshua Means (BCYC)
SABOT B FLEET
1st        Ryan Yates (LIYC)
2nd        Marbella Marlo (NHYC)
3rd        Reade Decker (LIYC)
SABOT C-1 FLEET
1st        Cecilia Buckingham (NHYC)
2nd        Lauren Simpson (LIYC)
3rd        Jett Brennan (LIYC)
SABOT C-2 FLEET
1st        Aidan Malm (NHYC)
2nd        Jake Olson (NHYC)
3rd        Claire Rosene (BYC)
SABOT C-3 FLEET
1st        Kelsea Cook (BYC)
2nd        Nathan Prime (NHYC)
3rd        Claire Holden (NHYC)