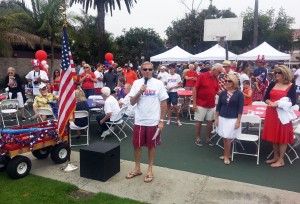 Every Fourth of July, thousands of visitors descend on the Balboa Peninsula to celebrate Independence Day.
While the holiday is still two months away, residents voiced their concern over safety and crowd control at the West Newport/Peninsula Area Town Hall meeting held this week and organized by Mayor Pro Tem Diane Dixon.
In the past, residents have worried that there is not enough police presence to control the crowds during events and summer holidays.
Deputy Police Chief David McGill told the meeting attendees that City Manager Dave Kiff has drafted his budget proposal to include four additional police officers in response to residents' frustration over the peninsula's ever growing crowds of people and traffic.
Regarding the event, McGill stated he is not worried. The city has many years of experience planning for the Fourth of July. The entire District 1 police force, plus members of the Orange County regional mounted enforcement unit with their horses, will be on duty to keep everybody safe.
Heavy deployment of officers will start on Friday, July 3. The mounted police presence will continue all weekend.
Chief of Police Jay Johnson mentioned that factors they can't control are the weather, so as temperatures climb, the more alcohol consumed. And since the holiday does fall on a Saturday, that could mean even more revelers on the peninsula.
"This might be the real test for us this year," said Johnson. But because of the city's experience and planning, he feels the Independence Day holiday will be a nice event like last year.
The plan for this year is almost identical to last year's celebration, which is an accumulation of five years learning. Johnson's first day on the job actually occurred on July 4, 2010. He noted that he worked many such events with the Long Beach police and was ready for the challenge.
Dixon brought up the possibility of redirecting traffic for safety reasons if the congestion became too great, as it has been done on days of large waves that bring increased traffic to the peninsula.
McGill acknowledged that if necessary they can reroute traffic, and assured there is plenty of pre-planning that places emergency vehicles within easy access. They can even deploy boats to areas, he added.