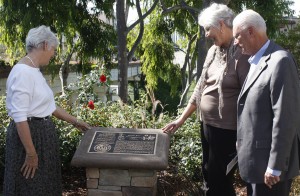 Recognizing the important role he played both as an artist and member of the Newport Beach community, the Newport Beach City Arts Commission honored the life and art of California scene painter Rex Brandt on Nov. 1 with a plaque dedication at the end of Goldenrod Ave. near the historic Goldenrod Footbridge in Corona del Mar, the location of his residence and studio, "Blue Sky."
The plaque, which designated the area a "Historic Point of Interest," was dedicated by Newport Beach Mayor Rush N. Hill II and unveiled by Joan Brandt Scarboro and Shelley Brandt Walker, daughters of Rex Brandt.
Rex Brandt, who lived and worked in Corona del Mar for most of his life, created hundreds of paintings of Southern California coastal scenes, many of them set in Newport Beach, Corona del Mar and Balboa Bay.
To continue the Rex Brandt Centennial Celebration, Jennifer Martinez Wormser, Library Director at the Laguna College of Art and Design (LCAD) will present a lecture on "Visual Sensations of Light: Celebrating the Life and Work of Watercolor Artist Rex Brandt" on Thursday, Nov. 20 at 7 p.m. in the Central Library Friends Room.
Wormser recently curated the exhibit "Rex Brandt: Awash with Color" at LCAD in Laguna Beach and specializes in historical California art. She served as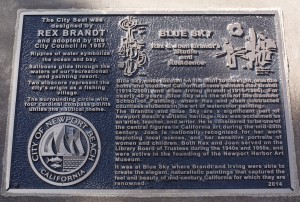 President of the Society of California Archivists in 2006, was a member of the California Historical Resources Advisory Board for five years and was honored earlier this year with the Society of California Archivists' Sustained Service Award.
The City Arts Commission initiated the Centennial Celebration to recognize the integral role that Rex Brandt played in the California watercolor movement and his exceptional relationship with the City of Newport Beach. Not only did the renowned watercolorist live and work in the City for most of his life, he also created the iconic Newport Beach City seal, served on the Newport Beach Public Library Board of Trustees in the 1940s and 1950s and helped establish the Newport Harbor Art Museum. Both he, and his wife artist Joan Irving, were actively involved in the City's historical and cultural development.
In 1947, Rex Brandt, Joan Irving and Phil Dike opened the Brandt-Dike Summer School of Paint at "Blue Sky" in Corona del Mar. It was estimated that over 4,000 artists, both amateur and profession, attended classes during the 38-year history of the school.
Rex Brandt passed away on March 21, 2000 in Corona del Mar, having painted nearly to the end of his life.
For more information visit newportbeachca.gov/culturalarts, or call (949) 717-3801.