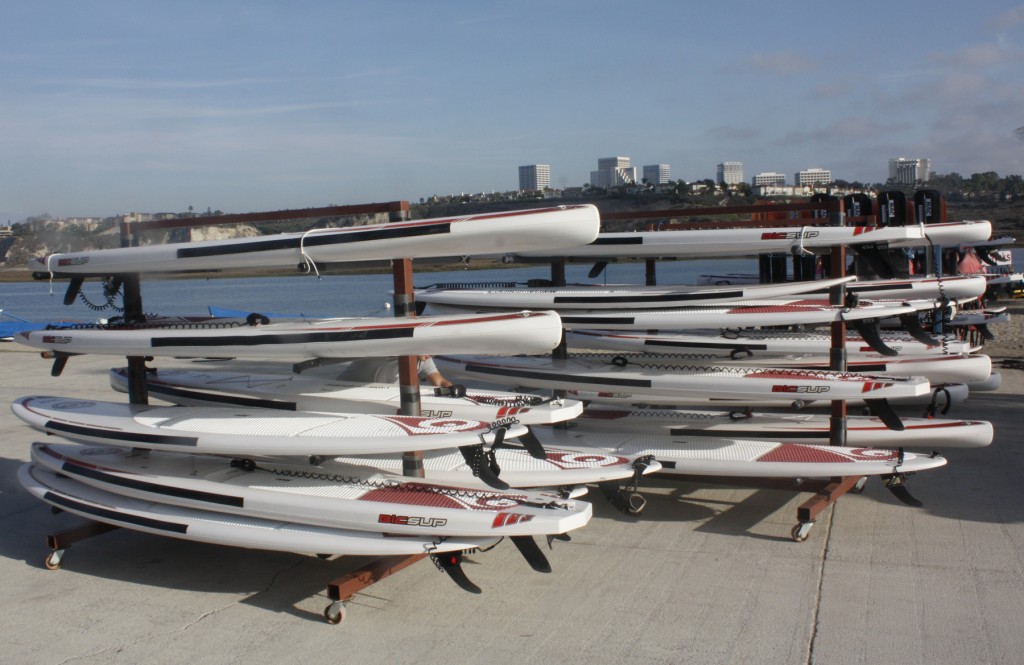 HPB infests the waters of Newport Harbor.
Despite the ominous-sounding trio of letters, this is a good and healthful thing: HPB stands for Human Powered Boats.
In our yacht-rich harbor, punctuated by both power and wind-driven craft ranging in size from miniscule to mega, nothing could be more egalitarian than HPBs. In fact, other than commercial sport fishing boats easing out to local hotspots, all one might often spy leaving gentle wakes in the bay are stand-up paddle boards (SUPs), kayaks, rowboats of various descriptions, outrigger canoes, racing shells, dinghies, inflatable rafts and other small craft.
Or as Billy Whitford, executive director of the Newport Aquatic Center puts it, "Guys (and gals) either going forwards or backwards."
HBPs Past and Present
Human powered canoes have plied our fish-and-shellfish-rich waters for thousands of years before Portuguese explorer Juan Cabrillo inched his way up our coast in 1542 – doubtlessly frightening the local Chumash and Gabrielino societies with the "hugeness" of his armed sailing vessel.
Sixty years later, Spanish explorer Sebastian Viscaino, who visited the Chumash north of Newport, wrote, "…a canoe (tomol) came out to us with two Indian fishermen, who had a great quantity of fish, rowing so swiftly they seemed to fly. They came alongside without saying a word to us, and went twice around us with such speed that it seemed impossible."
Though considered primitive, these tomols were superbly and innovatively plank-built, frameless with no internal ribs, and made mostly from beached redwood or pine logs in the villages around Ventura and Santa Barbara.
These open vessels often completed 130-mile round trip voyages to Catalina and San Nicolas Islands, surviving less-than-placid seas most of the time.
Southern California's native peoples constructed Tule boats – also known as Balsas – from cut stalks of bulrush weed tied into a cigar-shaped form in lengths from 15 to 30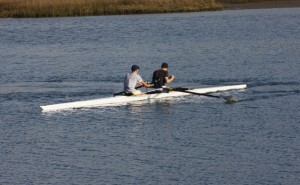 feet. These resembled the famous reed boats of Lake Titicaca in Bolivia seen in travel brochures.
Today, plastic, fiberglass, Kevlar, and carbon fiber are molded into the computer-designed distant cousins of the tomol, South Pacific outrigger canoes, or Northern kayaks. Interestingly, many are still hand crafted, while the less-expensive models are pressure molded in plastic. Virtually all are used for recreational purposes, including fishing.
Short of swimming, there is no more intimate means to embrace the countless dynamics of the water than in HPBs. From powering your way into wind-driven head seas to surfing down swells spawned from distant storms, from staring across a gunwale into Steuben-clear coastal waters to powering sculls in the protected backwaters of the Upper Bay, paddling or rowing embrace a waterman's very being.
Newport Aquatic Center
The nexus for rowing in Newport Beach is the Newport Aquatic Center on Whitecliffs Dr., in Dover Shores, established in 1982 after more than six years of political convincement and ultimate blessings from 19 local, state and federal agencies.
NAC is a total "paddle sports environment," explained Executive Director Whitford.   This becomes clear when one tours the gray-brick facility and surrounding grounds, where more than 400 boats of varying descriptions are stored.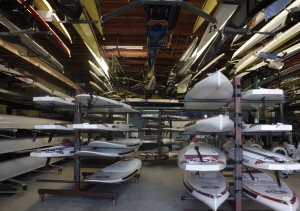 These HPBs range from short rental kayaks costing $400 to 60-foot rowing shells whose price tags approach many of the latest high-performance autos displayed in the exotic car showrooms along PCH.
The aquatic center is technically a public park, "built, maintained and operated for the public at no cost."
Its fundamental charge is "water safety for all." Along with family recreation, the Center serves as an off-season training base for international and Olympic rowing and kayaking athletes. Currently, national teams from Canada, Germany and Hungary are splitting the bay waters out of the NAC. More than 30 past-and-future American Olympians condition here.
Of course, everyone is invited to launch a human powered boat (their own or rentals) from the Center's property, which gently edges to the bay across a beach bolstered by the mud dredged from the channels of Dover Shores.
Whitford's passion is training and coaching young athletes in the variety of watercraft stored at the Center: kayaks, sculls, shells, outriggers, and dragon boats.
Currently, 180 kids are involved and competing in rowing shells, with another 60 focusing on outrigger competition. Newport-Mesa Schools recognize the training as part of its PE curricula.
He's also developing and hopefully will launch next year a Junior Waterman's Academy, which, similarly to the Boy Scouts, will teach everything from knot tying to citizenship.  Corporate and private donors are lining up faster than passengers on a cruise ship gangway.
One of the dynamics of the paddle sports is its social aspect.
"Seldom will you see paddle boarders out by themselves," Whitford said. This is underscored by Jim and Julie Smiley, owners of Paddle Power on W. Balboa Blvd., the only paddling specialty store in Newport.
Paddle Power
Until five years ago, Paddle Power sold kayaks almost exclusively.
"Since then the kayak market has slowed," Jim Smiley said. Although they still sell the sit-on-top variety of kayaks, SUP sales and rentals have kept their business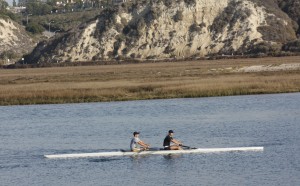 handsomely afloat.
SUPs aren't new; Hawaiian beach boys were using them in the 40s and 50s as a means to propel their boards when they stood-up to photograph surfing tourists in Waikiki.
Today, tourists in Newport are mostly families of all backgrounds from throughout Orange County.
"Families spanning the generations are connecting to teenagers like never before," Julie Smiley observed. Even grandparents are joining in because of the non-impact nature of the sport, and stability of the boards, she said.
"We had one grandmother in her 80s who was really buff come out to paddle," she recalled. "She was really built!"
It's an affordable sport, too, they underscored. Boards range in price from $800 to $2,500, depending on materials used. Paddles can cost between $100 and $500. Rental prices at both locales most certainly won't rupture anyone's wallet.
Some kayakers use their craft as fishing platforms. Recently, a thresher shark snagged the hook of a kayak fisherman at the harbor entrance, and battled and dragged him from east to west and back for nearly two hours. Though both were tired, the exhausted-though-excited fisherman won the tug o' war. The spent shark measured at least 10 feet in length from teeth to tip of its scimitar tail. It spent that night on the kayak fisherman's BBQ grill.
Whitford and the Smileys agree that this "new" sport is a social activity that virtually all can do safely, especially if they use good sea sense and follow the "rules of the road."
Personal Experience
This writer has been a serious sea kayaker for more than 37 years, preferring the open ocean or out-of-the way wilderness locales to the flatness of Newport Bay.
The benefits are many: physical conditioning, marine and coastal wildlife encounters, always different sea and weather moods, and adventure mixed with solitude.
I have been surrounded by whales, and bombarded by a thousand or more rocketing dolphin. I have skulked among sharks and sneaked past scavenging bear on shorelines.   I've met exotic foreign peoples, from gulag prisoners on Siberia's Lake Baikal, to the huge native residents on the Marquesas Islands; and I've navigated around calving glaciers in Glacier Bay, Alaska, to hunt seal in kayaks with Inuit off north Baffin Island.   Couldn't have done it without my kayak: a 4,000-year-old design little changed to this day. With a little imagination as you paddle, it will escort you to yesteryear.
There is much that identifies the nautical city of Newport Beach, and its unique Newport Bay. Certainly, paddle sports are an inextricable part of our marine identity.
For Newport Aquatic Center information on classes and rentals, call 949-646-775.   Paddle Power, located at W. Balboa and 15th can be reached at 949-675-1215.
Contact the writer at [email protected].