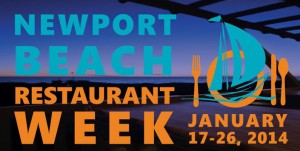 By Christopher Trela and Catherine Del Casale | NB Indy 
The 8th annual Newport Beach Restaurant Week starts on January 17, but the Newport Beach Restaurant Association held a launch party at Back Bay Bistro last Wednesday night to help generate excitement among its restaurant partners, and the media.
A number of noted guests attended the event, including Mayor Rush Hill, several city council members, and Newport Beach Chamber of Commerce President and CEO Steve Rosansky.
"We're excited to launch the 2014 Restaurant Week," Mayor Hill told the gathered throng of dignitaries, restaurant owners and media members. "Part of my vision is to help the citizens know the things we do well, and to get as much press as we can. I'm looking forward to a great Restaurant Week."
"Restaurants are one of the biggest segments of our community for residents and out-of-towners who come here and spend money," Rosansky told us. "It's a chance to fill that down time after the holidays when restaurants are slow. It helps them get through the month and pay their bills, and it's also a good deal for people to try that restaurant they've been wanting to try."
"Typically, January is always a slow month for restaurants, so we get a surge of business we wouldn't normally get. Strategically, restaurant week comes at the right time," agreed Jim Walker, co-owner of The Bungalow Restaurant in Corona del Mar and president of the Newport Beach Restaurant Association. "People are trying to recover from Christmas, so they're looking for a bargain, and it brings awareness to the community. It's a win-win for everyone."
The restaurant industry in Newport Beach has been in flux recently, with new restaurants opening (Fig & Olive, Red O, Lark Creek), more on the way (Cucina Enoteca, The Winery, Provenance), and others closing (Brasserie Pascal in December, The Ritz this February).
We wondered what Rosansky and Walker thought of the current state of the restaurant industry in Newport Beach.
"Out with the old, in with the new," stated Rosansky. "It's a good sign of a healthy business economy when there is turnover. We need new ideas and concepts to keep it fresh. Everyone is looking for the next big thing. If we are not constantly reinventing ourselves we'll lose our edge, so it's a good thing, a healthy thing."
"I'm curious to see the impact the new restaurants have," said Walker. "You can have 20 restaurants in any given area, and suddenly another one opens and it creates a whole new market. Fig & Olive clientele don't seem to be the typical Newport people, but if they are, where have they been? They have created a new market that maybe was here all along but we did not see it. A restaurant opens in the middle of other ones and creates a population base. I hope it continues. My goal with the Restaurant Association is to make Newport Beach the LA of Orange County. We want Newport Beach to be the culinary center of Orange County, which I think it should be."
Walker also had a few predictions for the local restaurant industry in 2014.
"I am hoping that with the presence of Fig & Olive and Red O, which have set a different standard for Newport Beach, they will draw more people to the area. I hope we have an eight to nine percent overall increase in business this year. The economy is in better shape, a lot of people have adjusted to it. Our economy in Newport Beach is based on home values, and with values and real estate coming back, that has a domino effect. When that industry does well, it's a surge for Newport Beach. We have stability, and more spendable income. People are not worried about paying their mortgage. That has added confidence to the consumer, who can spend money on other things."
Other things like Newport Beach Restaurant Week. For more information, visit NewportBeachDining.com.