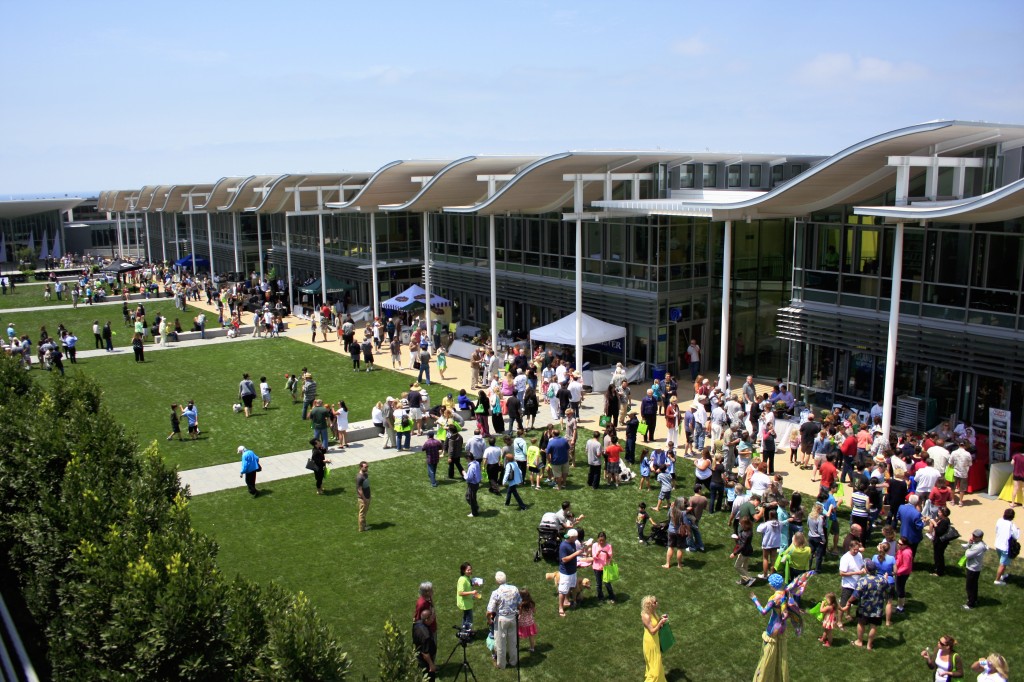 The city kicked off the grand opening of the new civic center and park on Saturday with a community celebration, held on the center's "civic green."
The event featured ceremony music from the 3rd Marine Aircraft Wing Band, the 1/1 Marines Color Guard, food from more than a dozen local restaurants,  self-guided tours, entertainment, and kids activities.
Both Mayor Keith Curry and councilman Ed Selich spoke at the ceremony.
"For the first time now, Newport Beach has a heart," Curry said. "It's going to be an iconic portion of our city for the next four generations."
Selich called the center the "legacy" they'll pass on to future generations.
The official ribbon was cut by the city council, excluding Nancy Gardner, who was out of town for a family event, according to Corona del Mar Today.
The final project includes a city hall building with council chambers, community room, central library expansion, 450-space parking structure, and a 14-acre park, including a dog park.
"We're very excited that it's completed," said City Manager Dave Kiff. "It came out as good or better than we ever thought it would be. We hope the community gets to know it and loves it as much as we think they will."
A bold and ambitious vision will always bring critics, Selich said in his speech.
And the critics came on Saturday as well.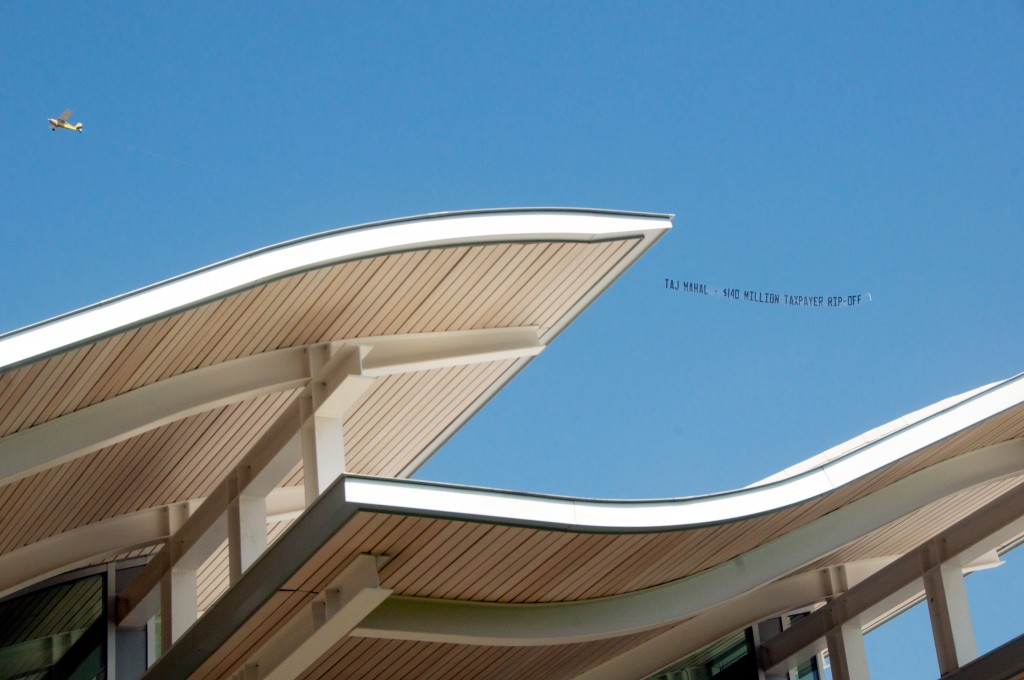 While hundreds of guests gathered on the manicured lawn and up the trail into the park, about half a dozen protestors waved signs on Avocado Avenue and two planes with trailing banners circled the center.
The demonstrators came from the Stop the Dock Tax group.  "I think some of the critics simply want to criticize for the right of criticism," Curry said, "and I think in about 30 days people are going to forget what their names are."
Former mayor Tod Ridgeway had just one note, and that was about the actual ceremony.
"I wanted there to be an acknowledgement of the Irvine Company," during Saturday's event, Ridgeway said, for their contribution of the land and more than $75 million in development fees, Ridgeway explained.
"Without (the Irvine Company's) involvement in this project," it may have not worked out, he said.
But overall, Ridgeway is happy with how the center turned out, after more than a decade of planning.
"It is becoming of a world-class city like ours," Ridgeway said. "This facility is beautiful, it represents the community."
This location is for "the greater good for the entire community," he added.
Current Mayor Curry is excited to meet with residents in his office and hear their feedback.
"I think this is going to be a symbol of our city and I encourage all residents to come and walk it themselves and make their own judgments about it," Curry said.
The controversial bridge spanning San Miguel Drive was discussed as residents made their way up to check out the view.
The viewpoint on the bridge, dubbed by some as the "bridge to nowhere," will be utilized, Curry said.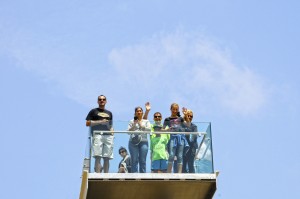 "It has the best views of the ocean and the entire park. It's spectacular," he explained, adding that it's also at a very busy intersection and near a medical building. The bridge will improve traffic flow and pedestrian safety.
The bridge literally and metaphorically connects the two areas, helping the park and the civic center work together, said Steve Chaitow, principal and project manager for Bohlin Cywinski Jackson.
The park is as important as the civic buildings, he added.
Chaitow emphasized what other city staff has been saying, that it's "more than a city hall."
People will come for concerts, events, to hike in the park, enjoy the serenity, bring their kids to the library and to petition their government, Curry noted.
The center is meant to be a geographic and emotional center for Newport Beach, Chaitow added.
"It really embodies Newport Beach's commitment to civic life," he said.
They will still be working with the city on fine-tuning the building systems to make sure everything is working as efficiently as possible. They will also be coming back to discuss with city staff what's working and what can be improved upon. And they will always have a dialog open for residents, he added.
The library expansion is also a great aspect of the project, Chaitow said.
"I was interested to see how people would use the library expansion," Kiff said, and it turns out people are easily flowing in and out and using it "like it's always been there."
It was a leap of faith to radically change the library, Chaitow said, but it's paid off. There has been a very positive reaction to it, he said.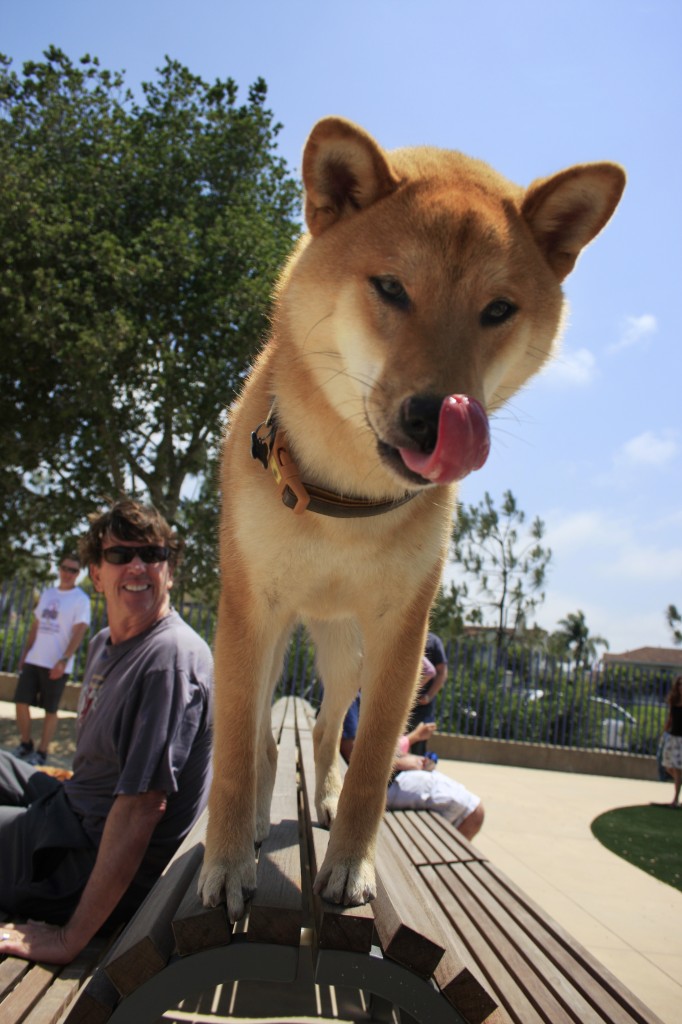 The dog park is one of Kiff's favorite features of the entire project, he said.
"It really turned out well," he said.
His dogs showed up a little later on Saturday to test it out, he added.
"The city showed vision with perusing their first dog park ever," Chaitow noted.
The city showed civic commitment for the project, he added. His company was happy to work with them.
It's ultimately about bringing people together, Chaitow said.
"One of the things we're most proud of is the result of what we were able to do together with the city," Chaitow said. "They had ambition and a real civic vision to make this a real community center and we were able to work with them in realizing something that did that and at the same time reflecting something that we felt was unique to Newport Beach."
For more information visit newportbeachca.gov/civiccenter.