Newport Beach City Council voted 6-0 Tuesday to create a 300-foot "buffer zone" between picketers and targeted residences.
The move comes after demonstrators targeted the home of a local doctor in June, yelling, writing slurs on the sidewalk in chalk, and causing a disturbance. The issue was regarding Hoag Memorial Hospital Presbyterian's recent decision to ban elective abortions.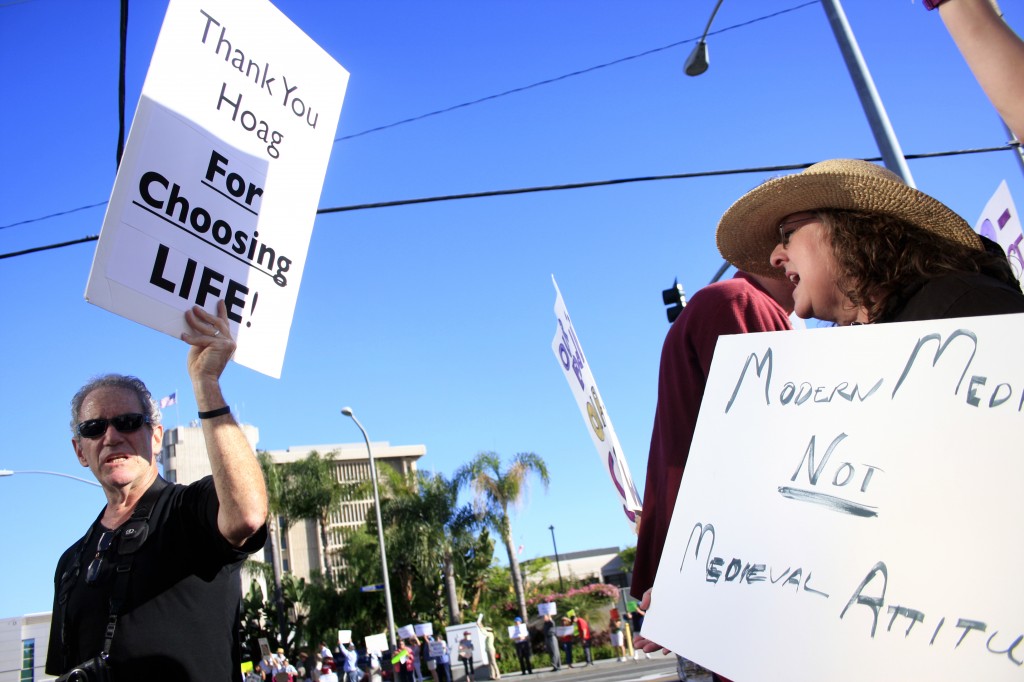 "In recent years, there has been an increase in the number of protest occurring in residential neighborhoods that target particular homes and the residents within," the staff report reads. "The city is not immune to these targeted protests, as several have occurred in residential neighborhoods within the city."
Mayor Keith Curry noted that it's not about the issue at hand that sparked the recent picketing at the doctor's residence. The council would be having the same discussion if it had been people on the other side of the issue doing the same thing, he said.
"This is about protecting our neighborhoods and the safety of the people that live in our neighborhoods," Curry said. "There are plenty of opportunities to exercise free speech in a variety of ways throughout the city without doing this."
Although, people that get "bussed in" from out of town to picket should not be encouraged, he added.
The staff report declares that the ordinance is content neutral, "meaning it applies to all protestors, regardless of the protestors' intended message."
"This has an impact because the person can be, in essence, locked in their home, where they're not free to travel to and from the sanctuary of their home," said city attorney Aaron Harp.
Other cities have successfully approached this problem by creating a buffer zone, Harp explained. Staff considered similar ordinances that have been adopted by other cities, including Huntington Beach, San Diego and Santa Jose.
Courts have generally upheld these types of ordinances, he added.
Regular city watchdog Jim Mosher wasn't so sure.
"I'm not sure I see the wisdom in giving the police a new law that we cannot be sure would stand up in court," Mosher said.
Balancing the right to free speech on public property and the right to personal privacy can be tricky, Mosher said.
The police already likely have laws to deal with people who are disruptive, noisy, harassing or disturbing at odd hours of the night, he explained.
Mosher continued that the city attorney's office tends to "oversimplify" complicated issues. He commented that the proposed ordinance is too broad and unnecessary.
Resident Nancy Skinner supported the proposal.
"Those of us that are activists, those of us that help make decisions and those of us that are out there," in the public eye, Skinner said, dealing "with issues that are the kind of thing that would bring in protestors, I think we need this kind of peace and safety in our own home. I don't have any problem with people protesting somewhere other than at someone's sanctuary, in their own home."
It has the right balance for both sides, she added.
George Schroeder also spoke in support of the ordinance, noting that demonstrations of people affect the entire neighborhood of the targeted residence. That can be dangerous and disruptive at nighttime and in compact areas of the city, like Corona del Mar or Balboa peninsula, he said.
"It's having a lot more impact just than on that one person that they are targeting, it's impacting the residents up and down the street, beside and across the street," Schroeder said.
"People's right to protest is important," he added, "but I think more important than that is for us to have quiet enjoyment in our homes."
Councilwoman Nancy Gardner, who brought the item to council and represents Corona del Mar, agreed with Schroeder regarding concern for the neighbors or the targeted home.
"I do think this provides a nice amount of privacy for a neighborhood," Gardner said. "I think it's important that our homes be our sanctuary."
"Yes, we can speak out and we have so many ways of making our opinions heard," rather than standing in front of someone's home to do it, she added.
For the full agenda, staff report on the item and video and audio of the meeting, visit newportbeachca.gov or click here.