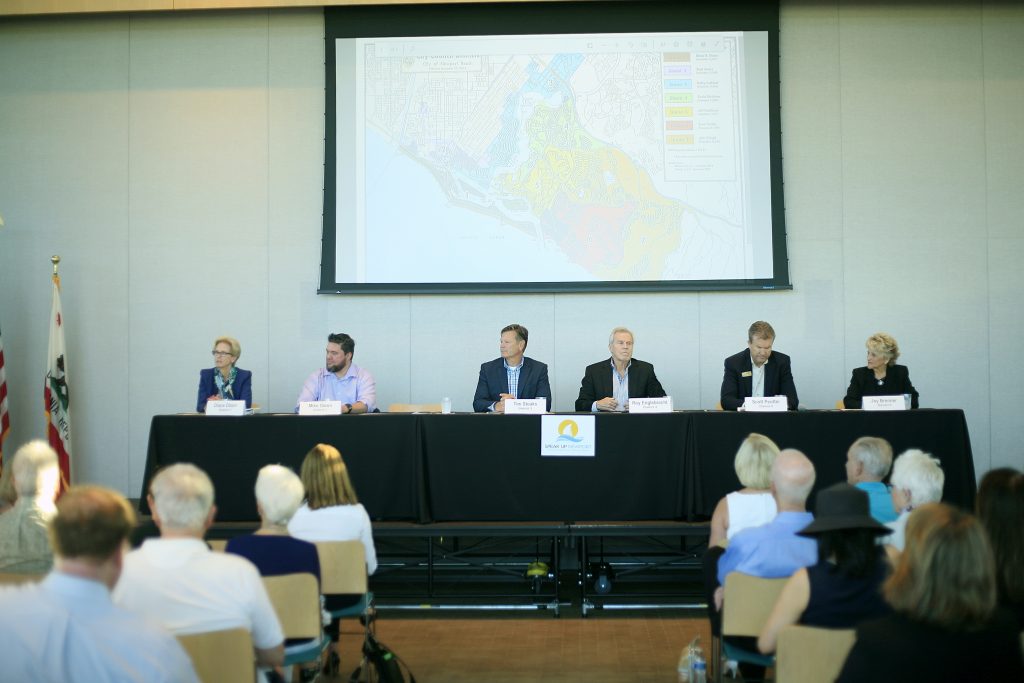 Most of the 2018 Newport Beach City Council candidates participated in another forum this week and, on top of being questioned about several important local issues, were asked to explain some of their own comments made at previous forums.
Speak Up Newport hosted a candidate forum Wednesday in the community room at the Newport Beach Civic Center. Richard Luehrs moderated the event.
The 2018 candidates that attended (incumbents listed first): Diane Dixon and Mike Glenn, running for District 1; Tim Stoaks in District 3; Roy Englebrecht in District 4; and Scott Peotter and Joy Brenner, for District 6. Both Marshall "Duffy" Duffield (District 3) and Kevin Muldoon (District 4) were absent.
A noteworthy section of the forum came when Luehrs asked questions specific to each individual candidate.
Referencing Peotter's criticism of the civic center price tag, Luehrs asked how he would have cut down the cost or what other project he would not have approved in order to pay for the city hall.
Peotter responded that he thought the old city hall needed to be replaced and the current location is a great site, but that the cost ballooned to more than what he thought was appropriate. Mentioning the local measure on November's ballot, he thought if the voters would have had a say in it, the civic center project would have been much smaller.
Brenner was asked about overdevelopment, and if downsizing private property appropriate to control development and traffic.
She suggested working with developers and involving the community. Doing this, she proposed, could come up with a scaled-down project that would like be better for everyone involved than if the developer had built out to the maximum allowed.
In District 1, Luehrs asked Dixon if she's opposed to alcohol serving establishments, and if she would only allow one bar to open if another closed.
Dixon corrected the statement, saying she doesn't oppose the establishments, but that she wants better enforcement, particularly during the late hours of 11 p.m. to 2 a.m.
She added that she, city staff, police, bar owners, and residents have been working together over the last several years to address the problem.
"I want them to be in business, but I want the community to be safe," Dixon said.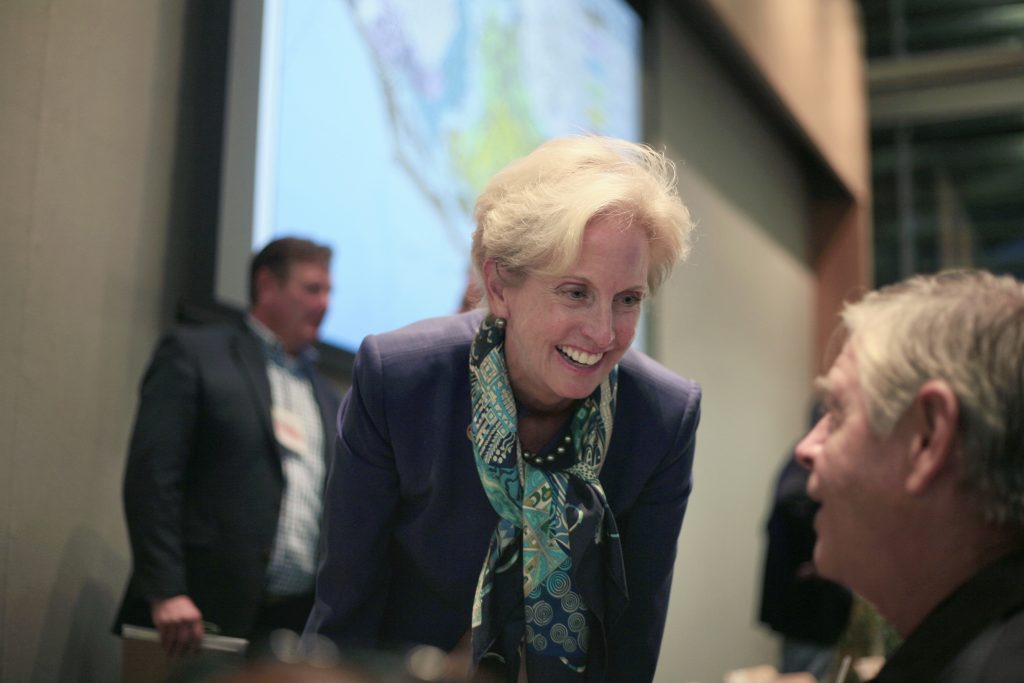 Asking Glenn about a topic he has passionately spoke on over the last few years, the de facto dog beach at the mouth of the Santa Ana River, Luehrs asked how he would handle the situation.
Glenn still believes in the dog leash laws on other Newport Beach sandy areas, but this small area should be open to allow dogs and their owners to get to the county land, he argued.
Glenn also mentioned that the "dog catchers," referring to the Newport Beach Police Department Animal Control Officers, make $180,000, criticizing the salary.
For Stoaks, Luehrs proposed a hypothetical situation if a Newport Center office tower attempted to convert to a residential tower.
It has to fit in with the General Plan, Stoaks replied. He would have to evaluate every potential project on a case by case basis, Stoaks noted, but if it had a greater impact on locals than he likely would not be in favor of it.
Luehrs referenced Englebrecht's common quote of the city having a spending problem, not a revenue problem, when he asked how he would cut spending. Englebrecht suggested sitting down with the department heads to try and better manage each area to reduce overtime and streamline certain employee tasks.
Some more interesting answers came when Luehrs asked about how each candidate differentiates them from their opponent.
"I think we disagree on just about everything," Dixon said.
There was some back and forth on whether Glenn is for "enforcing laws" in the city, referring to allowing unleashed dogs to cross city beach property to reach county land.
In district 3, Stoaks mentioned that Duffield, a longtime harbor proponent, has to recuse himself from most harbor-related issues that come before the Council because of a business conflict, as instructed by the California Fair Political Practices Commission.
"I think the harbor is a very important issue, but my opponent can't be in the room when that happens," Stoaks said.
He mentioned a few other differences, including that Duffield voted for the Museum House, Stoaks helped with the petition effort against the project. He also pointed to Kiff's retirement and the "ill-conceived" proposed Port Plan as how they differ in opinion.
Brenner noted her "most significant" difference compared to her opponent, Peotter, is that she thinks the city should "spend every penny responsibly, respectfully, and consistently with the desires of the community" and listen to the residents.
"They haven't been doing that," Brenner said. "We've been begging them to listen to us, they won't and they do exactly what they want to do."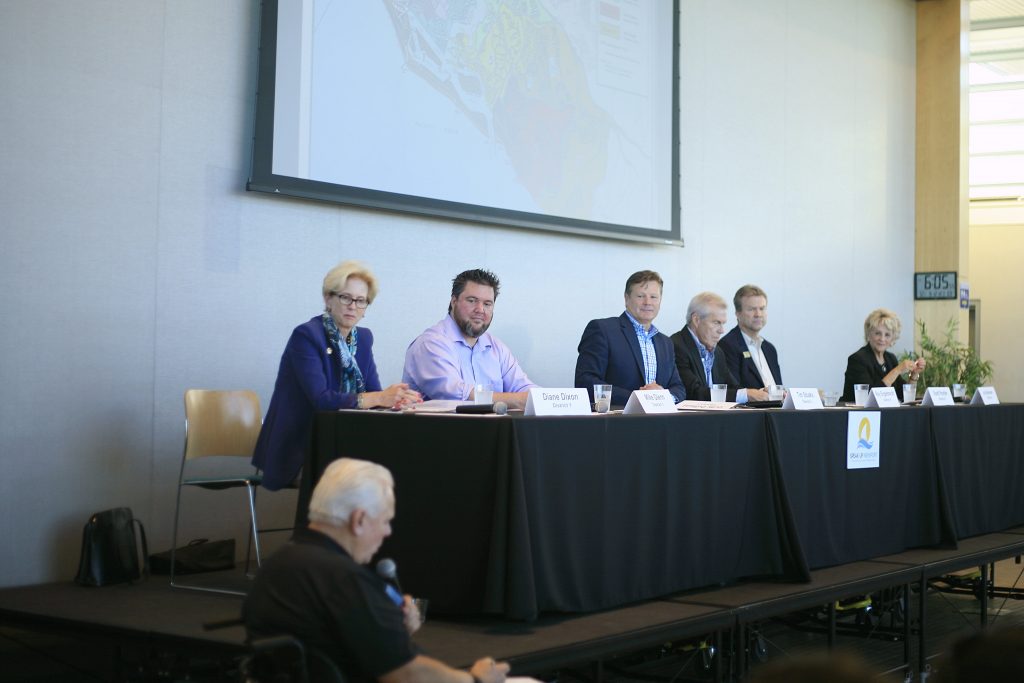 Peotter mentioned how he and the other incumbents differ from the previous Council, emphasizing their spending choices, particularly at the Newport Beach Civic Center.
"I think we've got more to do," Peotter said.
Englebrecht mentioned the city staff overtime from 2017 and commented that Muldoon should have addressed the issue.
Another question asked if the candidates agreed with last year's policy change allowing the current mayor to place items on the Council agenda at the his or her discretion, instead of going through a two-step process like other Council members (items can also be placed on the agenda by the city manager).
Most of the candidates disagreed with the policy change. Dixon said it changes the equality among Council members.
The mayor is an honorific position, she explained, they are all peers. It should go back to the previous longstanding method, Dixon said.
It's a "surprise attack" form of government that the current Council seems to favor, Brenner said.
Glenn said he doesn't agree with it, but it isn't something he's going to get "too excited" about. The mayor, elected by other Council members, typically
He added that names should be listed by items indicating who suggested it.
Peotter supported the change. The policy reflects what the practice essentially was previously, he said. This is not an unusual practice, he added.
There were some of the usual questions, including asking about traffic, unfunded pension liability, the number of lanes in Mariners' Mile, the vote by district or citywide system, funding public art, and homelessness.
Other discussion focused around the General Plan and the upcoming update, Koll Residences project, and airport flight paths.
Most candidates emphasized the importance keeping up with technology as a way to address traffic issues.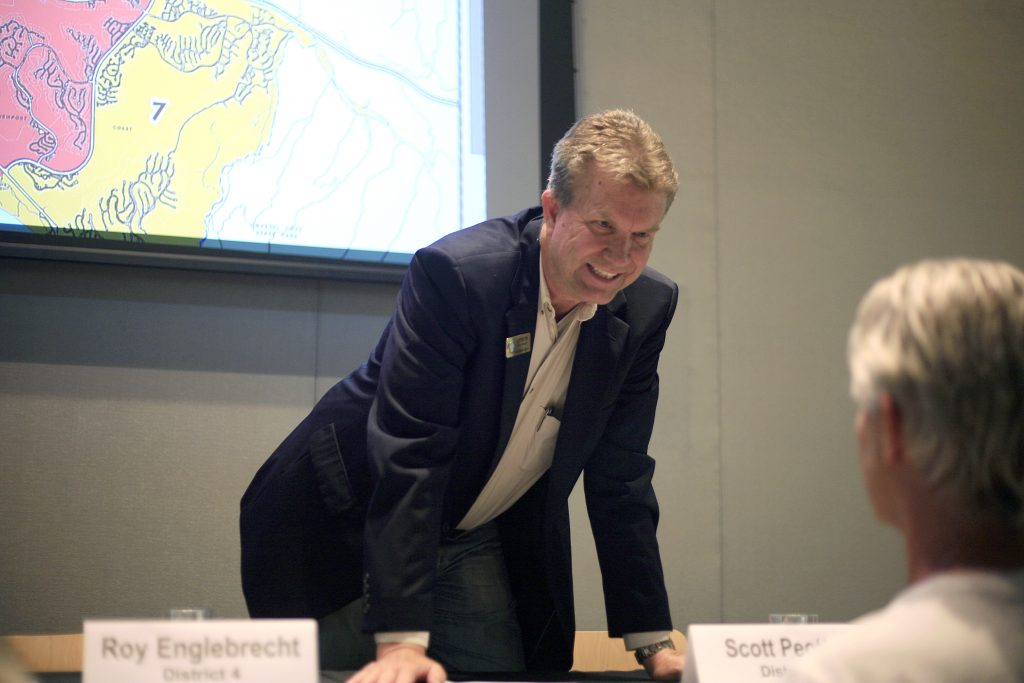 Peotter emphasized that the growth of surrounding inland cities, but no new beaches, is what creates the traffic problem. The number of visitors increases every year, he noted.
"We have to deal with that," Peotter said.
Brenner noted the upcoming General Plan update is key because that will determine how much is developed and where, which will inevitably impact traffic. Several others echoed the sentiment.
"The right development gives us the right traffic," Englebrecht added, eliciting some applause from the audience.
Development in general was another hot topic of the night, with most erring on the side of caution and emphasizing the importance of staying within the confines of the General Plan.
"Development needs to managed, we all know it," Dixon said. "It's something we have to be careful about, be smart about it."
There have been meetings and discussions about the update already, Brenner pointed out. There needs to be resident input, she added.
"What we approve on the General Plan update is what we'll have to live with," Brenner said.
All the candidates agreed that Mariners' Mile doesn't need an additional lane.
It's great the way it is, Glenn said, but there is some new development currently in the works.
"We're going to have to deal with that, but the developer is too," Glenn said.
He's not going to want a traffic jam directly in front of his business, he added.
Others agreed to keep it as is, but pointed out other possible challenges or ideas.
Dixon added that they want permanent bike lanes. Peotter suggested looking into ways to make the current lanes more efficient, perhaps eliminating street parking or something along those lines.