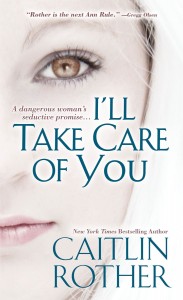 "Looking for an older man, 30+, who knows how to treat a woman. You take care of me and I'll take care of you."
So says the personal ad taken out by convicted killer Nanette Johnston. Little did the unsuspecting match reading that ad know, however, just how permanently he'd be "taken care of."
In 1991, when multi-millionaire and Newport Beach resident, William McLaughlin came across the ad – with a headline that read "Wealthy Men Only," he was just wrapping up a messy divorce. Drawn in by the photo of a young (26 years his junior) attractive blonde that accompanied the solicitation, he made the biggest mistake of his life and asked her out.
Nanette Johnston was herself just getting out of a marriage, and was looking for a man who could provide her with access to the finer things in life she wanted to enjoy.
Soon after meeting McLaughlin, she moved in to his bay front home, and settled in to just the lifestyle she had been looking for.
Ever wanting of more, Johnston was not content to simply play house with McLaughlin, however. The healthcare entrepreneur, who made his money by inventing, and subsequently selling, a device that separates plasma from blood, soon let his young girlfriend begin helping with finances, as the bookkeeper for his business.
Once she had access to the funds, Johnston began siphoning some off for herself, to the tune of hundreds of thousands over the course of their nearly four-year relationship.
A burgeoning bank account proved not to be the divorcee's only secret. She also was seeing another man, former NFL linebacker and nightclub bouncer, Eric Naposki.
As 1994 drew to a close, Johnston knew she had to get rid of McLaughlin before he discovered either of her betrayals, and she lost everything.
I'd say six rounds to the chest "took care of" him, alright.
Despite all signs pointing to a murder for gain, the case would go nowhere. It would, in fact, take until 2009, after the cold case was reinvestigated, for an arrest to take place. Finally,
after nearly 18 years, prosecutors would secure a conviction in 2012, against both Johnston, the orchestrator, and Naposki, the shooter.
While this sounds like a bad TV movie, this sad series of events actually took place, right here in Newport Beach.
Investigative journalist, crime expert and author Caitlin Rother has recently published a book chronicling the events of the relationship, the case, and the long period of waiting before justice would finally be served.
Rother is best known for her other true-crime books, including "Lost Girls," the story of two San Diego area teenage girls killed by convicted sex-offender, John Gardner, and "Body Parts," which chronicles the saga of Wayne Adam Ford, a long-haul trucker who killed four women, and ultimately turned himself in, so he wouldn't be able to kill again.
On Wednesday, April 9, from 7 to 8:30 p.m., Rother will appear at the Newport Beach Central Library.
Admission is open to the public, and seating is available on a first come, first served basis until capacity is reached.
During the event, Rother will discuss her background as a journalist, author, and writing instructor, and what led her to immortalize the events of the McLaughlin case.
Copies of "I'll Take Care of You" will be available for purchase and signing.
For more information on the event, please visit newportbeachlibrary.org. For more information on Caitlin Rother, please visit CaitlinRother.com.
Edie Crabtree is an avid reader and the mother of three active boys. She can be reached at [email protected], or on the Facebook page, Under Cover Book Corner.