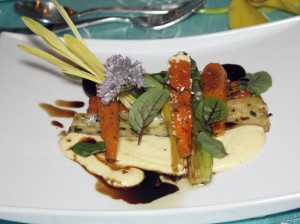 By Christopher Trela and Catherine Del Casale | NB Indy
Table for Ten
Take 30 of OC's best chefs, put them in a room packed with ornately-decorated tables that seat ten philanthropic-minded people who have paid a pretty price for dinner, and have the chefs cook a multi-course meal tableside.
That's the basic idea of the annual "Table for Ten" culinary fundraiser, which benefits the Illumination Foundation, a local nonprofit organization that strives to help end homelessness in Orange County.
We attended this year's event, hosted by Wells Fargo and Disneyland Resort in the grand ballroom of Disney's Grand Californian's Hotel, and were thrilled to see so many Newport Beach-based chefs participating in the event, including Brian Doherty of Bambu from The Fairmont Newport Beach, Franco Barone of Il Barone Ristorante, John Ledbetter of Lark Creek Newport Beach, David Martin of The Pacific Club, Edgar Agbayani of Roy's Hawaiian Fusion Cuisine Newport Beach, Imran Ali of Tamarind of London, Pascal Olhats & Gregory Moro of The Pascal Experience, and Marcus Lage of Tommy Bahama Bar & Grill Newport Beach.
We were assigned the Center Club table, and gladly took seats near where Chef Lewis Butler was working his culinary magic. His seven-course menu included lightly smoked tuna, pan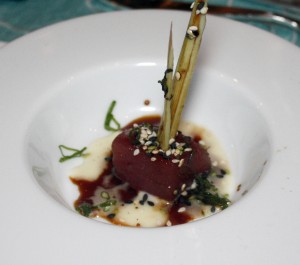 seared turbot with lobster sauce and black garlic, flowers and sprouts (possibly the prettiest dish at the event), Asian BBQ duck consommé, eye of Brandt Beef, and s'mores dessert.
Each dish was perfectly paired with wine (the duck was paired with Belgian-style ale), and showed off Chef Butler's creative culinary skills.
During the event, Christopher roamed the room to see what other chefs were cooking and was almost overwhelmed by the sights and smells emanating from each table.
Thanks to proceeds from the live and silent auctions, and the table sponsorships, $360,000 was raised for Illumination Foundation. Kudos to the fabulous chefs for participating in this wonderful event.
It's not too early to start planning to attend next year's event. Visit ifhomeless.org for details.
Wine Fest at Balboa Bay Resort
Anyone visiting Balboa Bay Resort recently has no doubt noticed that the resort is undergoing a transformation, much of it focused on culinary offerings.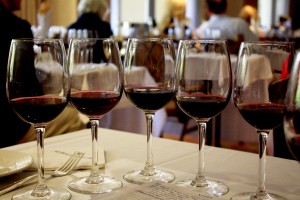 The Resort recently opened a new café called Blend that looks like something akin to a Starbucks but more welcoming. Open from 6 a.m. to 7 p.m. daily, Blend offers everything from coffee drinks to pastries and paninis.
The new fine dining restaurant Waterline also opened last month with a menu focused on seafood and steaks, while the old Duke's Place bar is under renovation and will reopen later this year.
The Resort's annual Newport Beach Wine Festival (held May 23-25) has also been refreshed. Favorite events such as the Grand Tasting and the Wine Dinner are still intact, but the wine tasting seminars are all new and include a cooking class, Quintessa wine tasting, and a seminar devoted to Coastal California wines.
Other noteworthy events: Beer for Breakfast, Seafood Festival, and Cigar "On the Rocks" (featuring cigars, cognacs, Scotches, and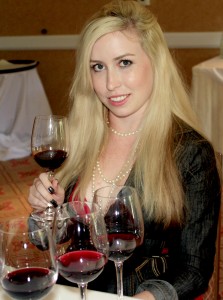 chocolate).
Costs per event range from $45 to $195. Based on our experience at last year's Wine Festival, the price tag is well worth it.
Visit BalboaBayResort.com or call (855) 977-3123 for details.
Kids Cooking Camp
Got a young amateur cook in your house? Looking for a fun Spring Break activity?
Sur La Table in Newport Beach will be hosting a Kids Cooking Camp the week of April 14 – 18 that aims to teach them about foods from around the world in a fun and interesting way.
Sur La Table's Chef Mac Kirshner said they'll be teaching adult-style techniques as well as life lessons.
"We teach sanitation, knife skills, basic cooking techniques like searing, how to work an oven, when they get older they'll know how to do it all," said Chef Kirshner, who noted that with all of the interest in cooking shows such as Iron Chef, there's a renewed interest in the culinary arts among younger people.
"Kids watch the TV shows, they know how to read a recipe, so we get into more advanced techniques," said Chef Kirshner. "We cover Italy, Germany France, things like how to bake, how to work with phyllo dough. There's nothing more exciting than when the kids take a soufflé out of the oven."
Classes run about two hours each and go all week. At the end of the camp, each young chef will have a handful of recipes to take home.
The Kids Cooking Camp is has a morning session for ages 8 – 12, and an afternoon session for ages 13-17. Cost is $250 for the week of classes.
For more information, visit SurLaTable.com or call (800) 243-0852.
Spring into Dinner
Roy's Restaurant in Fashion Island is ushering in spring with a new three-course, prix fixe menu for $36.95. Featured courses include short rib and mushroom dim sum, seared salmon, and tri color carrot torte. Visit RoysRestaurant.com for details.
Christopher recently dined at Il Barone (one of our top five picks of 2013) and talked to owner/chef Franco Barone about expansion plans. Barone is opening a pizza and pasta restaurant in Balboa Village this month, and is almost finished with the restaurant expansion at its current location near John Wayne Airport. We'll share details and photos in an upcoming column.
.