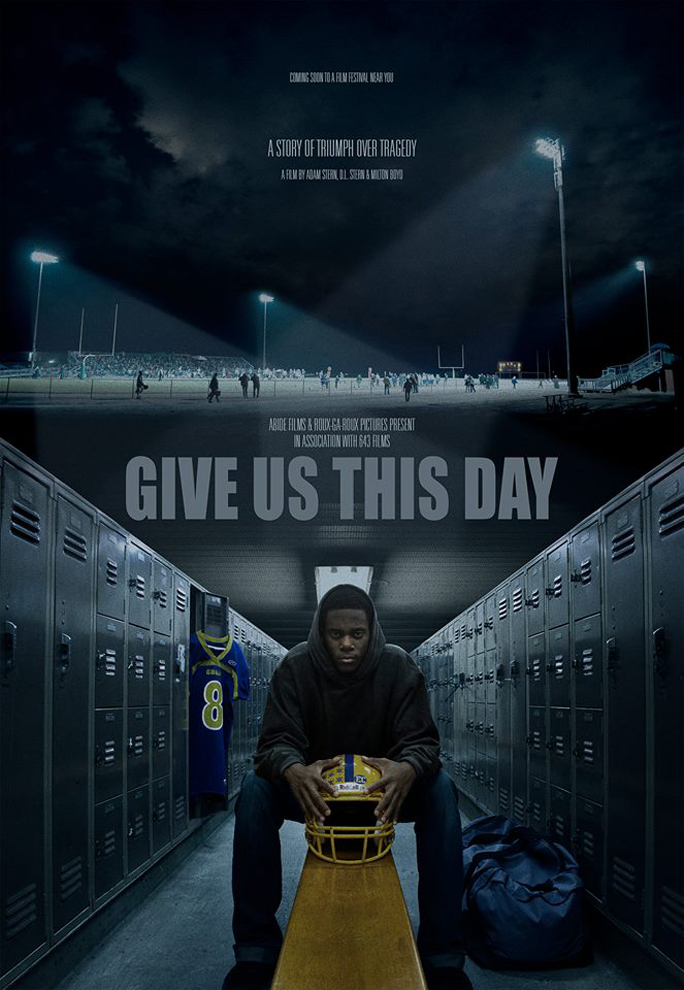 Usually, this column is all books, all the time. Like most folks, however, my life is multi-faceted, and my affinity for the printed word represents only one part.
Among the many other hats I don in my daily life, there is one boldly printed with the title "Football Mom."
While looking through the list of films premiering at the Newport Beach Film Festival, I was immediately drawn to "Give Us This Day," by indie filmmakers Adam Stern, D.L. Stern, and Milton Boyd, which follows the Grant Union High School Pacers football team.
I knew that this was a film I would connect with. High school football? I live that life. The goals of these players and my player, however, while the same, are also worlds apart. We all live the football life, but we don't live THIS football life.
Grant, located in the Del Paso Heights neighborhood of Sacramento, is known for being a football powerhouse. While their program boasts an impressive tally of championships, and counts among their alumni current college and professional players, it is also looked to as a ticket out of a community that few are able to escape.
Early on in the film, a player commented that police sirens are like birds chirping in the Heights – just part of another day.
Former Pacer, Christian Topou, currently with the San Francisco 49ers, shared that hearing gunshots and drive-by shootings during practice is a common occurrence.  Football, he says, is a meal ticket – the quickest way out for these boys.
In a community stricken with gang violence, where kids come up struggling to get ahead, often taking on adult responsibilities while still trying to shoulder their own, playing football offers a rare opportunity – the chance at a college scholarship.
Offering these young men not only a chance to play football, a scholarship gives them the means to also obtain an education, something that has far-reaching, life-changing potential for not just themselves, but their families as well.
Head coach, Mike Alberghini said, "Football is a desire, but education is a lifetime."
To get the boys there, however, they have to train them not only on the field, but off it as well. Coach Alberghini can many times be found roaming the halls hours before practice is set to start, checking in with teachers on his players' progress, and making sure everyone is where they are supposed to be.
The school often stays open late, seeing players in the library, sometimes until 10 p.m., studying, and making up work to keep them eligible and on the right track.
For young men who have experienced more tragedy in their short lives than many of us ever will, and for many of whom, a support system at home is non-existent, the guidance of the men they collectively call Coach is crucial.
Defensive Coordinator and Athletic Director, Reggie Harris reminds players that they have a generation of future Pacers who are watching and analyzing them, and can't wait to be just like them.
A product himself of Del Paso Heights, Harris says, "You have to train your head, or you'll fall right in line with what society believes you are capable of."
He continues, "It's not about wins and losses, it's about getting the kids to believe in something and see it through. We decide the blueprint for them to become a man, and with that, they're going to lead others. If we have a lot of kids follow the blueprint, we're going to see this community blossom."
"Give Us This Day" is an inspiring story of perseverance and transcendence. Despite being dealt a hand no one wants to play, these boys are playing it anyway, to the best of their abilities.
To borrow a cliché, life is not about where you start, but where you finish, and the Pacers are living proof.
"Give Us This Day" has its world premiere at 5:45 p.m., on Monday, April 28, at the Island Theater.
For a full listing of Festival films and show times, or to purchase tickets, please visit newportbeachfilmfest.com, and click the "Tix on sale now" button.