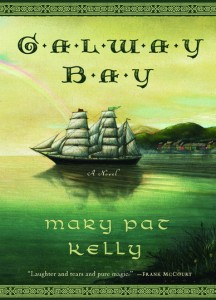 When my middle son was in fifth grade, his class participated in a Heritage Fair. Each student was to present a short story about their ancestry, and share a dish representative of that culture. Braden chose to learn about the Irish ancestors that began the American branch of his paternal grandmother's family tree.
Despite having known my husband for 20 years at this point, I had never heard the story of how his mother's people came to be in New York. The fact that they ever made it to American soil is nothing short of incredible, and their story, while fascinating, is tragic as well.
During the great potato famine, some two million Irish immigrants fled from certain starvation in their homeland toward the hopes of a better life in America. My husband's great-great-great grandparents, the Thorntons, were among them.
After having secured passage to their new life, they were dismayed to learn that their ship was suffering from mechanical issues. While most passengers chose to take the voyage on the replacement ship – a brand new ocean liner, much nicer than the one they were originally set to travel on – the Thornton family chose to stay in Ireland, and spend a little more time with their loved ones before bidding them farewell.
Shortly after beginning its trek, the ship they opted not to take caught fire, killing all on board. Their choice to remain behind had saved their lives. While they eventually made it safely to New York, settling in the town of Angelica, it was only after surviving a harrowing journey, marked from the outset by tragedy, and filled with long days at sea, often spent sick or hungry.
I have remained mesmerized by this story. If not for a mother's choice to stay behind just a little longer with her four small boys, my husband and the four generations of American Thorntons before him may have never been.
So, as I thought about the upcoming St. Patrick's day, I chose a book club selection that paid homage to the Irish immigrants who risked it all to create a life here, and in so doing became instrumental in the building of this country.
"Galway Bay," by Mary Pat Kelly, the Under Cover Book Club pick for March, does just that. Based on the author's own great-great grandmother, it tells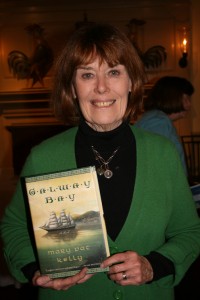 the story of Honora Keeley, a young girl preparing to enter the convent when she was swept off her feet by the charming Michael Kelly, who would become her husband.
Kelly tells the story beginning with the "before times," describing what life was like before the Great Starvation caused by the famine responsible for ruining the potato crops several seasons in a row. While accomplished farmers and fisherman, the Irish at the time were often forced to sell what they caught and harvested in order to pay exorbitant rents, and thus, their own families relied on the humble potato to survive.
The Kellys, like so many others had to make the decision to stay and starve, or strike out, leaving everything they knew and loved behind, to create a new life in a distant land. Their journey brought them through New Orleans to Chicago, where they helped build one of America's biggest cities, and where now, generations later, there are still Kellys to be found.
A family saga, sweeping through six generations, "Galway Bay" is a story of the experience of the 19th century American immigrant. It is an examination of the human heart, and of the incredible determination it takes to survive in the face of extreme opposition.
Booklist calls it, "A vividly lavish historical novel. Through the eyes of the extended Kelly clan, the reader is treated to a panoramic overview of the Irish American experience."
Another reviewer, however, reminds us of the story's universality in saying, "We are all the descendants of courageous immigrants who arrived in our country." Thus, this story is, while Irish in perspective, one that is also about us all, if we take the time to recognize ourselves in it.
Edie Crabtree is an avid reader and the mother of three active boys. She can be reached at [email protected]