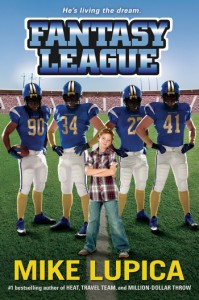 The Newport Beach Public Library is set to host the latest in a long line of renowned authors when they welcome sports writer extraordinaire Mike Lupica later this month as part of their "Making Memories for Children" series.
Hailed as the "greatest sports writer for middle school readers," Lupica will be visiting Newport, hot on the heels of a scheduled Today show appearance in New York, to promote his new children's book, "Fantasy League."
Taking place at the Central Library on Thursday, September 18 at 5 p.m., the event will offer fans of Lupica's writing the opportunity to hear about the new book, participate in a Q&A, and get up close and personal with the author as he signs copies of what is sure to be another bestseller.
The presentation is free of charge, with a $10 suggested donation at the door.
I have been familiar with Lupica as a result of his many sports novels aimed at middle grade readers. However, as I told my husband about this event, and began to describe the books, he gave me one of those looks that let me know in short order that I was missing something.
You see, books are my domain, but anything sports-related is decidedly his, and apparently, Lupica is a big deal in the grown up sports world as well. I guess writing for the New York Daily News, and anchoring ESPN's "The Sports Reporters" for the last 15 years will lend you a little name recognition.
In addition to his sports reporting, Lupica has also written books for adults, including co-writing biographies of such sports giants as Reggie Jackson and Bill Parcells.
While I apparently owe Mr. Lupica an apology for not being completely aware of the full spectrum of his sports writing dominance, I still assert that he has made a pretty big name for himself as an author of children's books.
As a mother of boys, I can tell you that finding books that speak to them can sometimes be a challenge. Lupica's work meets that challenge head-on, providing young sports enthusiasts options that are right up their alley. I have yet to work a single book fair that didn't have his books prominently featured as a beacon to anyone not interested in all the vampire/pony/pre-teen angst books that seems so prevalent these days.
"Fantasy League," recommended for readers aged 10 and up, is sure to be another winning option.
Drawing comparisons as a "Moneyball" type story for kids, the book follows the adventures of Charlie, a 12-year-old football fan, and brings to life the dreams of many young sports lovers.
While he may be relegated to the bench on his school's football team, Charlie knows the ins-and-outs of the sport like no one else. When he shares his fantasy football picks on his podcast, a local radio host takes notice, and broadcasts them for all of Los Angeles to hear.
After achieving local fame for his football knowledge, Charlie befriends the aging owner of fictional NFL team, the L.A. Bulldogs, and begins advising him on which players he should go with at game time. Soon, this humble benchwarmer seems to be doing the work of a pro football general manager – all while trying to still be a kid.
I can't wait for my own 12-year-old, who is taking after his father as a rabid sports fan, and who also joined his first non-family fantasy football league this year, to read "Fantasy League," set to release on September 16. It's as though Lupica wrote it just for him.
While my son equally enjoys both playing and watching football, this book is a great option for all the kids out there that, while not athletes themselves, are lovers of the game.
For more information on the event, please visit nbplfoundation.org, or call (949) 548-2411.
Edie Crabtree is an avid reader, and the mother of three active boys. She can be reached at [email protected]