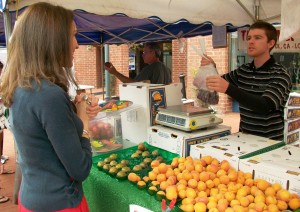 Lido Marina Village may be undergoing a facelift, but the Newport Beach Farmer's Market held every Sunday from 9 a.m. to 2 p.m. on the village's cobblestone street has the same inviting look, and a new vendor.
"It's La Paris Crêperie, masterminded by French native Jonathan Paquier and his two partners," said Wendy Rawady, the Farmer's Market manager. "They make genuine Parisian style French crêpes. They studied the art in Paris, and the twist is that they use market produce in their recipes. Everything is farm fresh. They also sell Lavazza coffee, so no need to look around for your morning cup of Joe."
As summer draws to a close, Rawady said the farmers will be shuffling around to accommodate fall and winter crops.
"We have bid a sad farewell to our peach/stone fruit providers, but everything is local to California and supervised by the Agricultural department for quality," said Rawady. "Our farmers can supply your weekly eggs (even quail eggs), organic meats of all kinds including poultry, plus vegetables and fruits."
"Lido is a small farmer's market but has a large range of farmer produce, a growing local artisan bazaar with some beautiful goods at reasonable prices, and delicious prepared food options from popsicles to walnut butter, crusty artisanal bread and slats, healthy cookies, dips, sheep's cheese and so much more," she added.
Among the many vendors listed on the Newport Beach Farmer's Market website: Bee Ladies Local Honey, Future Foods Farms, Gaytan Family Farms, Hopkins AG, New Era Farms, Nuvo Olive Oil, Sweet Tree Farm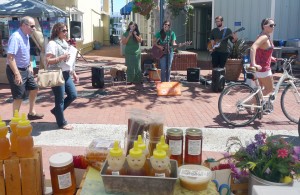 (organic), and seasonal farmers. Food vendors include Ari's Gourmet Foods, Bake Shack, Hepp's Salt Barrel, One Love Tea, Orange Clementine, Parolli Rolli, and Sola Jams.
Rawady noted that they're bringing in weekly live music from surf sounds to indie pop and classical guitar.
"This Sunday, Sept. 7, we have the amazing Alicia Murphy Band. They are seriously good and everyone loves them," said Rawady. "Alicia is a hydrologist with a strong social conscience and her songs (all original) are kind of Lily Allen style in that the words are very hard-hitting and realistic. We are also doing some water-wise days with her at our markets. Actually, I discovered her digging a hole in our market site as she was drilling for water samples and we got chatting and wow, what a singer she is!"
Rawady stated that there's always some fun going on at the market, including a free monthly raffle for a basket of gifts from all the market suppliers that's drawn at the beginning of each month.
"The market is gradually growing and we have some development ideas including breaking up crafter spots into half spots to make them more affordable for people who just have an occasional random booth."
The Farmer's Market offers free validated parking in the garage with purchase. Pets welcome in the pet zone (not near the food), but Rawady said some managers will hold your pet for you while you shop.
The Farmer's Market is also looking for volunteers. Anyone interested can talk to the manager at the red Information tent at the market.
The market will be closed on Sunday, Sept. 21 due to the Lido Boat Show, but will return the following week.
For more information, visit the website at NewportBeachFM.com.