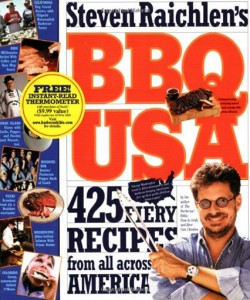 Happy Birthday, 'Murica! While nothing says Independence Day like firing up the barbecue, grill perfection can be somewhat elusive.
If you're like me, you have the kitchen itself pretty down, but once you step out onto the patio, things become a little tricky. Of course, I can pull off burgers and dogs like a champ, but bring out a nice ribeye, and things get a little dicey.
How long should I grill it? Is the flame too high? Are you sure I shouldn't flip it yet? All questions that the novice grillmaster has to contend with, not to mention the age-old debate between gas and charcoal. I sometimes wish I could wave a wand and just fast-forward to a perfectly juicy steak, chicken, or chop.
Although the BBQ fairy will likely not be stopping by any of the weekend's festivities, a trip to the local bookstore can provide some crucial pointers. Recipes, techniques, and side dish pairings can all be found in the pages of these go-to grilling guides:
"BBQ USA: 425 Fiery Recipes From All Across America" by Steven Raichlen. From brisket to pulled pork, from Kansas City style to Memphis BBQ, this all encompassing book has something for every lover of live-fire cooking.
With recipes from all fifty states, plus Canada and Puerto Rico, Raichlen has something for all your 'cueing needs. Smoked, pulled, mopped, or rubbed, you'll find the perfect recipe, along with fun facts, local tidbits, and helpful tips all within these pages.
"Smokin' in the Boys' Room: Southern Recipes From the Winningest Woman in Barbecue" by Melissa Cookston. While the kitchen is stereotypically a woman's domain,
 the grill is ruled by men…except for this pit master!
Two-time overall world champion Cookston shares the story of how she rose to the top in the BBQ world, as well as her Southern Delta style recipes. Along with the barbecue how-tos, including sauces and seasonings, you will also find a few recipes for sides and desserts to help round out your meals.
Should you find after grilling it up this weekend that your technique could still use a little help, Williams-Sonoma in South Coast Plaza will also be offering some grilling guidance via this month's Cookbook Club class, featuring "Grill to Perfection: Two Champion Pit Masters' Recipes and Techniques for Unforgettable Backyard Grilling," by Andy Husbands, Chris Hart and Andrea Pyenson.
Billed as a book for adventurous backyard grillers, this volume shares recipes for both coal and gas. Additionally, the authors have included time-honored American favorites, as well as introducing dishes with a more international flair, such as Korean BBQ, Sichuan chicken, and Caribbean jerk ribs.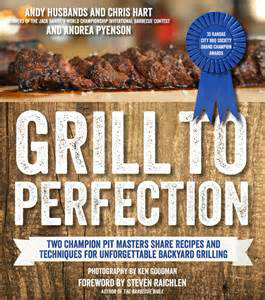 Participants in the class, taking place on Wednesday, July 9 and appropriately dubbed "Grilled to Perfection," will be treated to cooking tips and techniques, as well as a tasting menu which will include Farro Salad, Grilled Naan with Smoky Eggplant Puree and Grilled Onion, and Pan-Fried Turkey Cutlets with Fresh Corn and Tomatoes.
The $75 class fee includes the class, a book, and a ten percent in-store discount, which can be used after the class to pick up all the tools you'll need to implement your new skills on the grill.
For more information on the class, please visit wiliams-sonoma.com. To register, call Williams-Sonoma directly at (714) 751-1166.
Whatever your plans this holiday weekend, may freedom ring through a piece of perfectly crusted, juicy meat, and a smell coming off the grill that will make your party the envy of the block.
Edie Crabtree is an avid reader and the mother of three active boys. She can be reached at [email protected].