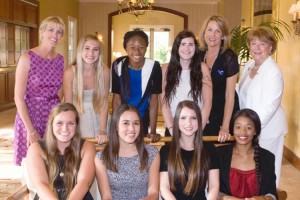 On May 28, the 1221 Club Scholarship Foundation (the philanthropic arm of Balboa Bay Club) honored the recipients of the 20th annual 1221 Club College Scholarship Awards during a presentation and dinner in the Balboa Bay Resort Grand Ballroom.
This year, 24 outstanding high school seniors from across the Newport-Mesa Unified School District shared more than $150,000 in merit-based scholarship monies, raised by 1221 Club Scholarship Foundation members through various Balboa Bay Club special events.
Since 1994, the 1221 Club Scholarship Foundation has awarded close to $750,000 to more than 250 gifted young men and women enrolled at Corona Del Mar, Newport Harbor, Estancia, and Costa Mesa high schools, in recognition of their exemplary scholastic, athletic, and personal achievements.
"The women of the 1221 Club Scholarship Foundation have taken great pride in giving back to our community by growing our scholarship fund over the past 20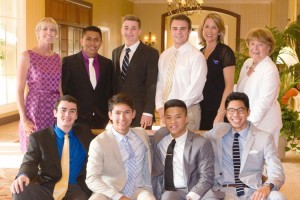 years," said club president Carole Pickup. "It's a real privilege for us to be able to provide significant support to some of the most deserving students as they reach for their dreams."
Top civic officials, including Newport Beach Mayor Rush Hill, Mayor Pro Tem Ed Selich, and Councilman Keith Curry attended the awards festivities.
2014 Scholarship Award Recipients:
Pinnacle Scholarship — $20,000
Shaun Vetrovec
Ellen Naruse
1221 Club Scholarship — $20,000
John Marco Bruscia
Emily Parsons
Balboa Bay Club Scholarship — $20,000
Logan Whalen
Abigail To
Governor Scholarship — $7,000
Sagang Wee
Marissa Fink
Foundational Scholarship — $1,000
Nikkie Blinn
Persis William-Mensah
Briseida Miranda
Ricardo Herrera
Jesus Acevedo
Thanh Nguyen
Christina Nelson
Kevin Conde
Andrew Hanson
Charles Griffin
Riley Flanagan
Natalie Gerber
Rodrigo Hernandez
Hoan Nguyen
Kimberly Hedges
Daniel Lawerence