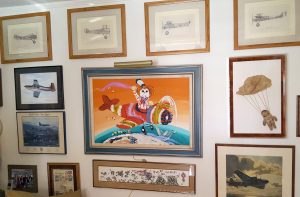 While on the Balboa Island Historic Home Tour recently, I met a wonderful woman whose name I cannot recall, although I vividly remember her, what she was wearing, the stories she told and the memories her house held.
She was 92, as upbeat and energetic as a 20-year-old. I was shocked to hear her age. Her stories were mesmerizing and told of times and adventures that would put Indiana Jones to shame.
It is women like this trendsetter who has bridged the way for other women adventurers.
She once flew a plane into Tibet, reporting she was one of the first allowed to do so. Over the years she has flown many different types of planes; evidence of this was in photos and memorabilia throughout her house.
Travelling was one of her favorite past times, and there seemed to be no inch of the earth untouched by her. She had even ventured into my own native land of New Zealand.
It was such a privilege to meet her. I certainly left inspired.
How about you? Are you living the life you want? I know it does not always go according to plan, but sometimes that's a good thing. It is in those moments that we get to experience new opportunities, new adventures that maybe we did not even know we wanted to experience. In fact, most of the time, opportunities do not just pop up at our door. We need to be focused on them and also be open to a change of direction.
Life sometimes gets in the way: washing dishes, going to the grocery store, the list goes on. However, we need to make part of our day devoted to goals, to our dreams. Often it takes dedication to work towards these types of adventures.  Don't let obstacles be our deterrent, but rather our course director.
This year has been a little challenging for me health wise. Between a broken shoulder and now a back surgery in the near future, it has put a little bit of a damper on my goals this year, as most of these goals were focused around mountain biking and hiking. So, I'm making a change of course.
More energy is being put into my books that I am writing. I am slowing down and spending more time working on my home. I have started a vegetable garden with herbs, tomatoes, squash, limes and lemons. Although gardening is difficult on my back, I am finding creative ways to make it work.
Life does tend to send us these changes in direction along our paths, yet it is what we do with these changes that counts.
Voltaire wrote that "each player must accept the cards life deal him or her: but once they are in hand, he or she alone must decide how to play the cards in order to win the game."
So grab your cards, do not compare them to anyone else's, and make what you will out of them.
I hope when (and if) I make it to 92, that I too have amazing stories to tell.
Contact Dr. Shelly Zavala at DrZavala.com or [email protected]