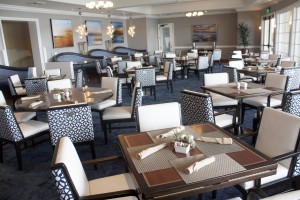 Balboa Bay Resort transformed itself several years ago when First Cabin restaurant converted into Waterline with new décor and a new menu.
The former Duke's Place lounge morphed into A&O (Anchors and Oceans) with an all new look, including custom firepits on the patio.
The lobby and ballroom space also expanded, and a new coffee shop was added just off the lobby.
Now, another transformation is taking place, not quite as dramatic as the last one yet still significant. The patios at A&O have refreshed colors, and fire pits are scheduled to be added to the Waterline patio in January.
I had lunch with Sam El-Rabaa, general manager for Balboa Bay Resort, and Elizabeth Stefan, director of marketing, and found out more changes are in the works.
"We were going to redo Waterline next year but have pushed that back to 2020," said Stefan. "We'll install the fire pits after the Christmas Boat Parade. And we're doing Restaurant Week in January, with dinner at A&O and lunch and dinner at Waterline. We are redoing the Waterline patio furniture in blue and white with yellow touches, it will have a French Mediterranean feel."
In 2020, the Waterline bar area will be renovated, with the back wall coming out so the bar opens into the restaurant. They will be adding live music, among other updates.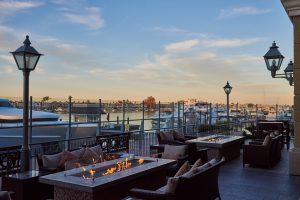 One update you won't have to wait for is the new bar program for Waterline, which is being introduced in early 2019.
Ben Carpenter, beverage director for Balboa Bay Resort, told me he plans to introduce a signature martini program, different from A&O, which is driven on whisky and agave spirits.
"The martini program will have vodka and gin collections and a great ice program plus gorgeous glassware," he said. "We will most likely have a tableside martini cart and do tableside martinis. We're really excited to get that started. It is experiential, it sets you apart. Everyone remembers that one bar or restaurant where they had a dazzling presentation, the drink was incredible and the presentation was amazing."
Carpenter said he plans to launch the new martini program in February. Oh—and it includes a signature olive program, such as pickle stuffed olives, peri peri stuffed olives, and of course the traditional blue cheese.
At A&O, Carpenter started a California Distilled menu that includes a variety of spirits from California producers.
"You go to luxury hotels and you see Grey Goose, Macallan. A lot of high-end names, which we have too, you have to have it. But we wanted a program with heart, something that means a lot for California," explained Carpenter. "We are using 100 percent California distilled projects, and cordials developed in house with local produce. We really wanted to support small businesses, and be centric in our choices."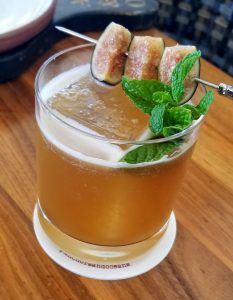 Carpenter is using distillers from San Diego to Humboldt, all of whom have received accolades for their products. He's also proud of the cocktails at A&O, some of which have been created by his bar. The beer selection includes rotating taps of southern California labels from San Diego to Redondo Beach—including one of my favorites, Towne Park in Anaheim.
Carpenter brought me two of this California Distilled cocktails. The first was Sonnet 73, made with Breaker bourbon from Buelton, fig jam, Geijer Spirits California Fernet, house made Earl Grey cordial, lemon, and Bitter Queens Sarsaparilla bitters. It's a beautiful fall cocktail, with flavors so well integrated that while you can taste each ingredient, they blend perfectly. And the large ice cube is perfect for keeping the drink chilled without watering it down.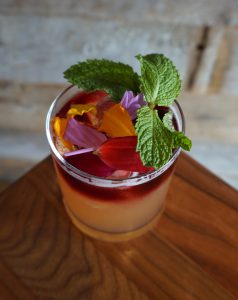 He also made a Hotel California cocktail with Malahat cabernet aged rum (rum aged in Cabernet barrels from Silver Oak), Humboldt spiced rum, cinnamon cordial, St. George Bruto Americano, lime, ginger bitters, and Jardesca Red Apertiva. A gorgeous drink with well-integrated flavors that sips easily and leaves you wanting more.
For lunch, we shared the house truffle focaccia ($16) with black truffle, roasted garlic, and burrata cheese. For a main course, I was tempted by both the chicken pot pie and the classic Kobe cheeseburger, but opted for a comforting fall dish: spaghetti squash ($19) with heirloom cherry tomatoes, basil, feta, kalamata olives, tomato sauce, burrata cheese, arugula, and grilled olive focaccia. It arrived warm in a small skillet. It was indeed an ode to fall and winter, a dish that felt – and tasted – like a California take on Italian cuisine. It was, in a word, delicious.
And since we're on the subject of food, new Chef de Cuisine Josh Shapiro has created a fun prix fixe Boat Parade menu for Waterline Restaurant. Chef Shapiro previously worked at several noted East Coast restaurants before relocating to Orange County.
The $80 menu is available December 19-23 from 5 to 9 p.m. First course selections are choice of puree of mushroom soup or Dungeness crab salad. Second course choices include braised beef cheeks with creamy polenta, porchetta stuffed with chestnuts and quince, or salmon.
Dessert is sticky toffee pudding with toffee sauce or guava torte.
For more information, visit BalboaBayResort.com.