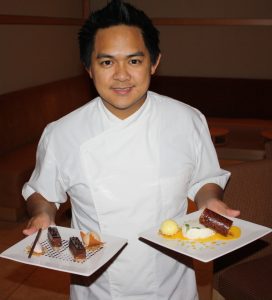 By Christopher Trela & Catherine Del Casale | NB Indy
 The past month has seen a number of changes at restaurants around – and inside – Segerstrom Center for the Arts, a popular spot for Newport theatergoers.
Holstein's, which replaced Charlie Palmer in South Coast Plaza about a year ago, closed last month. We wrote about them this summer, and were surprised they did not catch on locally, although we have to admit there is a lot of dining competition
Marché Moderne, a popular French restaurant helmed by Chef Florent Marneau and his wife, Amelia, announced that it will leave its longtime South Coast Plaza location.
That's good news for Newport diners, because Marché Moderne will be moving to Crystal Cove Shopping Center in the space formerly occupied by Tamarind of London, which closed last year.
"We are excited to begin our next chapter in the stunning Newport Coast community, and look forward to the culinary evolution of Marché Moderne," said Chef Marneau.
We've dined at Marché Moderne several times and can't wait for the new location to open next spring.
Another longtime culinary institution, Scott's Seafood next to the Westin Hotel, closed last January, but already another restaurant has opened in its place: Water Grill, a premium seafood concept by Costa Mesa-based King's Seafood Co.
We're looking forward to trying Water Grill soon, because we heard the menu changes daily depending on what fresh seafood is available.
But we're most excited about Chef Ross Pangilinan. He created sensational dishes during his six-year reign at Leatherby's Café Rouge adjacent to Segerstrom Concert Hall, including the popular themed menus for every musical that came to Segerstrom Center.
Ross recently departed Leatherby's to open his own restaurant in downtown Santa Ana: Mix Mix, which opens later this month in the space once occupied by Little Sparrow and Black Box. He'll offer a menu of global dishes with French, Italian and modern Filipino influences.
"The inspiration for my menu at Mix Mix comes from both the memories I embrace from childhood and techniques I've learned throughout my culinary career," said Chef Ross. "At an early age, my father instilled in me an appreciation for diversity in food; together, we explored everything from hole-in-the-wall Chinese eateries to high-end French restaurants."
A peek at Chef Ross' menu revealed Filipino Ceviche, Seared Foie Gras Buenelo, Soft Egg Raviolo, Crispy Duck Leg, and other items that made us want to rush out and try them all.
We will be attending a special media tasting at Mix Mix this week, and will report back in an upcoming column.