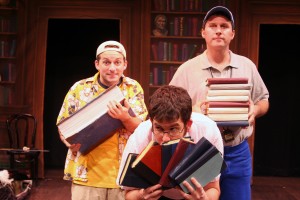 Transforming a book into a play is nothing new. But take 83 of the most famous books ever written and mold them into one 98 minute play called "All the Great Books (abridged)," and you've got a unique evening of theater that runs through March 30 at The Laguna Playhouse.
And yet, it's not unique for the Reduced Shakespeare Company, who have been skewering the classics for more than three decades since they first launched their troupe at the Renaissance Pleasure Faire back in the early 1980s.
Their 30-minute version of "Romeo & Juliet" was hysterically funny and drew throngs of Faire patrons, so RSC evolved that show into "The Complete Works of William Shakespeare (abridged)" in 1987, which combined all 37 Shakespeare plays into one two-hour theatrical romp. After touring that show around the world, more abridged shows followed based on The Bible, American history, sports, and other topics.
According to Reed Martin, co-author and director of "All the Great Books," this show was written in 2010 and is performed several times a year, so he and the other RSC members make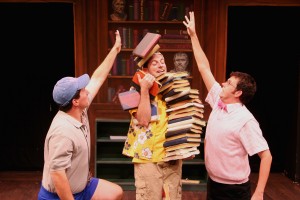 sure that topical references in the play are still topical. Overall, he says the response is similar no matter when or where they perform.
"We're not sure why, but it's probably the physical humor, and the pacing is fast and furious," he explained during a recent interview. Audiences might not laugh at all the same places, but the overall result is the same."
Martin said the setting for the show is a remedial high school literature class and the audience members are the students. It's graduation day and the students have to pass the class, but there's a problem.
"The teacher has been trampled to death at a book signing, so the Reduced Shakespeare Company has been pressed into service," said Martin. "I play a PE coach, Austin Tichenor (co-author and director) is the drama teacher, Dominic (Conti) is a man-child student teacher. We set out to cover all the great books, some more than others—a little Dickens, we do 'Walden' as Ernest Hemingway which involves whiskey and shotguns, 'Don Quixote' in original Spanish while Dominic translates very poorly."
Martin said the show is rated PG-13" "Pretty good if you're 13."
Based on their track record, there's no doubt the show will be pretty good for just about everyone.
Tickets are $36 – $71 and can be purchased online at lagunaplayhouse.com or by calling (949) 497-ARTS (2787).