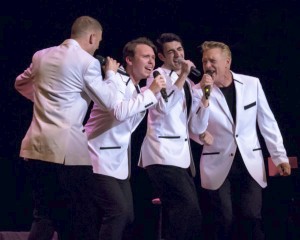 What is it about Frankie Valle and the Four Seasons that seems so timeless that it still endures more than 50 years after that grouped formed?
There were many guy (and girl) groups of the fifties and sixties, the Four This and the Four That, but what band of four has generated a hit Broadway play that runs internationally, plus a movie directed by screen legend Clint Eastwood?
Last Saturday, we got a chance to see one more iteration of the Four Seasons as the tribute band December '63 came to town for a performance at Lido Live, Newport's newest venue for live rock and pop entertainment.
December '63 delivered more than a typical concert. They attempted to develop a lounge act which included joking and bantering, and bringing women on stage to croon with them. They also engaged the men to all stand during "Walk Like a Man" and had them (us) belting out the main lines.
One criticism is that they did a few too many medleys, therefore cutting the songs "Dawn" and "Ragdoll" down to just half their lengths. Considering the group has been together just six months, they will grow and improve over time.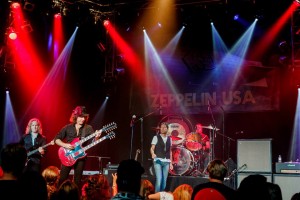 When I asked December '63 singer Nick, just 20 year old, why The Four Seasons mystique still endures, Nick told me, "The Four Seasons have such a wide array of music, and with the 'Jersey Boys' play and movie, there is just so much content and we could not find a better choice of songs to offer."
Not long ago, cover bands were not given much, if any, respect. They were considered posers and imposters, but with each year that passes, the groups that are being imitated age and disband, and in many cases lose their signature voices.
Now we have tribute bands that sing like the originals used to sing, and the beat goes on and on and on.
Summer season seems to bring myriad tribute bands to town—the Orange County Fair has a new one almost every night. Now you can relive someone else's youth year round in the convenience of our new local hot spot, Lido Live.
Since they took over the old Lido Theater just a few month ago, the Lido Live has been growing in popularity and offerings, including special run movies and various concerts and special events, including Smokey Robinson.
A full house of mostly 50 plus aged patrons rocked the house the night I was there, and with a bar there to satisfy those that wish to party, it made for a fun and rowdy crowd. The acoustics are good for the type of music played, and though there is no official place to dance, the mostly female dancers gathered at the front to groove along.
Rather than offering typical subscription to venues like his, they have what's called The Balcony Club, which entitles members to sit in the upper level balcony and enjoy a variety of perks
So far, Lido Live has had just a few shows to date, but in the weeks and months to come you can enjoy a Led Zeppelin tribute band called Zeppelin USA (they perform all of Zeppelin IV on Nov. 15, relive Abba with tribute band ABBA Fab, plus Righteous Brother Bill Medley, Which One's Pink? (a Pink Floyd tribute), 80s band Missing Persons with Dale Bozzio, and more.
When I asked fellow Lido Live fan Dave Schniepp what the primary focus of the Lido Live was, he stated, "Providing excellent entertainment via movies, live shows and special events. In other words a fun place to be! Why drive to the Coach House (in San Juan Capistrano) or The Observatory in Santa Ana, or The House of Blues by Disney? You have entertainment right here in our own backyard."
I could not agree more.
Tickets to most live shows are $24. Special concerts (including Bill Medley) vary in price.
To reach Lido Live call (949) 723-9006 or visit LidoLive.com.