By Christopher Trela & Catherine Del Casale
The Fashion Island Tree Lighting continues nightly through the end of the year, so we thought we'd share a few of our favorite Fashion Island restaurants in case you want to grab a bite to eat before or after the tree lighting.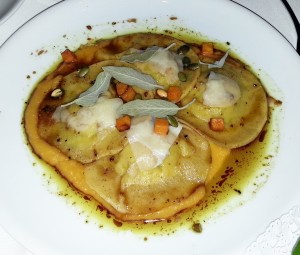 Fig & Olive
To help celebrate the tree lighting, Fig & Olive is offering guests a complimentary Piscine (champagne and strawberries on ice) with the purchase of any entrée, through Nov. 23. We love this idea, but we also love their cuisine. Executive Chef Pascal Lorange has a fabulous fall menu ($8-58) for lunch and dinner. Our favorites: heirloom baby beet and burrata with kumato tomato, orange segments, micro arugula, chive, and raspberry balsamic dressing with basil lemon olive oil emulsion; and pumpkin sage ravioli with free range chicken, ricotta and chermoula, pumpkin olive oil emulsion, toasted pumpkin seeds, parmesan, and aged balsamic.
(212) 924-1200 or figandolive.com.
Red O
Bravo's "Top Chef" winner Rick Bayless opened Red O almost one year ago, and it's been a popular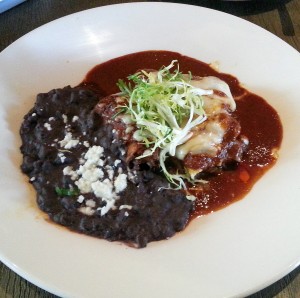 spot for both lunch and dinner. We've dined there several times and, while we've done the dining room twice, we prefer the lounge, where we can sip superb margaritas and munch on warm house-made chips and salsa. Our favorite dish is still the short rib enchilada ($21) for dinner, and the soft tacos (3 for $17) served only at lunch.
(949) 718-0300 or RedORestaurant.com.
Cucina Enoteca
We've written about Cucina Enoteca, but it's good to note that we've seen the patio packed with families enjoying restaurateur Tracy Borkum's twist on Italian cuisine.
Our last time at Cucina Enoteca, we enjoyed the truffle parmesan fries ($8), creamy polenta ($8), and smoked prosciutto and pineapple pizza ($15.50). We also chose a bottle of wine from their wine boutique to accompany the meal.
The restaurant was packed, but we found the service friendly and fast, and the food terrific
CUCINAenoteca.com.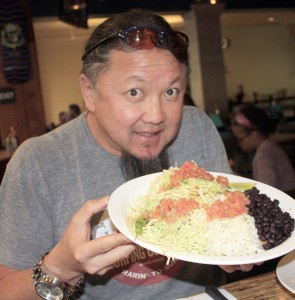 Great Maple
Tucked away in a corner of the Fashion Island mall, Great Maple opened several years ago and has garnered a legion of fans that enjoy the "European dinette in America" concept, which to us means good food at a good price. We've dined here several times and tried a variety of menu items. Our favorites:
portabello mushroom fries with pesto aioli ($12), lamb burger ($17), and truffle fries.
TheGreatMaple.com.
Whole Foods
Whole Foods is a terrific grocery store, but it's also a wonderful restaurant! They have the Back Bay Tavern, which offers craft beers on tap plus modern takes on global cuisine for lunch and dinner, a small pizzeria serving pizza by the slice, a deli, and other dining options. They're also a short walk from the tree lighting area.
WholeFoods.com.
True Food Kitchen
We like True Food because it's healthy food that doesn't taste like health food. In fact, some of it tastes downright decadent, like the squash pie ($7) that's been added to the fall menu. Served with a dollop of coconut whipped cream, it's bursting with fresh flavor. So is the ever-popular Tuscan kale salad ($9), served with lemon, parmesan and bread crumbs. We've also enjoyed the weekend brunch menu, especially the quinoa johnny cakes served with banana and syrup ($9) and the berry granola ($7). The weather is still nice, so opt for a seat on the patio, where a blazing fire pit welcomes diners in the evening.
TrueFoodKitchen.com
Casey's Cupcakes
If you're craving dessert, you can't do better than Casey's Cupcakes. This month they're featuring the Pumpkin Patch Perfection: pumpkin spiced cupcakes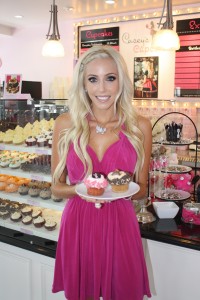 with pumpkin-maple flavored cream filling with maple vanilla buttercream frosting, decorated with Tahitian white chocolate curls, whipped topping, pumpkin spice and gold glitter. Yum! Of course, we love the other flavors too, especially the peanut butter pizazz. Casey's cupcakes are $3.50 each.
CaseysCupcake.com.
Oak Grill and Aqua Lounge
Earlier this year, Island Hotel unveiled its new Oak Grill restaurant and Aqua Lounge. We've been to both and love the atmosphere—it's trendy without being pretentious, and a new side entrance on Newport Center Drive makes accessing the venues from Fashion Island a breeze. This Sunday, local band Pinch Me! plays on the Oak Grill patio 1 to 5 p.m. Listen to the band while enjoying brunch that includes a selection of fall menu items, including house made corned beef hash, plus bottomless mimosas.
OakGrillnb.com.
Other Options
More Fashion Island dining favorites: Lemonade next to the Island Cinemas, the food court (including our favorite fast casual restaurant, Wahoo's), and Bloomingdale's 59th & Lex Café, which offers viewing of the nightly tree lighting as you dine.
ShopFashionIsland.com.