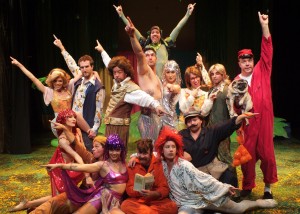 If variety is the spice of life, then The Laguna Playhouse is one spicy theater. The Playhouse has four productions between now and September 30 that offer a variety of styles from musicals to comedies to a one-woman show.
Last month it was Buddy Holly music emanating from The Laguna Playhouse in the musical bio "Buddy: The Buddy Holly Story." This month, the sounds of Motown can be heard thanks to "Motorcity Magic – A Musical Journey Through the Motown Years," running now through August 24.
A handful of vocalists and a seven-piece band perform the songs of Motown legends the Four Tops, Supremes, Temptations, Jackson 5, Stevie Wonder, Marvin Gaye, Lionel Richie, Diana Ross, Isley Brothers, Mary Wells, and many more.
Tickets are $46 – $66.
Then, for five days only, the Troubadour Theater Company invades The Laguna Playhouse to present their hilarious hit, "A Midsummer Saturday Night's Fever Dream," a mashup of Shakespeare's "A Midsummer Night's Dream" and the music of "Saturday Night Fever," August 26 – 31.
The show's description offers a clue as to what audiences are in for.
"'How Deep Is Your Love' for the Troubies?! Join them as they dig down to their roots and dust off their fairy wings, tights and white disco suits to re-imagine Shakespeare's "A Midsummer Night's Dream." The star-crossed lovers steam and scheme, and the Bard's most famous fairy, Puck, will be 'Jive Talkin' as this assorted band of merrymakers heats up into a 'Disco Inferno.' 'The Night Fevers' will break 104 and make you sweat, so don your halter-tops and 'Boogie Shoes' and let the Troubies melt your hearts. Feeling the fever already? Take 'A Fifth of Beethoven' and call us in the morning!"
I've seen the Troubies many times, and I guarantee you will laugh so hard that tears of joy will flood the theater and solve our drought. Yes, they're that funny, thanks to the antics of Troubie founder Matt Walker and his crazy layhouband of actor/comedians
Tickets are $45.
If you're having a hot flash, don't worry—it's just the return of "Menopause The Musical," running Sept. 17 – 28. This celebration of women who are going through "The Change" has been performed around the world for the past 13 years.
Set in a department store, four women meet by chance while shopping for a black lace bra at a lingerie sale. After noticing similarities among one another, the all-female cast jokes about their hot flashes, mood swings, wrinkles, weight gain and much more as they sing parodies of classic pop songs of the 60s,'70s and 80s.
Tickets are $50.
And then on Sept. 29 and 30 is "Gene Kelly: The Legacy," An Evening with Patricia Ward Kelly.
According to the Playhouse, this intimate, behind-the-scenes portrait of legendary hoofer Gene Kelly is hosted by Patricia Ward Kelly (his wife and biographer), and takes audiences behind the scenes with rare and familiar film clips, previously unreleased audio recordings, personal keepsakes, and stories Kelly shared with her over their decade together. She guides us on an unforgettable journey into the life and heart of the man who changed the look and style of dance on film and became one of the world's most beloved and iconic stars.
Tickets are $45.
For more information on The Laguna Playhouse, visit LagunaPlayhouse.com or call (949) 497-2787.