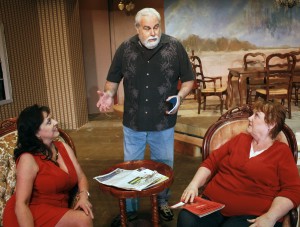 Prolific playwright Horton Foote has won an Oscar, a Tony and a Pulitzer. Anyone who has watched one of his realistic and often autobiographical plays will know why Foote received so many accolades.
Foote's final play, "Dividing the Estate," written in 2008 (the year before he died), was nominated for a Tony Award. The warm and poignant comedy focuses on the Gordon's of Texas, and matriarch Stella. Her children discuss dividing the estate while their mother is still alive, but is that really the best route to financial freedom?
Newport Theatre Arts Center is mounting a production of "Dividing the Estate" beginning this weekend and running through April 27.
The play's director, Bran Page, and actresses Sharyn Case and Della Lisi, have all worked together on various projects over the years, and agreed to talk about their roles for "Dividing the Estate," which they said is not your typical comedy.
"The dialogue is great—great one-liners, and so much poignancy. It's a really good script," explained Page. "When I first read it, I laughed out loud, it was really wonderful."
"I have not acted in a long time because I've been focused on directing, but I broke my rule about not acting and came out for the part," said Case. "This is an interesting character. She's seriously protective of her family and her estate, she loves her sister, but she finds that her sister is at odd with what she wants to do with dividing the estate."
"My character is desperate, but she also has an image she has to keep up," said Lisi. "She's coming back to her hometown that she's worked to get out of."
"Ironically, my mom just passed away, and my sister and I have become very close, and her family and I have become close, so I see that happening every night on stage here," added Lisi. "I did not do a lot of research into my character, other than I have recently lived dividing the estate."
For tickets, visit NTAConline.com, or call (949) 631-0288.