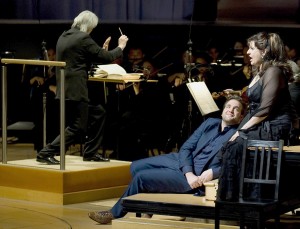 From chic Parisian salon to poverty-stricken sick bed, the incredible intensities of passion, sacrifice, desertion, and forgiveness play out their love lines in Giuseppe Verdi's perennially popular yet predictably tragic opera "La Traviata."
All the emotions of the human heart enwrap its dramatic storyline, while Verdi's music exhilarates and infuses those same hearts with hope and healing.
It's the stuff of which great drama is made, and this month- in partial homage to the composer's 2013 bicentennial- Pacific Symphony brings it to life once more for three nights only, Feb. 20, 22 and 25, in the Renée and Henry Segerstrom Concert Hall.
Semi-staged and sung in Italian with English supertitles, "La Traviata" will mark the third production in Pacific Symphony's "Symphonic Voices" initiative, which Music Director Carl St.Clair launched two years ago in response to Orange County's loss of Opera Pacific.
The success of a sold-out run for its debut in 2012 with Giacomo Puccini's "La Bohème" segued into last year's presentation of his "Tosca."
This year, Pacific Symphony teams with internationally renowned opera singers, Pacific Chorale, and members of the California State University Fullerton University Singers for what promises to be another spectacular show.
In addition to a cast of amazing voices (which includes two Cuban-American stars, soprano Elizabeth Caballero as Violetta Valéry and tenor Rolando Sanz as Alfredo Germont), the production welcomes the return of 2012's "La Bohème" Stage Director A. Scott Parry, and once again features costumes, props, and video elements.
With his experience as an opera conductor in Europe, including the German National Theater and Staatskapelle in Weimar, Germany, Maestro St.Clair has been able to bring valuable insights into the development of Pacific Symphony's "Symphonic Voices" series of concert-operas as well as to this new production of "La Traviata," which he also conducted while general music director of the Komische Oper Berlin.
Well up to the challenge of mounting a partially-staged opera in a concert hall, St.Clair set out to redefine what that means. He created a different aesthetic and acoustical experience for audiences, one that is at once intimate and much more immediate. This pairs perfectly with the visceral emotions that flood Verdi's masterpiece.
Set in France during the 1850s, "La Traviata" tells the tale of delicate and lovely courtesan Violetta, who gives up her parties and partners in the name of true love and retires with her aristocratic new beau Alfredo to enjoy a bucolic country life. When she later leaves him – persuaded by Alfredo's father, who believes it is for his son's own good – a series of further losses ensues and she becomes ill from hard times and heartbreak. Do the lovers reunite? Can they forgive each other? Will sickness trump redemption?
It is heightened emotion as only opera can provide, as titillating as a serial soap and embellished with majestic music and the glorious arias that can pluck and wrench and shiver heartstrings at will.
Pacific Symphony presents "La Traviata" Feb. 20, 22 and 25, at 8 p.m. in the Renée and Henry Segerstrom Concert Hall in Costa Mesa. Tickets are $25 – $109. For more information call (714) 755-5799 or visit PacificSymphony.org.