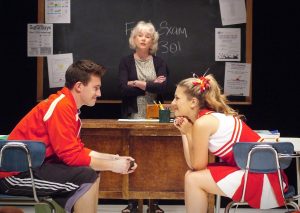 By Daniella Walsh | NB Indy
 It's three days before graduation and Roosevelt High School basketball star Joe Marks is not only beset by senioritis, but horniness that addles his senses.
He jeopardizes a college scholarship and an NBA fantasy during a final English exam by passing a sexually explicit note to Hannah, his cheerleader girlfriend.
Their teacher, Miss Edwards, intercepts the missive. She reads it aloud, unfazed by foul language directed towards her but taken aback instead by atrocious grammar, poor sentence structure and lack of organization.
Thus commences "Sex and Education," a one-act play about the angst of teens, their skepticism of education's value and a teacher trying to instill a modicum of knowledge before finally chucking it all.   
Written by Lissa Levin (who was in the opening night audience at Laguna Playhouse), the play had its premiere at the Kennedy Center Page to Stage Festival and was then performed at the 2010 Capital Fringe Festival, where it received mixed reviews in its longer, two-act version.
The whittled down version that runs through May 22 at Laguna Playhouse is a hilarious success.
Under deft direction by Andrew Barnicle, the Playhouse's former artistic director, the story moves swiftly.
Alexandra Johnston portrays a statuesque Hanna, whose mature good looks don't quite match her character, a teen-ager grappling with sex and its ramifications, impending adulthood. Alas, she remains something of a cipher until near the end where she emerges as a strong, intelligent woman looking for more in a boyfriend than the star jock trawling for sex.
Tall and lanky and endowed with boyish expressiveness, Nick Tag delivers a nuanced portrayal of a young man developing his sense of self and sorting out his feelings for Hanna.
At first glance, the story seems like a retread of similar tales: a teen-aged male who sees little practical value in anything besides sex and sports and a protagonist trying to teach the finer points of writing and literature.
 But plot twists upend assumptions about jocks, vapid cheerleaders and selfless teachers.
Here, Miss Edwards, played by a highly animated Julia Duffy, is at the end of her tether career-wise and ready to embark on a new one as a real estate agent, hoping to finally make a living. Her aspirations do not escape Joe, who threatens to buy his first mansion from someone else once he gets his NBA contract. While he's at it, he also explains the intricacies of a triangle defense in basketball, showing up her ignorance as a way to get even for being kept after school. 
Duffy's talent for comedic delivery on television shows such as "Designing Women" and "Newhart" earned her Emmy and Golden Globe nominations.
Dedicating her Playhouse role to Deb Frank, her own favorite English teacher, she does not disappoint here, vacillating between authority and frustration, security and self-doubt, with a thin overlay of compassion for her hapless charge.
Yes, there are pratfalls, at least for the PC set, such as whether a woman would consent to sex over persuasive writing or know better than a man if she is ready for carnal pleasure.
Spoiler alert here: redemption arrives when Joe, seemingly guided by his sub-conscious and adroit at displaying his new-found knowledge, seduces Hannah with word play.
Some may think the youth-oriented storyline and script laced with vulgarities is a bit of a stretch for the Playhouse and its older audience. In her program note, Artistic Director Ann E. Wareham apologizes for "racy" vocabulary, but points out that language is, in effect, the story's central character.
For tickets, visit LagunaPlayhouse.com.