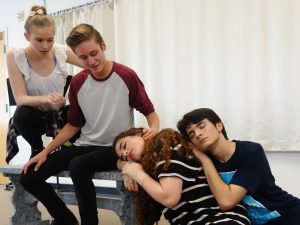 Seasoned actors are often intimidated by Shakespeare, so imagine what it would be like for teenagers to try and tackle something like The Bard's classic comedy "A Midsummer Night's Dream."
At South Coast Repertory, they don't just imagine. They do.
On May 14-15 and 20-22, SCR's Teen Players ensemble will present Shakespeare's "A Midsummer Night's Dream," directed by Hisa Takakuwa, in the Nicholas Studio.
This is the first time that Takakuwa, SCR's Theatre Conservatory director, has selected a Shakespearian comedy for her student actors, but it makes sense since 2016 is the 400th anniversary of Shakespeare's death.
"I felt this group was up to the challenge," she said. "Most of them have been in numerous Players shows, as well as 'A Christmas Carol,' and they're all able to draw on years of classroom training. I believe they're ready for Shakespeare and will bring a vibrant young feeling to 'A Midsummer Night's Dream.'"
The Teen Players are in grades 9 through 12, and are chosen through audition after at least two years in the Theatre Conservatory.
To prepare them for performing Shakespeare, Takakuwa began rehearsals with three weeks of table readings of the script so she could help her young thespians understand the play's poetry and themes.
"When the young lovers in A Midsummer Night's Dream flee into the woods and encounter Puck, the fairies and all Shakespeare's fantastical characters, their world gets upended, and they're changed in many ways," explained Takakuwa. "Our Teen Players can identify with this transformation because they're growing up, moving from childhood to adulthood and preparing to get on with their lives. In a way, they're ready to go into their own forests."
Based on Takakuwa's bio, she's well prepared to guide her 14-member cast through their first foray into the world of William Shakespeare. Takakuwa has had considerable acting training and spent many years as a member of the classical theatre company A Noise Within. She's also acted at SCR.
For this Teen Players production, Takakuwa has added to here artistic team with assistant director Shane Iverson and dramaturge Sanaz Toossi, both graduates of the Theatre Conservatory's Kids and Teen Acting Program, where they were members of the Players ensembles.
Among the teenage cast members is Newport Beach resident Christopher Huntley, who has the lead role of Theseus/Oberon. Huntley has been in many teen plays at SCR, but "A Midsummer Night's Dream" will be his final one—he'll be attending Stanford University in the fall, where he'll major in science with a minor in theater.
Tickets are $10 and can be purchased through the SCR Box Office at (714) 708-5555 or online at scr.org. Recommended for ages 10 and above.