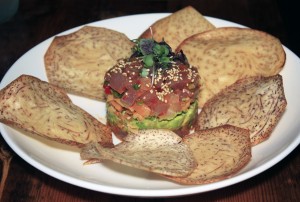 By Christopher Trela and Catherine Del Casale | NB Indy
You don't normally associate a dive bar with great food, but DivBar on Coast Highway is anything but a typical dive bar.
Catherine and I first sampled the DivBar menu soon after the restaurant opened last year, and enjoyed the barbecue dishes (particularly the duck fat fries) and the fun, quasi-kitschy ambiance.
Now, a year later, much has changed at DivBar. Original chef Bill Bracken left earlier this year, and his sous chef, Kris Kirk, is now running the kitchen.
We know Kris from his days at the helm of Ecco Restaurant at The Camp, but Kris is a seasoned pro who previously spent several years at Sage on the Coast and St. Regis.
He's revamped the DivBar menu, keeping some favorite items and introducing a handful of new lighter dishes.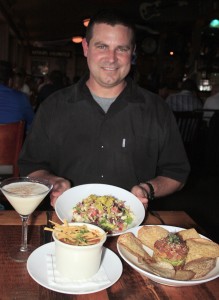 We were invited to sample his new menu (and were told to come hungry), so off we went to dinner at DivBar. When we arrived, I noticed a friend and his wife enjoying dinner, so I stopped by to ask what they thought. He told me that DivBar has become one of their favorite restaurants, and I soon discovered why.
Over the course of several hours, we tried a handful of starters, salads, entrees, and desserts.
"I added more sandwiches and some lighter fare," Kirk told us during dinner. "The French dip sandwich is new–it's nine ounces of prime rib, slow roasted and sliced thin. I also added a chopped salad similar to what I had at Ecco. Also new is the tortilla soup, and the Ahi poke with tarot chips shaved thin."
"I really like this tortilla soup," Catherine said. "It has a nice medium consistency with a slight spice and gooey cheddar cheese."
"I really like the Ahi poke–I've never seen anyone do it with tarot chips. They go perfectly with the Ahi," I countered.
Catherine and I fought over the fabulous French dip sandwich, which was extremely tender and moist, yet did not fall apart when dipped in the au jus.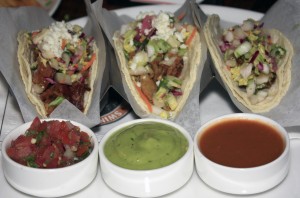 Chef Kirk wanted us to try the new tacos, so be brought out three for us to sample: Ahi, smoked duck, and pulled pork, all topped with queso fresco, spicy cabbage, lime juice, and olive oil. Again, all three were fabulous, but my favorite was the duck…or was it the Ahi? Might have been the pulled pork.
We also enjoyed the DivBar pizza, which is a BBQ lovers pie: smoked brisket, pulled pork, roasted tomatoes, fresh mozzarella and fresh herbs, baked in a large pizza oven.
During the meal, GM  Scott Gallagher came by the table to see how we were doing, and I mentioned the fun wait staff and the energetic ambiance.
"We like to be authentic and real. We  go out of our way to make guests feel special. We're all about fun personalities, high energy, and positive attitudes," said Gallagher.
Before we sampled some of DivBar's signature desserts, Chef Kirk brought us what he said was the restaurant's top seller: burnt ends from the brisket, normally served with jalapeno corn bread and Asian slaw. Catherine devoured them with a smile.
For dessert, since we had previously tried the chocolate chip cookie baked in its own skillet ("It's out top selling dessert," confided Chef Kirk), we instead had the fresh berry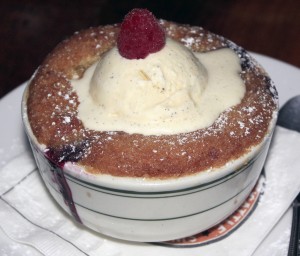 cobbler with seasonal berries and vanilla bean ice cream, a moon pie, and bread pudding served in a mason jar. All were good, but the cobbler bowl was scraped clean in an attempt to get the last delicious bite.
"It's perfect for summer," stated Catherine with a smile.
"Kind of like DivBar," I said with a grin.
Starters are $7.95 to $15.95. Entrees range from $12.95 for the DivBar burger to $21.95 for salmon. Pizzas are $14.95 to $22.95.
DivBar also serves breakfast on the weekends beginning at 9 a.m., and is open late every night.
For more information, visit DivBar.com.