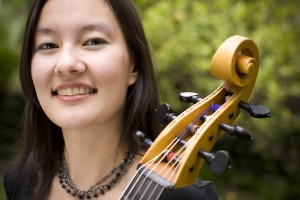 Slip into summer with all senses firing as the musical strains of George Frideric Handel, Johann Sebastien Bach, Antonio Vivaldi and other period masters in Corona del Mar's 33rd Annual Baroque Music Festival alternately soothe and scintillate, uplift and enliven with those deft aural fingers that, even centuries later, continue to refresh spirits.
The traditional treat returns with a twist next week, with the Festival offering five tempting programs over the course of eight days, beginning with an afternoon of "Baroque Concertos" on Sunday at St. Mark Presbyterian Church in Newport Beach. Utilizing period instruments as well as reproductions, this opening concert features an unusual work for the seven-string viola d'amore, as well as music by the relatively unknown Christoph Graupner and favorites such as Vivaldi and Georg Philipp Telemann.
From then on it's a veritable bevy of Baroque-ness, embellished with Italian chamber music, an organ recital and Handel's pastoral opera, "Acis and Galatea," all performed in the intimate ambient spaces – like Corona del Mar's Sherman Library & Gardens – that the Festival has become known for since founding former Artistic Director Burton Karson struck the first chord, so to speak, in 1981.
Although newly appointed, current Artistic Director (and talented musician)  Elizabeth Blumenstock has been a part of the Festival for more than a dozen years. A Baroque enthusiast as well, Blumenstock says she is excited to lead Karson's creation on into its third decade.
"There's a certain immediate accessibility to Baroque music and I think that's appealing to many people," she explained during a recent phone interview. "When Baroque composers were working, they felt it was their job to evoke a certain feeling, to have a certain affect, and their goal was for people to feel that. So one of the things people get when they come to a concert is a cycle of emotions: whether it's sadness, amorousness, deep grief or joy, each piece has a certain character, and depending on that – for a sensitive listener – it can be either relaxing or stimulating."
"There's all kinds of cleverness that goes into the writing of these pieces in the Festival," she continued, "and it's a huge draw for those interested in the nuts and bolts. They are beautiful, beautiful pieces and they work for both serious scholars and casual listeners."
For her first season, Blumenstock says she is keeping closely to the popular format Karson designed, with only one small change: this year the finale, usually a choral concert, will be a performance of "Acis and Galatea" at Newport Harbor Lutheran Church in Newport Beach.
 "I think it's a beautifully balanced, appealing line-up and I would mess with it at my peril; there's also a certain amount of tradition and I honor that," Blumenstock affirms. "So I'm keeping the format the same, although I'm hoping to gradually make a couple of little changes. For instance, we're doing the miniature opera by Handel, and while some people may be disappointed in not having a choral finale, I urge them to give it a try and see what they think. It's a stunning piece of music, a real gem, and the most touching of Handel's operas. I fell in love with it the first time I played it, and it's an enormous satisfaction to present this true masterwork to our audiences now."
 Corona del Mar's Baroque Music Festival runs June 16 through 23. Tickets are $20 to $45. For more information including a complete concert lineup, visit the website at bmf-cdm.org .