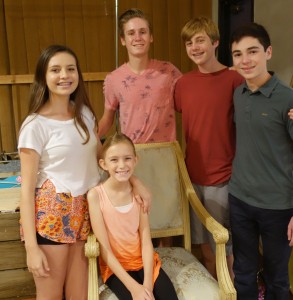 By Elizabeth Greenberg | NB Indy
Rediscover your childhood (and your favorite nanny) at the South Coast Repertory Summer Players' rendition of the musical "Mary Poppins."
Based on the classic Disney movie and P. L. Travers' original stories, audiences can rejoin Jane and Michael Banks as their dreary London lives transform thanks to a perfectly extraordinary nanny.
The cast of 32 is comprised entirely of children, ranging in experience and age. The players worked a total of five weeks on the show after characters had been assigned.
Led by director Hisa Takakuwa and musical director Erin McNally, the cast was in experienced, capable hands.
"The directors worked as hard, probably harder, as us," Aoife McEvoy, the youngest girl in the cast at age 11, explained, "We're all a big family with the directors and the tech people, they are so helpful and supportive."
McEvoy, one of the Newport Beach residents in the play, and related the differences of working with adults and working with children. She played Tiny Tim in "A Christmas Carol," which consisted mainly of an adult cast.
"Adults are more—refined, in their art. Kids are more able to put themselves out there, I think, and be more bold in their choices with their characters." McEvoy said. "The choices the kids make with the characters are so different, beautifully different from the original."
Even if you've grown up with the Disney film version or have seen the play on Broadway, this performance is a must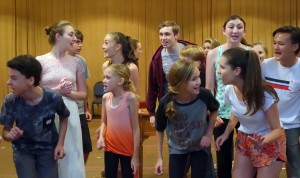 see. Without the perks of cartoon penguins, the actors are left to animate the dull Edwardian background with their own depiction of the characters and story.
The musical is song-packed, including all your favorites, from "Spoonful of Sugar" to "Let's Go Fly a Kite."
"The music is amazing, it tells a beautiful story of love, friendship, and finding yourself," McEvoy said. "I love to work with people that tell those stories."
All the children in the play are in SCR's Kids and Teen Acting Program, and were able to audition after spending at least a year in the theatre conservatory.
"Instilling confidence and self-esteem is what our program for kids is all about," director Hisa Takakuwa asserted.
The elder and more experienced kids help to guide the younger actors, ensuring great relationships as well as a brilliant show.
Experienced players Christopher Huntley and Guy McEleney will be alternating as Bert, the chimney sweep, as both actors gave such impressive auditions.
Though Mary Poppins will not be flying with wires, the players find ways to make even the adults stretch their imaginations.
"Go see it, it's a wonderful play, and the set is amazing. You should definitely see it!" McEvoy recommends.
Tickets are $13 for children and $16 for adult. Call the SCR Box Office at (714) 708-5555 or go online at SCR.org.