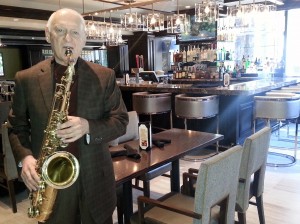 On most Thursday nights, you can usually find Jerry Mandel at Bayside Restaurant in Newport Beach, blowing a mean sax next to pianist Ron Kobayashi, vocalist Debi Raven, and other local jazz musicians.
But on Thursday, January 31, Mandel takes a short road trip to Costa Mesa, where he'll appear with his Swinging the Standards Jazz Band (featuring Kobayashi and Raven, among others) at the newly renovated Center Club adjacent to Segerstrom Center for the Arts.
It's a homecoming of sorts for Mandel, who spent nearly a decade as Segerstrom Center's president. In fact, it was while working at The Center that Mandel honed his musical chops.
"A few years before I retired from The Center, I started play saxophone as a way to relax between the end of the work day and seeing a show at night," explained Mandel, who had played the instrument in high school and college.
He practiced in one of The Center's music rooms and discovered a new-found love for the instrument, and for jazz music.
"I spent hours practicing," recalls Mandel. "It's good for your mind, and good for your soul."
It's also good for jazz fans, because Mandel has become so proficient that he plays six or seven gigs a month locally and around the country, and has formed his own big band, which performs at local charity events and community concerts.
"I'm donating my band for this event," notes Mandel. "It's a way for me to give back to the community."
The January 31 event is the annual ClubCorp Charity Classic Fundraiser, which benefits a quartet of organizations: Orange County Museum of Art, Muscular Dystrophy Association ALS Division, Augie's Quest, and ClubCorp's Employee Partner Care Foundation.
This year's event also celebrates the grand re-opening of Center Club's multi-million dollar renovation, and honors the visionary founder of the Club, noted philanthropist Henry T. Segerstrom.
In addition to Mandel and his band, the evening's entertainment lineup includes Orange County School of the Arts' MONTAGE! featuring talented singers, dancers, musicians,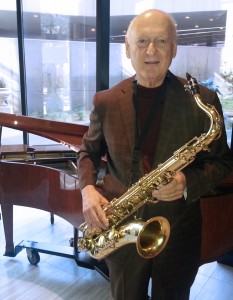 actors, and other aspiring young artists in grades 7 – 12 auditioned from the School's eleven arts conservatory programs.
Also on the bill:  L.A.-based singer-songwriter Adam Stern, pianist Patrick Finn Horve, Pasion Gitana (a husband and wife world music duo), magician Tom Otters, and many others.
"This event, which is open to the public, affords us a great opportunity to showcase the Club to our Orange County community," says Center Club General Manager Shahin Vosough. "We will be unveiling the 'Reinvented' next generation Center Club, which has a new look. We have rebranded and repositioned ourselves for the up and coming generation of business professionals and prominent leaders in our community, who desire a club of this caliber."
After the Center Club gig, it's back to Bayside for Mandel, who admits he's having the time of his life.
"I'm having so much fun," he says with a grin. "I intended to go to Bayside for a month, and now I'm in my fourth year playing there."
Regardless of where he plays, it's clear that Mandel will be making music for many years to come.
Tickets for the ClubCorp Charity Classic Fundraiser are $75 in advance and $100 at the door. For more information, call (714) 662-3414 or visit www.clubcorpcharityclassic.com.