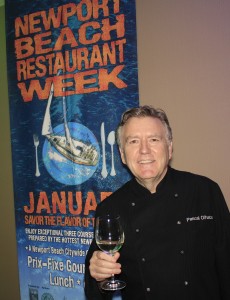 Prepare your palate and clear your calendar—it's time for the 7th annual Newport Beach Restaurant Week!
This year, more than 70 local restaurants are participating in Restaurant Week, which starts on Friday, January 18, and goes through Sunday, January 27. That's 10 days of culinary bliss and gourmet bargain dining, because the restaurants are offering prix fixe menus at prices designed to grab attention and lure customers.
Lunch menus are priced at $10, $15 or $20, while dinner menus are listed at $20, $30 or $40. Most restaurants will offer a minimum of three choices per course, with a value that far exceeds the Restaurant Week prices.
"I'm thrilled to be part of such a thriving culinary community," said Jim Walker, President of the Newport Beach Restaurant Association and proprietor of the legendary Bungalow Restaurant in Corona del Mar.
"This is a chance to build a greater appreciation of the extraordinary dining available in our city, and recognize Newport Beach as a world-class culinary destination," added Walker. "We look forward to introducing new customers to our restaurants through this event. In addition to being extended to ten days, the menu price points will remain $5 less than in 2011, which gives the community an added incentive and incredible opportunity to dine out frequently during restaurant week at a really great price."
"The value really is amazing," agreed Chef Pascal Olhats, who has three restaurants in Newport Beach: Brasserie Pascal, Pascal's Epicerie, and Café Jardin at Sherman Library & Gardens. "We have a $15 lunch menu at Café Jardin and a $30 dinner menu at Brasserie Pascal, so you can do a day of Pascal."
Pascal says he has participated in Restaurant Week since it began seven years ago, and says it's a wonderful way to attract new customers and remind existing ones of some of the diverse items on his menus.
"Restaurant Week is very good for this time of year, because it brings people back out," notes Pascal. "The holidays are in the past, now we can have fun again. We can show
off the restaurants, and we can promote Valentine's Day at the same time."
"Local foodies and visitors to Newport Beach can indulge in gourmet menus which showcase the culinary scene and talent of some of the best Chefs in the country," said Sheri Drewy, celebrated restaurateur from Wilma's Patio on Balboa Island. She noted that Newport Beach Restaurant Week was "the first restaurant week in Orange County, and has grown to become one of the most successful restaurant weeks in the country."
For a complete list of restaurants, and menus, visit www.NewportBeachDining.com.