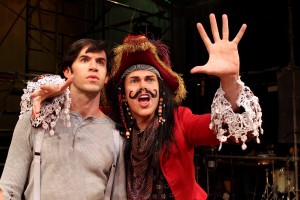 Twelve actors in contemporary street clothes wander onto the stage as though arriving at rehearsal and seeing this space for the first time. All that is there are a couple of scaffold-like platforms and a smattering of random set pieces. Way upstage is the exposed back wall of SCR's Segerstrom Stage.
We get it. Actors. A stage. Now what? A story? One actor climbs to the top of a scaffold and announces to his colleagues: "When I was a boy, I wished I could fly!"
Kapow! We're off on and running on "Peter and the Starcatcher," an aggressively zany "origin" story of "Peter Pan," which sets forth to answer such questions as: "How did the Lost Boys get lost in the first place?" "Why is Captain Hook QUITE so obsessed with his nemesis Pan?" And more.
To be sure, such questions may or may not have burned in the minds of the multi-zillion lovers of Sir J.M. Barrie's classic since it was first composed a hundred-plus years ago. Did Sir James perhaps know what he was doing when he left room for the famously fertile imaginations of children to fill in the blanks with theories of their own? The greatest power of a work of art can sometimes be in the questions it raises more than in the answers it proposes.
That said, "Peter and the Starcatcher's" version of just how this particular gang of misfits ended up in Neverland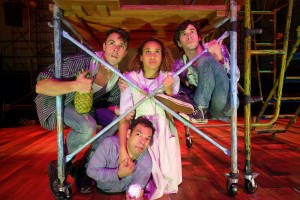 does, to its vast credit, absolutely no harm to its iconic source material. Indeed, its plot — a boiler-plate wink to every swashbuckling adventure story ever contrived (so silly as to barely warrant recounting) — is charmingly, even brilliantly in sync with the spirit (if not the letter) of the original.
And for that, great kudos to Dave Barry (yes, the famous newspaper humorist) and Ridley Pearson (the mystery thriller novelist) and to playwright Rick Elice, who adapted their book of the same name for the stage, for each managing to channel so well his personal Lost Boy — namely the kid (in all of us) who once upon a time played "Pirates" with joyous ferocity in some enchanted backyard on a warm summer evening.
Additional applause to director Art Manke for bringing that spirit of Serious Play to living fruition.
Employing the blissfully simple techniques of Story Theater, his production zings with a madcap pace and spectacular visual style, aided immeasurably by the jaw-droppingly inspired — and hilarious — costumes by Angela Balogh Calin (will someone please give this woman a Special Tony Award for her brilliant body of work?).
Think Cirque de Soleil meets Gypsy Rose Lee with a dollop of Hope & Crosby in "Road To Zanzibar."
And Manke has assembled a first-rate cast, all of whom happily inhabit the same daffy universe.
In a nod to our enlightened times, here it is Wendy (named Molly here; it's complicated), not Peter, who is the boss. It's simple: she's smarter than he is. It's a welcome antidote to the passive maiden-in-distress epitomized by Disney's 1953 cartoon version of the character.
Gabrielle McClinton plays her with sass, vulnerability and truth. Her reactions to strange and exotic feelings new to her (vis a vis Peter) are among the play's loveliest nuances.
That conniving blackguard Captain Hook (here called Black Stache) and his hapless sidekick Smee, (Matt McGrath and Kasey Mahaffy, respectively) are laugh-till-it-hurts funny together. Stache losing his hand (deliciously gruesome in precisely the way kids love), is a master class in inspired lunacy. Through our gasping giggles, we mourn yet again that Vaudeville is dead. These two could've wowed the Palace.
Wyatt Fenner is superb at convincing us he really is a 13 year old orphaned waif, and his evolution into the ever-more confident Peter Pan is textured and touching.
Christian Barillas in multiple roles (most hilariously the hostile native king Fighting Prawn) is a marvel of understated drollery, thus proving the lightest touch can trigger the heaviest laughter.
Tony Abatemarco is a riot in dual cross-dressing roles; a skillfully knowing nod to the great panto tradition.
Musical director and pianist David O and percussionist Joel Davel provide enchanting (and blessedly all-acoustic) underscore and foley effects. A class act.
In a regrettable shift of tone towards the very end the mood turns briefly feel-good and fuzzy; the talk Hallmark card-ish. Does this betray the writers' anxiety about leaving us with a "message" clearly spelled out, perhaps?
This is too bad (though not fatal to our overall enjoyment.) More to the point, it is unnecessary. J.M.Barrie felt no need to spell out what everyone already feels coming in: Oh wouldn't it be grand to Never Grow Up?
"Peter and the Starcatcher" runs through June 7 Visit SCR.org for more information.