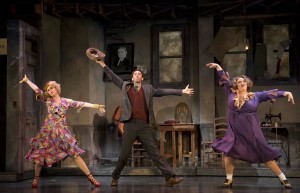 "The sun'll come out tomorrow," sings the title character in the musical "Annie," but it's come out today for actor Garrett Deagon, who plays the villainous Rooster Hannigan in the Broadway touring production of "Annie" that comes to Segerstrom Center May 13 – 24.
Deagon graduated from UCI in 2011 with a BFA in Musical Theater, moved to New York, and started getting work as an actor.
"I'm so excited to be back in Orange County," said Deagon in a phone interview during the tour's stop in Denver. "My teachers from UCI already have tickets to see the show."
His teachers have every right to be proud of Deagon, who performed cabaret shows and worked in independent productions in New York while making those all-important theatrical connections.
"One of the assets with UCI is that you go and live in New York for a month during your junior year, which really encourages a lot of students," said Deagon.
"Annie" is Deagon's first musical theater tour, which began rehearsals last August and recently passed 230 performances.
"I just signed on for another year, so I'll be in the show through July of 2016," enthused Deagon, who noted that touring is a great way to see the country. "I've been to Boston, Chicago, San Francisco, but only for two weeks at a time so I'm always lost. It will be really nice to be in Costa Mesa."
Deagon said that "Annie" is a fun, old-fashioned style musical like something out of the 1950s.
"I'm such a good person in real life, and I get to play a villain, which is so much fun," he said.
The hardest part of the show, said Deagon, is recreating the show for the first time every night so it looks fresh for the audience.
"That is a real challenge—it's one of the best things I am learning, how to keep it fresh and alive. But if I don't feel it, the kids in the show help because their energy is so high is all the time. And we have a lot of freedom in what we do on stage to keep it alive."
"The production values of the show are really high," added Deagon. "At the end, when the curtain comes down, it's like a rock concert—people are screaming and on their feet."
For tickets to "Annie," visit SCFTA.org or call (714) 556-2787.