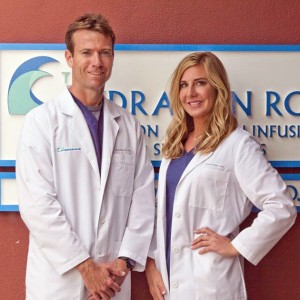 The Hydration Room
Various studies have shown that Americans don't get their recommended daily levels of essential nutrients, which can lead to lack of energy, medical issues and other problems surrounding both physical and mental health.
At The Hydration Room in Newport Beach, you can make sure that you're getting that extra boost you need by using an IV to infuse medications, fluids and electrolytes directly into your bloodstream.
The Hydration Room founders are board certified anesthesiologists, Dr. Elizabeth Bales and Dr. Brett Florie. They developed a combination of traditional and holistic medicine to help people combat the flu, migraines, hangovers and other ailments.
Clients can be treated in a private room, or strike up a conversation with neighbors in a living room type setting with music and TV.
After learning about The Hydration Room I decided to give it a try, and found the experience to be very relaxing. I noticed a change in my energy levels almost instantly, and the extra glow to my skin didn't hurt either!
It's a great benefit to have a doctor with experience there the whole time in case you have any adverse reactions to certain vitamins; it creates a very safe and comfortable environment.
There are over 10 different categories of IV therapies to choose from, ranging from the Cold and Flu remedy to the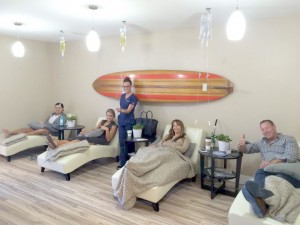 Hangover Detox. You don't have to choose one of the preselected IV therapies though, you can also modify or completely create your own with the help of Dr. Bales or Dr. Florie, who will listen to what issues you would like to treat and will customize your IV therapy to fit your specific needs.
With wedding season arriving, they also have a great Bride-to-Be package that includes weekly IV therapy filled with electrolytes, B-vitamins, vitamin C and other antioxidants, as well as a bi-weekly Super Skinny Shot to make sure you look and feel great on your Big Day.
When you go in make sure to ask about their membership card—it's $100 and gives you 10 percent off all therapies, a great deal if you plan on keeping up your feel good regime of IV therapy. Also, this month enjoy 20 percent off the antioxidant refresh package.
To learn more about all The Hydration Room has to offer, visit thehydrationroom.com or give them a call at (949) 650-0866. They are located at 404 Westminster Ave. in Newport Beach.
Cristophe Salon
Since we are on the topic of weddings, I thought I would mention some upcoming trends for wedding hair styles and make up.
Scott Fontana, celebrity stylist and owner of Cristophe Salon in Newport Beach, is predicting clean side parts, 40s style waves and bohemian braiding for a more natural look.
To balance this casual style, brides will add bold red lips and simple eyeliner.
To find out more of the wedding "it" styles this season or to book an appointment to try them out yourself, contact Cristophe Salon at (949) 219-0920 or visit the salon at Fashion Island in Newport Beach. You can also go to cristophenb.com.