While having lunch at The Daily Grill in Fashion Island several months ago, I was startled to learn they were closing that location several days later.
Fortunately, Daily Grill fans don't have far to travel to get their foodie fix – the Daily Grill at the corner of Dupont and Jamboree near the John Wayne Airport is still going strong. In fact, my editorial assistant Catherine and I recently went there for dinner to sample their Simply 600 menu (all dishes of 600 calories or less), and the restaurant – which has a casual-classy look by day and an upscale-casual ambiance by night – was packed with happy diners.
"This is just what I need after all that fried food we ate at the OC Fair," stated Catherine as she perused the menu.
"You're right – just reading the description of the dishes makes me feel healthier," I agreed.
We started with an item off of the regular menu: Trio of Hummus appetizer ($8.95), which featured Sun-Dried Tomato, Kalamata Olive and Traditional Hummus, served with Grilled Flat Bread and Cucumbers.
"Looks like you're making a mess with your hummus," I commented as Catherine combined the various flavors on her plate.
"The sun-dried tomato is sweet, so I'm mixing it with the traditional garlic hummus to make my own unique blend."
"Hmmm … very tasty," I said as I mopped up the hummus with a piece of flat bread.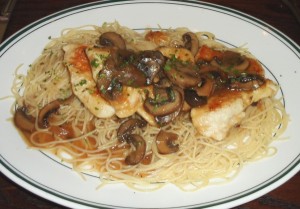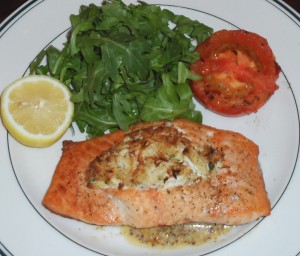 For our 600-calorie entrees, Catherine selected the Chicken Marsala served over Angel Hair Pasta. I had a hard time choosing just one dish because they all sounded so good, but finally went for the Crab Stuffed Salmon with Arugula and Grilled Tomato.
"I don't think I have ever tasted anything that's so juicy and flavorful, and healthy at the same time," said Catherine. "The chicken tastes buttery and juicy, almost like it was breaded, but it's not."
"And I can't believe the salmon is only 600 calories, especially with the crab stuffing," I said after a few bites. "I want to come back for the Salmon Burger, and the Blackened Tilapia, and the Herb Chicken Caprese, and–"
"And I'm getting full just listening to you," laughed Catherine. "Sounds like we need to come back for lunch … more than once."
Entrees at Daily Grill are $10 to $30. For more information, call 949-474-2223, or visit DailyGrill.com.        
***
Want to taste top-tier wines while supporting a local youth-based arts charity?
The Wooden Floor has been helping disadvantaged kids for nearly three decades by providing a dance-oriented learning environment. One of its primary fundraising events is Keep the Promise, a much-anticipated opportunity for wine lovers to sample a dozen top-rated Pinot Noirs and Chardonnays while helping raise money to fund Wooden Floor programs.
Master Sommelier Steven Poe helped curate the wine list with Newport Beach residents John and Janice Markley, the supporters who started the benefit six years ago. This year, the event will be held on Thursday, September 27 in Newport Beach (the exact location is sent to attendees prior to the event).
Nearly 300 people are expected to attend Keep the Promise, which is designed as a blind tasting competition so wine lovers can test their palates while attempting to identify each wine before the labels are revealed at the conclusion of the tasting. A variety of appetizers are served to match each wine.
As to the wines, you won't find a better lineup of Pinots and Chards anywhere.
Chardonnay lovers can swoon while sipping the 2006 Kistler Vinyards Chardonnay, rated 96-98 points by The Wine Advocate (retail price is $110), and the  2008 Peter Michael Chardonnay La Carriere, rated 95-97 points by The Wine Advocate (retail cost is $76). Other Chardonnays (all rated 95 points or higher) include 2007 Paul Hobbs Chardonnay Richard Dinner Vineyard, 2008 Pahlmeyer Chardonnay, 2008 Kongsgaard Chardonnay, and 2009 Kendall Jackson Chardonnay Camelot Highlands Estate.
Pinot Noir fans will be thrilled to taste Wine Spectator's #1 rated Wine of the Year for 2011: the 2009 Kosta Brown Pinot Noir, rated 95 points (retail cost is $65). Also included in the tasting are a handful of other Pinots rated 95 to 96 points and retailing for $85 to $120, including 2009 Antica Terra Estate Grown Pinot Noir, 2009 Donum Caneros East Slope Pinot Noir, 2009 DuMol Pinot Noir Aidan Wildrose Vineyard, 2009 White Rose Vineyard "Whole Cluster" Pinot Noir, and 1999 Michel Gaunoux Pommard Grands Epenots from France.
As you might expect for an event with this caliber of wines, tickets are not inexpensive: $350 per person. However, if you were to purchase the wines separately, total retail value is over $1,000, which actually makes the $300 tab easy to swallow. Plus, a portion of the ticket price ($250) is tax deductible.
I've attended this event in the past (and even volunteered to help pour wine one year), and can honestly say it is indeed one of the premier wine events in OC. I also discovered that re-tasting wines is encouraged, which is why you'll find me lingering near the bottle of Kosta Brown Pinot.
Tickets to this event are on sale through next week, or until sold out. For more information, call 714-541-831,4Eext. 124, or visit TheWoodenFloor.org.