"I never want to go back to just being comfortable in my living room," Newport Beach resident Bev Barkley recalls saying. "I need to live differently."
In 2009, Bev went on a mission trip to South Africa, and came home changed.
"We worked with children surrounded by terrible suffering, but I felt joy like I'd never experienced before," Bev explained. "One day I held a sick orphan boy all day as I worked. He was terribly weak, but kept looking up in my face, and then resting on me".
"The next day the Lord said to me, 'When you did that yesterday, you were with me, face to face.'" Bev continued. "It was like looking into the Lord's eyes, that's why there was joy and peace. I'd been a Christian for years, but never encountered anything like that before.
"My friend Lauri Root and I led Bible studies and felt called as a group to live out literally, practically and sacrificially what we were learning. I couldn't move to Africa, so we prayed that God show us what He wanted here; and He did."
Bev and Lauri knew ROCKHARBOR worked with Powerhouse Church in Watts. Watts Powerhouse is a church plant of the Christian and Missionary Alliance and World Impact. Pastor Todd and wife Jennifer Grant lead Powerhouse and organize weekly activities, including Bible club and Sunday services.
Bev and Lauri asked Jennifer where she needed help.
"I was mentoring five or six girls from our Bible club, and was maxed out because I wanted to really pour into them," Jennifer explained. "But there were hundreds more outside my door I couldn't minister to. I told Bev and Lauri I wanted to expand, but needed more godly women, and the mentoring program blossomed. It's amazing for the young girls to have another layer of support in their lives of women who pray, spend time with and help nurture them. The volunteers are blessed, too."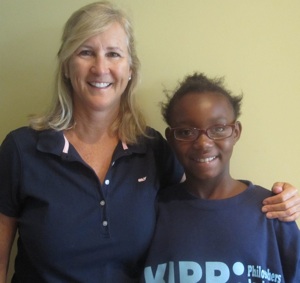 Newport resident Lucie Moore is a volunteer who feels blessed to be a prayer partner for 10-year-old Serinity for the third year.
"God has changed me through the experience," Lucie explained. "Bev was my Bible study leader and asked for volunteers. After a year of thinking I didn't have time, I finally volunteered to be a mentor. We're each assigned a young girl and it's our responsibility to call weekly and pray for her regularly; and come to Bible Club at least once a month. We do more when we can, but most of all, we love and pray for them."
About 10 Newport Beach women carpool to Powerhouse weekly for Bible Club. They play and talk with the girls, do crafts, provide snacks, teach life skills and expose them to colleges and career opportunities. They also do Bible studies and teach the concept that God is a loving father, which Lucie said can be hard to understand because some don't have fathers at home.
"Their lives are very different from ours – there might be 10 people in a tiny two-bedroom apartment, helping take care of each other," Lucie said. "Many girls have a relative who has been shot or who is in jail. Their norm is so far removed from mine; spending time with them puts life in perspective."
Lucie recently brought Serinity home for a sleep over and Serenity talked about their time together.
"Lucie is so nice and loving and when she can, she gets me and spends time with me," Serinity said. "Sometimes she brings me to her house and we watch movies. It feels really nice to know she's praying for me, and I like learning about God. We cooked two dinners last night; we ate one and I get to take the other home. We made my mom's favorite cookies!"
"Nothing touches a mother's heart like someone else loving her children," Lucie said.
"Serinity's mom knows I'm not trying to do her job. She and the other mothers whose daughters come to Powerhouse for Bible Club are grateful we love and spend time with their daughters."
Originally intended for elementary school age, the mentor program has expanded as the girls have reached middle school. Volunteers see the power of one-on-one love and commitment as every girl who has a prayer partner continues to come to Bible Club as they start junior high, when girls usually drop out.
"We're praying for more women, and we need godly men to volunteer too because we've added boys mentoring," Jennifer said. "We want the children to become all God designed them to be."
Said Bev: "Watts has different challenges than Africa, but I see the heart of God there, too."
For further information and an application, contact Jennifer at [email protected] Cindy can be reached at [email protected]