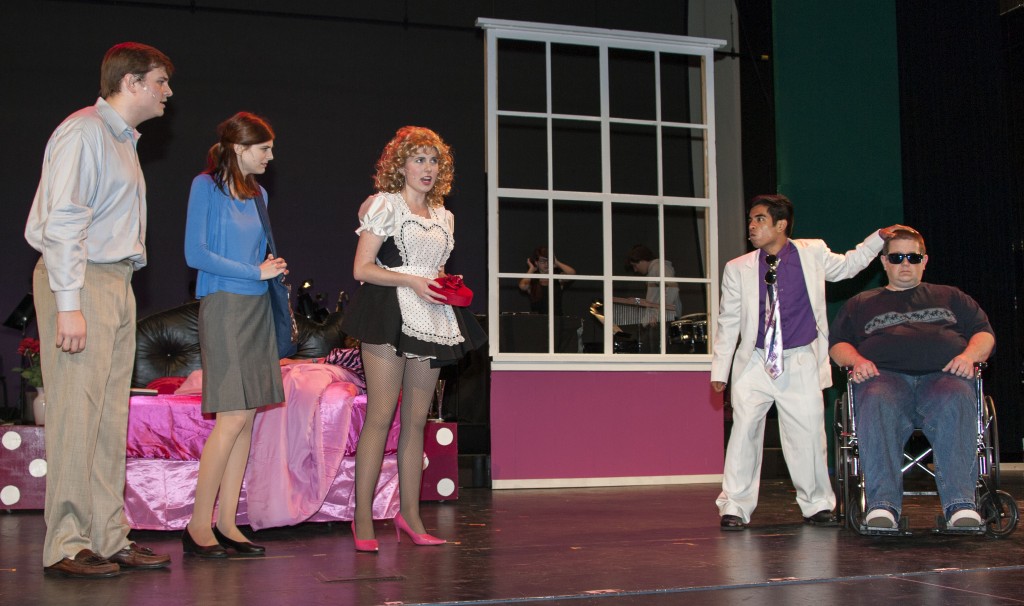 The show must go on and not even a "dead body" will stop the upcoming performance by the Newport Harbor High School drama department.
They will be performing "Lucky Stiff," a musical comedy which features a dead character as one of the lead roles.
The musical farce is written by Lynn Ahrens and Stephen Flaherty, based on the 1983 book "The Man Who Broke the Bank at Monte Carlo" by Michael Butterworth.
"We chose 'Lucky Stiff' because it hasn't been done that often around here," said director Roberta Kay.
They wanted to do something a little different and the zany comedy seemed like a good choice, she said.
It's quite the opposite from their last show, "Our Town."
"('Our Town') is so serious and kind of grave, but this show is kind of ridiculous," said sophomore Angie Grigsby, 16, who works with props and as assistant stage manager on stage right.
They went from serious and dramatic to lighthearted and comedic.
"Instead of crying at the end of every show, we're laughing," said stage manager Kenzie Stephens, 17, a junior.
"It's a total 180," added sound designer Bobby Surridge, 17, also a junior. "It's a totally different side of our theater department."
The change really shows the extent of what the department is capable of doing, Grigsby said.
The play is set around Harry Witherspoon, an English shoe salesman, who inherits $6 million from his dead uncle. In order to receive the money, Witherspoon has to take the corpse of his uncle on a vacation to Monte Carlo and complete a detailed set of tasks. If he fails to do so, the $6 million goes to his uncle's favorite charity, the Universal Dog Home of Brooklyn. A woman from the charity, Annabel Glick, follows him around to ensure he fulfills the will.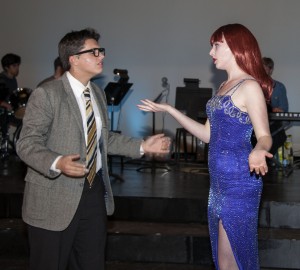 "It's really funny and there are a lot of crazy plot twists," said Alexis Abrams, 15, a sophomore, who plays a Southern lady. "Expect the unexpected."
"Prepare to be surprised," added Scarlett Turner, 16, a junior, who plays Annabel Glick in the show.
The story is similar to the 1980s movie, "Weekend at Bernie's," the young actors agreed.
"It's the same basic concept, but a musical," said Alexis Stary, 17, a senior, who plays Rita LaPorta.
A unique aspect of the performance is that a different staff member will play the dead Uncle Tony character for each of the four performances.
The staff members cast as the "stiff" uncle are principal Sean Boulton, assistant principal Jack Cusick, and teachers Brandon Clay and Bob Lear.
Lear even has a little drama experience from high school.
"The staff being involved brings in a whole other element," said producer Carrie Stephens.
"We're hoping to draw in a larger audience by using the teachers and the new principal," Kay added.
Some of them might be having more fun than the students, joked Austin Christensen, 16, a sophomore who plays Harry Witherspoon.
Both Turner and Stary have Lear as a teacher.
"I think it's really fun to get to know him on a different level," Turner said. "I've gotten to know him a lot better and get to know his personality… He's actually really funny."
It's an interesting dynamic, they all agreed.
"We all get to experience something different, having the teachers work with us," Christensen said. "It's something completely new, we're used to just working with each other (our peers)."
The students have been rehearsing alongside their school staff co-stars for the past few weeks, although the teens have been working on the production since the fall semester.
There is a lot of behind the scenes work to be done for such a big production, said Kenzie Stephens.
There are a lot of props, large set pieces and complicated set changes for "Lucky Stiff," added Grigsby.
It gets difficult to maneuver all of that around the numerous lights and sound equipment, she added. On top of all that, there is also a live band on stage.
"It's a serious Tetris game," Grigsby said.
Together, they'll perform four times next week at Newport Harbor's Robert B. Wentz Theater.
Between the actors, sets, props, music and story, "Lucky Stiff" offers something for everyone to enjoy, Kenzie Stephens said.
"It's a lot of fun," she said, and encouraged the community to come and watch. "The show is awesome."
For more information or to purchase tickets, visit nhhsdrama.com.