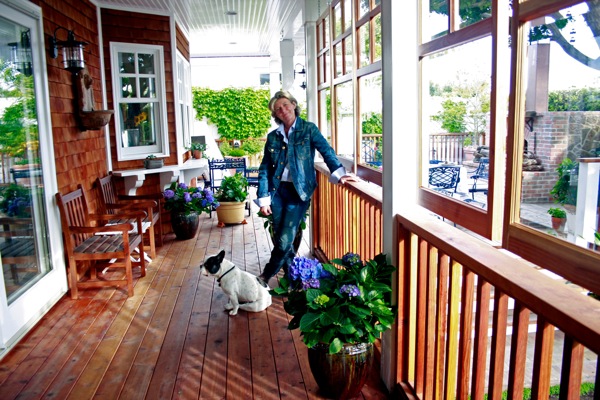 The best place to look for Claudia Schmutzler is in the back yard, but not necessarily hers.
The Corona del Mar resident owns Windsor Decks and Gardens, a local deck, garden, and landscape design company.
Schmutzler recently recorded for the "Tips from the Trade" segment on the NBC show "Open House." Her segment should air in June or soon after.
She worked for 16 years in the construction industry before starting Beverly Glen Landscape. In 1990, she incorporated custom deck building into her repertoire and launched Windsor Decks and Gardens.
Originally from New England, Schmutzler has lived in Corona del Mar for 11 years. She loves the New England look and draws from that classic, rustic look.
She is known for her multi-level decks and her signature look are her custom "floating windows." The floating windows work great as a space divider, she suggested. They can give the porch a sense of enclosure without feeling claustrophobic. They sway in the breeze and still let light in.
They can also be customized, Schmutzler added, with style, color, glass style, and more.
"You can do so many things to make it your own," she said.
She enjoys the "homey and rustic" look, she said, inside her home and out on her deck. This helps tie the two spaces together and make the deck area feel more like another room or extension of the home.
Schmutzler emphasizes the use of wood, greenery and other natural elements. Lighting is very important too, she added.
While Schmutzler works with all types of woods and composite materials, her personnel choice will always be Premium California Redwood, according to her website, www.windsordecksandgardens.com, "It's beauty, affordability and durability is unparalleled by any other product on the market today," the site states.
A lot of clients ask how to create the backyard into an appealing and usable area. Stainless steel, concrete and stone can make it feel cold and uninviting, Schmutzler said.
"Why don't we introduce the warmth of natural California redwood," she said. "Let's introduce some wood elements and that will warm everything right up and it will give you a completely different feel and look."
There are a few great things about California redwood, Schmutzler said, not only does it give a warmer and more inviting feel, but scratches add character and can easily be sanded out, it can be stained or colored to change the look, and it's resistant and strong.
"At the end of the day, there's just something special about a Redwood deck," Schmutzler said.
"I don't know [what it is exactly, but] there's something relaxing about a redwood deck," Schmutzler said. "As [you] sit there, you just kind of feel at peace."
Also, for every redwood tree that is cut down, California Redwood Company plants four more trees to replace it, Schmutzler said, so there is a lot going into the re-growth of the forest.
Today people's awareness of the environment shapes their choices in many ways. Clients want to know where materials come from and how their use affects the natural ecosystem, Schmutzler's website states.
"Times are changing, it's not your grandfather's deck anymore," Schmutzler said. "We have become more sophisticate in our taste. We have become more about entertaining on a grander scale."
She encourages clients to think about decks and their backyard in a whole new way, consider a chandelier with some coverage and a few floating windows, for example.
People can "deck around" a kitchen, wood-burning oven, bbq, or fireplace, for example and make it part of a great outdoor living space.
A lot of Southern California residents simply don't think of building a deck, Schmutzler noted.
"It just doesn't occur to people out here," she said. "They say, 'Wow, we never even thought of a deck, but that's a great idea…Why not a deck?'"
A beautiful, rustic redwood deck can work great in Southern California, Schmutzler said. It can be comfortable and peaceful, while still making the most out the limited space.
"It's about inspiring people," Schmutzler said. "It's about getting people to think about something that they normally wouldn't think about."
The step is to figure out what the client wants to do with the yard, entertain, cook, relax, play, or anything else, Schmutzler said.
There's a lot of different things a client can do with a deck, she said. It's important to make it functional and comfortable.
Schmutzler prefers natural materials, she said, as opposed to plastic and composite decking materials.
"I really stay away from the man-made materials," she said. "It just makes good sense to go back to natural," materials.
She likes using natural stone and brick, instead of cultured, and using reclaimed lumber, brick or other materials.
She likes uses recycled and reused materials, like old pots for flowers.
"A deck does not have to be boring," Schmutzler said. "It can be so much fun."
Visit windsordecksandgardens.com for more information.