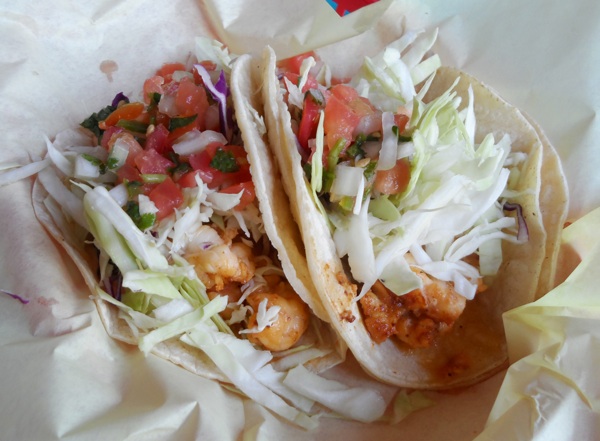 "Didn't you tell me you have family from out-of-town coming to visit you during the holidays?" I asked my assistant, Catherine.
"Yes I do, why?" she replied curiously.
"You're going to need to entertain them, so I have an idea."
"Take them to dinner?"
"Even better," I stated with a smile. "Take them to the Balboa Fun Zone."
"I've never been there. You know I'm from Napa, so the only fun zone I know is the wine trail."
"Then we need to do a reconnaissance mission so you can experience the Balboa Fun Zone from a foodie's point of view. In fact, since it's lunch time, I say we go now and sample a few of my favorite Fun Zone dining spots."
To give Catherine the full Balboa experience, we began our Fun Zone adventure by cruising our car onto Balboa Island.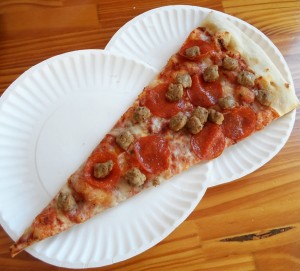 "This place is cute," noted Catherine as we slowly drove past small bistros and boutique shops. "But this isn't the Fun Zone, right?"
"No, but the best way to access the Fun Zone is via the Balboa Island Ferry."
"There's a ferry in Newport?"
"Yes, it's been in operation since 1919. It only carries three cars at a time, but then it's only a three minute ride to Balboa."
We stopped our car at the entrance to the ferry and were immediately motioned to board. After paying the $3 fee ($2 for car and driver, $1 for a passenger), we got out of the car to admire the view of the harbor.
"This is a fun way to get to the Fun Zone–you get a unique view of the harbor," said Catherine as I snapped a few photos.
Moments later we docked and drove off the ferry. We parked next to the Balboa Pier and strolled down the pier to the end, where the original Ruby's Diner awaited us.
"Ruby's celebrates its 30th anniversary this December," I told Catherine as we ordered Ruby's famous fries to go. "They've certainly built a diner dynasty over the past three decades."
"I love this," enthused Catherine as she explored Ruby's. "I'm a diner girl, and it's fun to see one done Newport style–at the end of a pier with a great view. I like the upper dining area and the inside seating. This is cool."
We munched on the fries as we leisurely walked to downtown Balboa and one of my favorite restaurants: Great Mex.
"I've been coming here for a few years," I told Catherine as we stood in line to place our order. "I've tried many of their menu items, but I usually end up ordering the shrimp tacos. They're only $3, and they're crazy good. That's why they usually have a line out the door. It's great food at a great price."
"You're right–these are delicious!" agreed Catherine after our order arrived and we dug into the warm tortillas filled with shrimp, pico de gallo and secret sauce. "But now I'm starting to get full."
"I know how we can burn off a few calories. Are you good at skee ball?
"I bet I'm better than you."
"Let's find out."
On the way to the arcade, I showed Catherine the historic Balboa Pavilion and its Harborside Restaurant, and we admired the old black-and-white photos adorning the walls.
We walked to the arcade and were instantly transported back to another era.
"I've been coming here since I was a kid, and they still have skee ball and a few other old-school games," I told Catherine as we competed to see who could rack up the highest skee ball score. As Catherine predicted, she beat me every time and won a heaping handful of tickets, which she redeemed for goofy prizes.
"Now that we've worked up an appetite, how about some pizza?" I asked her.
"I'm always up for pizza."
The Fun Zone has several pizza purveyors, but for this excursion, I decided to go big with New York Style Pizza, which boasts the largest pizzas in town.
"This is huge," exclaimed Catherine when our slice of pizza pie arrived. "You need two plates to hold it. I like the thin crust–not as much grease as some thick crust pizzas."
"Make sure you save room for dessert–we have one more dining destination that is a must for any visit to the Fun Zone."
We finished our pizza and walked around the corner to Balboa Beach Treats.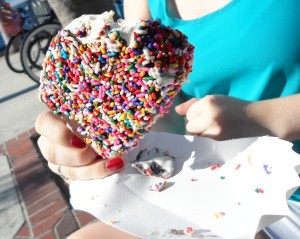 "Balboa Bars! You told me about them," said Catherine excitedly. "I finally get to try one."
We decided to share one, so Catherine ordered a Balboa Bar dipped in chocolate and covered with sprinkles.
"What do you think?" I asked Catherine as she took a bite of the ice cream. Her pleased expression gave me the answer.
"My turn," I said, taking a large bite of the frozen concoction. A chunk of chocolate coating landed in my lap."
"I see one more thing I'm better at then you," teased Catherine.
"What's that?"
"Eating Balboa Bars."