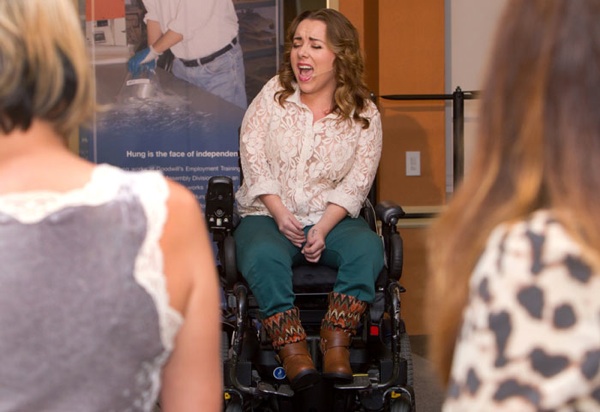 "Five years ago I was at a friend's funeral, and it changed the direction of my life," explained Newport Beach resident John Heffernan. "The political position I was in was not a good fit on either side. Prior to being involved in politics, I'd been involved with hospitals, and in a food bank and realized I needed to get back involved with people and do something spiritually. This all hit me during the funeral Mass. I left the service and resigned from City Council that day."
"I was seated near Dan Rogers at the funeral and he was then the CEO of Goodwill OC," John continued. "I asked him about Goodwill and Dan explained that it is a business which deals with a strata of society that people usually treat as invisible. The miracle of Goodwill is collecting 'stuff' folks don't want, selling it in their stores, and performing other basic services such as janitorial, document scanning and shredding, operating the eBay network for Goodwills nationwide, giving a lot of people a job which they might well not otherwise get, thereby getting the home-bound out of the house, offering them camaraderie, a paycheck and the confidence that a job brings. Goodwill gives them a chance. I joined the Goodwill board shortly thereafter."
More than 200 people heard inspirational stories of Goodwill giving people a chance, at the seventh annual Goodwill of Orange County's "Working For Independence" Luncheon at the Marriott Hotel.
The inspirational program began with a moving video of a young man who kept encountering closed doors until Goodwill opened the door to a future for him.
"Because of how I look and how people perceive me, I could never get a job," Neemiah explained. "I did research and came across Goodwill. The overall goal and mission of this company to me and in my personal experience is to give a chance – that's all I'd been fighting for. Goodwill was the only company that stood up and gave me that chance; they gave me the opportunity to shine. That's all I wanted. Today I am a full-time, regular employee of Goodwill of Orange County. I could not be happier in my life."
Neemiah is now engaged, and he and his fiancé were in the audience.
Betty Appleton, director of the Disneyland Resort and a new member of Goodwill's Board of Directors, welcomed the audience, as well as pointing out that she was wearing an Ellen Tracy blouse that she purchased for $5 at the Goodwill thrift store. Betty shared her connections to Goodwill, both professionally and personally.
"At Disneyland, we are trying to find better ways for people with disabilities to enjoy their experience," Betty said. "I've been at Disneyland over 43 years and I've always felt welcomed at my job; everybody should feel welcome at their jobs."
She then spoke about losing her husband in 2005, and the challenges he faced near the end of his life when he needed to be in a wheelchair.
"That gave me a glimpse of people losing independence; it made me grateful for Goodwill and helping people gain independence," she said.
Marna Roach, who has a muscle and joint disorder, wheeled herself up to the stage and talked about the support she receives from Goodwill.
She praised the staff at the Goodwill Fitness Center.
"I was amazed when I first went to the gym," Marna recalled. "It's a normal gym, but there are a lot of other people like me rolling around. I don't feel different; I feel like I belong."
Marna is a talented singer, and belted out a moving rendition of the "Star Spangled Banner."
"This event illustrates how the power of work can truly change lives," said Frank Talarico, Goodwill president and CEO. "I am humbled to witness Goodwill's growth throughout the community as well as the outpouring of support from advocates, donors and local businesses. Two hundred local companies hire Goodwill-trained workers or utilize our business services."
"What matters most are the people we serve and the people who work alongside them, working together toward a common goal," he added. "They are people just like you and me. People who dream of a better life and strive to be the best they can be."
Goodwill of Orange County is in its 88th year of helping people facing barriers to get and keep jobs while finding purpose, pride and dignity. It was founded on the belief that every person should have the opportunity to achieve independence through the power of work. Goodwill employs more than 1,000 people in Orange County and hopes to increase that number by 10 percent annually.
For further information, go to ocgoodwill.org. Cindy can be reached at [email protected]