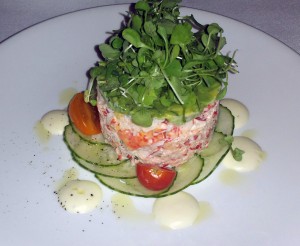 By Christopher Trela and Shelly Zavala | NB Indy
The Hyatt Regency Newport Beach Summer Concert Series started last Friday and runs through October 9 in the Hyatt's intimate amphitheater.
Singer-composer Bobby Caldwell ("What You Won't Do For Love") launched the series, with vocalist Morgan James opening the show.
We attended the concert, and dined at Bayside prior to the show so we could take the Bayside shuttle to and from the Hyatt.
"Dining first at Bayside makes a perfect evening with a free custom shuttle to take you to the concert," said Shelly. "What always makes Bayside such a fantastic treat is their live jazz music, creative cuisine, and a welcoming environment. This is a must for anyone going to the concert series."
We started with French fries (anyone who's had Bayside fries knows why—they're perfectly seasoned and addicting) followed by a refreshing compressed Maine lobster salad with lemon aioli, crushed avocado, and petit greens ($19).
We split an entrée: the grilled loin of venison ($36.75) with roasted and crushed garnet yam, red anjou pear, brussels sprouts,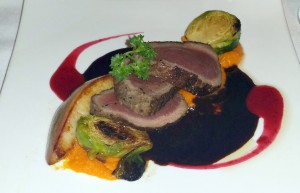 ginger cranberry coulis, and fall spice red wine reduction sauce.
"Wow!" exclaimed Christopher after one bite. "This is sensational, maybe the best venison I've had. Perfectly cooked, and the sauce is a great match with our Petite Sirah wine."
After dinner, we strolled outside where a custom SUV was waiting to take us to the concert. Five minutes later, we were at will call, picking up our tickets.
"Summer is a wonderful time to live in Newport," said Shelly. "Nothing better than sitting outside in the beautiful grounds while watching the sunset and listening to music."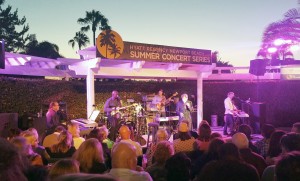 Opening act Morgan James was unknown to us, but just one song told us this was a new musical force to be reckoned with. This petite blond has a powerful and soulful voice that caused the appreciative audience to give her several standing ovations. Definitely one to watch—she'll be making a name for herself soon.
Bobby Caldwell performed at the Hyatt several years ago with an orchestra that barely fit on the amphitheater's stage.
This time around, he brought his dynamic six piece band, which proved to be plenty powerful.
Caldwell's set encompassed songs from his vast catalogue, including many of his smooth jazz hits, plus fun new material from his upcoming album.
Caldwell has a charming on-stage persona, and his band offered dynamic backing for Caldwell's smooth, expressive voice
brought the songs to life.
A remarkable aspect to the concert series is that there really are no bad seats in the Hyatt's amphitheater. Whether you're in the third row or a standup cocktail table in back, the sound (and the view) is perfect.
For more information on the concert series, visit series.hyattconcerts.com.
For info on Bayside, visit baysiderestaurant.com.