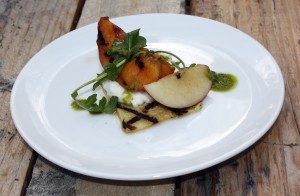 By Christopher Trela & Catherine Del Casale | NB Indy
FIFTY YEARS OF FIVE CROWNS
Five Crowns restaurant is celebrating its 50th birthday with a new menu and new events that are a decided departure from the norm, yet still blend in well with the restaurant's tradition of fine dining in a cozy and classy English cottage.
We were invited to a media tasting to sample some of the new dishes, and learn what the restaurant has in store for patrons this year.
Executive Chef Steve Kling talked about the new menu, and beverage program (which takes a nod from Five Crowns' adjacent sister restaurant and gastropub, Sidedoor), which adds an array of starters, main dishes and seafood options, yet retains classic Five Crowns dishes that have become part of the restaurant's legacy.
The media dinner was held in the Five Crowns garden, which offered a relaxing atmosphere.
We started with a watermelon gazpacho and lemon sorbet, paired with a Garden of Eden gimlet.
"The gimlet is a fresh, cooling drink with cucumber vodka, lavender honey syrup, and a touch of absinthe," noted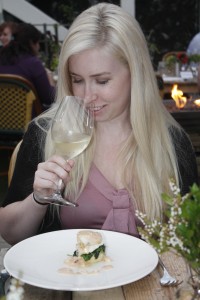 Catherine. "It was tart and refreshing. And I liked the watermelon gazpacho—it had a summery feel and wasn't too sweet."
This was followed by a stone fruit salad with grilled summer squash, accompanied by a glass of 2012 9.19 Deux Blancs.
"The salad had grilled peaches and raw nectarines that really refreshed your palate, along with the summer squash and burrata cheese," said Catherine.
Next came a Petrale sole "drunkard" style with crab, spinach, a puffed pastry and sauce Newburg, accompanied by 2013 Cade Sauvignon Blanc.
"This is a delicate yet decadent dish—the sauce is fabulous," said Christopher. "And the wine is a perfect pairing."
The final entrée was a duo of prime skirt steak and Cook Pigs Ranch pork ribeye, with 2012 Neyers Mourvedre from Rossi Ranch in Sonoma.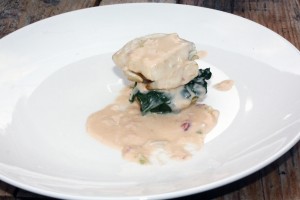 "Mourvèdre has a great acidic component that cuts through the heavier meats but is still light for a summer drink," said Catherine.
Dessert was summer plum pavlova with macerated plums and meringue, with a Mirabelle brut rose.
During dinner, we were treated to solo violin music as a preview if things to come this summer (more about this in a future column) and an overview of other changes taking place in the restaurant, including some remodeling.
Christopher's eyebrows raised when he learned that the Five Crowns wine by the glass program includes Screaming Eagle (also available as a two ounce pour), a coveted cult wine with strict allocations that Christopher said he's never seen on a by-the-glass wine list anywhere else.
We agreed that this dinner was a good indication of how the new menu will transform diner's old perception of Five Crowns, and that there are exciting things in store as the 50th anniversary celebration continues.
For more information, visit lawrysonline.com/five-crowns.
BAYSIDE FOR SCOTCH
What's the new beverage darling these days? Scotch whiskey.
According to Bayside Restaurant, Americans now drink more than twice the Scotch they did eight years ago, so it's no surprise that Bayside has introduced a Scotch whiskey program that features more than 70 selections including whiskeys produced in Japan, Canada, France and Ireland.
To introduce patrons to the program, Executive Chef Paul Gstrein created a five-course dinner with Scotch pairings that Christopher attended last week.
The dinner began with bruschetta topped with whiskey cheddar, tomato jam and smoked prosciutto, served with Deanston 12 year. Next was a Lock Etive steelhead trout with a maple soy glaze and potatoes, accompanied by a Bunnahabhain 12 year. Then came Christopher's favorite: honey-thyme roasted Muscovy duck breast with heirloom carrots served in an orange reduction with fennel dust served with Bunnahabhain 18 year.
He also liked the venison tagliata with forest mushroom cannelloni in a truffle essence Madaira sauce paired with Ledaig 10 year.
The dessert was something not normally on the menu, but should be: a chocolate ganache tart with salted caramel and torched mellows served with a Bunnahabhain Toiteach.
The dinner was a fun way to sample different Scotch whiskeys, and see how they go with certain foods, although slowly sipping a good Scotch is a meal in itself.
Bayside owner Marc Ghoukassian said he added the extensive list of Scotch whiskeys to his bar menu because many of his patrons are Scotch aficionados, and he himself loves Scotch. The list is indeed impressive, and includes many names not normally found on bar menus
For more information, visit baysiderestaurant.com.