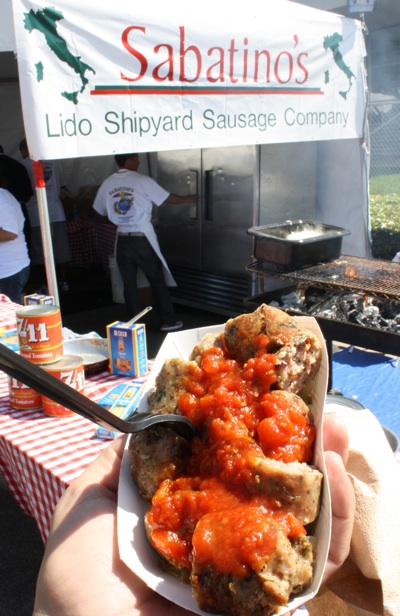 "Ready for another dining adventure of epic proportions?" I asked Catherine, my editorial assistant.
"How epic? Do I need to starve myself for a week to prepare?" she replied with a smile.
"Maybe. We're going to hit 30 restaurants in one night," I said slyly, waiting to see her reaction.
"Chris, we have trouble finishing our food at one restaurant, how are we going to do 30?" She paused, then added, "What's the catch?"
"It's time for Taste of Newport!" I announced. "Being a Newport newbie, you've not experienced what I think is probably the best 'taste' event of any city in OC. Nearly three dozen local restaurants and other food purveyors will be offering samples of their signature dishes, but there's also headline entertainment – including Blondie and Devo, two of my favorite 80s bands – plus a dozen wineries pouring their best varietals, and cooking demos by noted chefs. Basically, it's the place to see and be seen eating."
"That sounds amazing.Where is it, and when do we go?"
"It's at Fashion Island, Sept. 14 through 16, but the menus are all online, so I thought we'd go over them now and get a head start on making our dining decisions."
"I was right, this is amazing," said Catherine as we looked over the menus.
"You know I love desserts, so we must go to Casey's Cupcakes," I told her. "She's serving six different flavors, including the Smokin' Smores Cupcake."
"You can start with dessert, I'm heading to Pelican Hill's Coliseum Pool & Grill," stated Catherine. "After we dined there last month, I've been wanting to go back. The Risotto with Irvine Ranch Sweet Corn, Carrots and Mushrooms sounds really good."
"I see that most of their dishes include ingredients from Irvine Ranch," I noted. "Can't get much fresher than that."
"The Fit Foods 4 Life dishes all sound healthy, but a delicious healthy–especially the Chicken Risotto," said Catherine.
"Even the Kale and Quinoa Salad sounds good," I agreed. "But take a look at the Kitiyama menu: Lobster Hand Roll, Salmon Hand Roll, Tuna Hand Roll. Makes it easy to eat sushi while you walk to the next food booth."
"I've never heard of Le Pain Quotidien, but the menu looks great–Gazpacho, Chicken Curry Tartine…and they have four vegan dishes. I want to try the Chia Seed Muffin."
"I know you love Italian food, so you can take your pick from Mario's A Taste of Italy, Perry's Pizza, Soprano's Italian Eatery, and Pizzeria Mozza – that's Iron Chef Mario Batali's place," I told her. "And then there's Sabatino's Lido Shipyard Sausage Company. They serve the same things every year, but if they didn't do that, people like me would be disappointed. I love their Sausage Sandwich with Peppers, Onions and Marinara Sauce. You can always spot their booth–it's the one with plumes of smoke rising from their grills."
"Rockin Baja's Gnarly Nachos sound fun. So do the Lobster Burrito."
"Here's another one I'm not going to miss–the Palm Terrace Restaurant's famous Mac and Cheese with Orecchiette Pasta, Taleggio and Truffles. It may be the best Mac and Cheese I've ever had."
"That sounds fabulous," said Catherine. "So does the Ruby's Diner menu–it's all desserts! I want to try the White Chocolate Raspberry Shake."
"We should try and hit Port, they always make great Kabobs," I said. "And Royal Thai has their Pad Thai Noodles, they're fantastic."
"What's Tamarind of London?" asked Catherine. "I don't think we've been there."
"It's an Indian restaurant based in London that opened its first American location in Newport Beach. I see they're serving Mumbai Style Vegetarian Sloppy Joe, and Garlic Chili Chicken with Nan. Those sound tasty."
"You know, I'm getting hungry just reading these menus," said Catherine.
"Then let me make you hungrier–how about Spanish Paella from Tapas Restaurant, or Salmon Sliders from the Whole Foods Market that opens in Fashion Island this month?"
"Stop–we need to go to lunch. Immediately!" laughed Catherine.
"Tell you what–pick one of the Taste of Newport restaurants, and we'll go do a preview right now."
Tickets to Taste of Newport are $25 on site, $22 in advance. Tastes range from $1 to $7. For more information, visit tasteofnewport.com.