This is a story about a nutritionist, the White House and a once-in-a-lifetime trip that could encourage local school kids to eat more veggies.
It all started when Pam Williams, a nutritionist with the Newport-Mesa district, saw a contest posted on Facebook. Winners would meet the president's chef and learn about the first family's healthy eating habits. They'd also get a private tour of the White House Gardens, including the first lady's kitchen garden.
She quickly typed up her entry and clicked "submit." She figured she wouldn't get picked, and even said so in her entry.
"I thought thousands would apply," Pam Williams said. "I was surprised I won."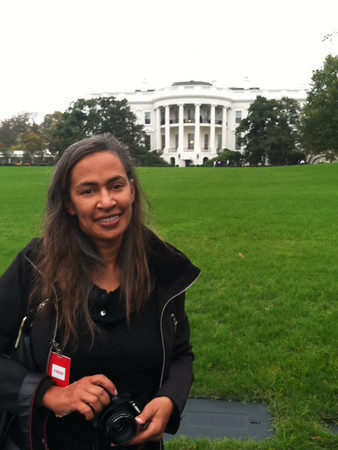 She told her husband, daughter, and coworkers—all were excited. She hopped on a plane and arrived at the White House at 7:30 a.m. Oct. 19, along with 49 other winners from across the nation.
"There were nutritionists like me, master gardeners, dieticians and people just really passionate about gardening," she said.
They toured the Jacqueline Kennedy Garden and the Rose Garden. They learned about all the vegetables, fruit trees and herbs growing in the kitchen garden, the first of its kind since Eleanor Roosevelt's Victory Garden. They got gardening pointers from the White House horticulturist and grounds superintendent. They found out that most of the first family's meals are prepared with seasonal garden vegetables and herbs grown onsite.
Williams saw a beehive that produces 170 lbs. of honey every year. White House chefs use the honey,  when possible, instead of sugar in recipes. Any extra honey, along with leftover produce, is donated to local homeless shelters.
As the group walked around the gardens, White House officials encouraged them to post messages on Facebook and tweet. Williams and her group were akin to healthy eating ambassadors, spreading a message of good nutrition through social media.
Later, the White House pastry chef told them President Barack Obama's favorite desserts are not so healthy: pecan pie and chocolate. The chef experimented once, combining the two into one super-rich dessert. The president asked that they to stick with the original recipes.
Williams even glimpsed the president as he walked to the Oval Office, but wasn't able to snap a shot.
"But I saw him at least," she said.
Now that she's back home, she plans to turn the experience into a tool in her healthy-eating arsenal.
Good nutrition is a message the Newport-Mesa School District continually hammers home. Students plant and tend vegetable gardens at several schools, including Newport Heights Elementary and Horace Ensign Intermediate School. Last month, they learned the importance of starting each day with a nutritious breakfast.
Williams herself works at the District as part of Network for a Healthy California, a Federally-funded nutrition program. She and her colleagues encourage students to skip, run, jump–anything active–and to eat more fruits and veggies. Their aim: to shrink childhood obesity rates, which now top 30 percent nationwide according to the Lakeshore Foundation.
Still, as a mother, Williams knows full well that kids don't always hear the message the first time. Or the second. Or the third.
Sometimes its takes a unique story to drive it home, she said. She plans to share her experience and pictures with students starting this month.
"I hope my story will inspire them," she said.
The White House gardens are open to the public in the spring and fall. Tours are free, but registration is required. For details, visit whitehouse.gov.
– By Nicole Shine