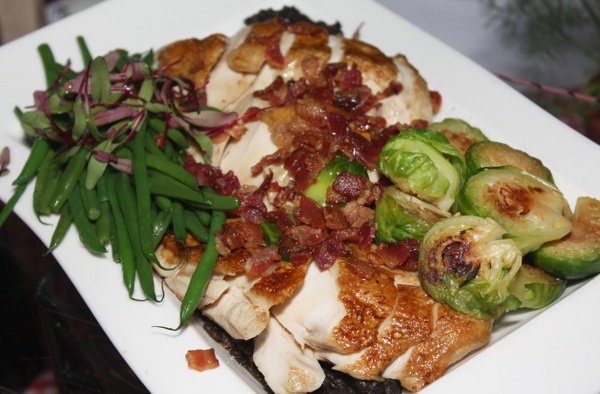 The honeybees you see in your backyard today may be spending the night at the Fairmont Hotel in Newport Beach.
Don't worry, hey're not checking into a room. Atop the Fairmont's roof are several large beehives where more than 300,000 local feral bees make 300 pounds of honey harvested by a company called Backyard Bees.
The honey is available at the Fairmont's bambu restaurant, and my assistant Catherine and I were invited to sample the honey at a recent media tasting of Fairmont Executive Chef Chad Blunston's fall menu.
We took an elevator to the top floor of the Fairmont, then were guided up a set of hidden stairs to a small room with a large window that looks out over the beehives, where we could see the coming and going of bees.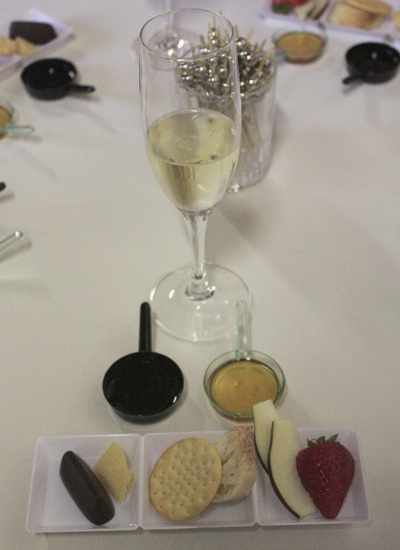 Several vintages of honey were presented (yes, the month the honey was made can make a difference, as the flowers the bees visit can affect the taste), along with dark chocolate, strawberries, and other items for dipping in the honey.
"This may be the best honey I've ever had," said Catherine after taking a bite of her honey-laden strawberry.
"I agree – the taste is different than most honeys I've encountered," I said with a mouth full of chocolate and honey. "I'd come to the Fairmont just to have the honey."
However, the Fairmont has much more to offer foodies.
First, before heading to dinner, we enjoyed two signature cocktails: a Lavender Lemon Drop (with muddled lavender and vodka), and a Peach Martini. Both cocktails are bursting with flavor and smooth as silk.
The dinner offered samples of so many different dishes that we felt like we had an excellent introduction to Chef Blunston's menu.
Our favorites: Pacific Crab Salad; Sweet Beet Carpaccio with Goat Cheese, Prosciutto and Figs; Sonoma Natural Lamb Loin with Heirloom Carrots and Asparagus, Bulgur Wheat, and Chipotle Apricot Glaze; Free Range Chicken Breast with Double Smoked Bacon Brussel Sprouts (we both had second helpings of the Brussel Sprouts); Temecula Olive Oil Poached Wild Salmon with Fava Beans, Blistered Baby Tomatoes, Cauliflower Puree, and Aged Sherry Glaze; and Slow Roasted Prime Ribeye with White Sweet Potato and Charmoula Sauce.
"Fairmont guests have certain expectations when they come here," explained Chef Blunston. "They're looking for an authentic experience, and we have some of the best things that California has to offer in the way of food. Guests are looking for light and healthy menu items, with no heavy creams or butter. I'm not one of those guys who designs a menu based on my likes. We listen to our guests–we conduct focus groups and get feedback on what they're looking for."
"Sounds like you're making your guests happy, but it's also perfect for locals who want to indulge in the Fairmont dining experience," I noted.
Lunch items at bambu are $9 to $23. Dinner is $9 to $46. For more information, call 949-476-2001, or visit Fairmont.com/Newport-Beach.   
***
I'd been hearing a lot about Greenleaf Gourmet Chopshop on 17th Street a block from Newport Boulevard, so I finally paid them a visit – for breakfast.
Greenleaf is known for its signature salads and wraps, offering a healthy dining experience using fresh, organic, locally-grown products. Chef/Owner Jonathan Rollo and Chef Ritchey (both formerly with Patina restaurant) opened the first Greenleaf in 2008 in Beverly Hills, and the OC location earlier this year.
Greenleaf has a marketplace, wine bar, indoor and outdoor dining, and an on-site chef's garden. And they've got a fabulous breakfast menu (in addition to separate lunch and dinner menus).
"Our most popular breakfast item is the Cheap and Easy," said Chef Rollo as he set an English muffin stuffed with eggs, bacon and aged cheddar cheese in front of me. "We can also make it with turkey bacon and egg whites."
He then handed me a second plate.
"This is the one I eat most often: the  breakfast burrito. We make an Explosion Salad that has a chipotle, roasted corn, and black bean salsa. I wanted to get that into a burrito, so I added chicken, egg whites, and avocado pesto."
"No wonder you eat this a lot–it's very tasty, and very filling," I said between bites.
"I also thought you'd like to try our Breakfast Pizza–it has a whole grain crust with roasted potatoes, truffled mushrooms, pecorino, baby arugula, and a sunny side up egg."
"Breakfast poses a unique challenge, because people are completely individual in the morning–they go to the same place, they eat the same thing," added Chef Rollo. "That's why we have very traditional breakfast items on the menu, but customers can substitute items as needed. We even have omelet versions of our most popular salads."
"Chef, these are all great–you've made breakfast not only healthy, but fun."
Greenleaf is open for breakfast, lunch and dinner daily. Items range from $4 to $20. Visit www.greenleafchopshop.com or call 94- 200-3950.