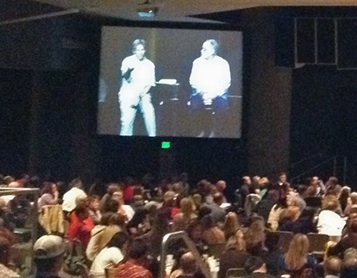 "It is difficult to say what is impossible, for the dream of yesterday is the hope of today and the reality of tomorrow." Robert H. Goddard
What is your dream? Could God use your experiences and your passions to help change the world? What is holding you back?
More than 650 people attended an interactive evening called "Discover Your Dream" at Mariners Church recently to learn answers to those questions and others, as they were encouraged and inspired to explore who God created them to be.
"God has a dream for you," Kenton Beshore, pastor of Mariners Church said to the packed audience. "God is the great dreamer and we are created in His image. God has coded into your DNA good dreams for you. God is at work in the world; He is renewing, He is rebuilding, and He is saving people. God has dreams for you, to prosper you, to give you hope and to give you a future. He wants to tell you His good plans for you and He wants to go on this adventure together. God spoke to people in the Old Testament, and He still speaks today."
Kenton explained that God speaks through His Word, through the Holy Spirit and through godly counsel, and emphasized the need to slow down the speed of life to hear Him better. He also reminded the audience that learning comes from failing, and that no dreams happen in simple, straight lines.
"That's the beauty of grace, there's always a next time." Kenton said. "The most often repeated command in the Bible is 'fear not.' So, don't be afraid to try new things."
Kenton then introduced his friend Bob Goff, someone he regards as a man of big dreams.
Bob shares leadership in a Washington law firm and can practice in California and Washington. He is an adjunct professor at Pepperdine Law School where he teaches nonprofit law, as well as Point Loma University, where he teaches business law. He is the founder of Restore International, a nonprofit organization that addresses the atrocities committed against children.
Bob has a passion to restore justice to children and the poorest of the poor; he is also passionate about helping people pursue their God-given dreams.
"God is saying to us, live your dreams, stop being afraid, don't miss out on all the good things from Jesus by being hung up on all the bad things you've done. Be forgiven. Live who God created you to be. The God of the universe says, 'You're the one!' Do something different, be creative. Don't be afraid to fail."
When the audience was instructed to break into pairs at their round tables for some time to share dreams, the room ignited with ideas.
During the Q&A session, Kenton and Bob stressed the importance of being connected to wise people and asking them to tell you the truth about you and your ideas, but to have fun people in your life, too.
"There is a place for strategic whimsy," Bob said. "But keep your day job while you are trying new things. You need to be able to afford your imagination. If you're in debt, you're in jail and your dream is stolen."
Near the close of the evening, three people shared their journeys pursuing their dreams.
Three years ago someone challenged Chris to start a medical and dental ministry, which surprised him because he is neither a doctor nor a dentist. After friends encouraged him, he spoke with others who had started medical ministries. His ministry now has more than 500 volunteers and they've held clinics in Haiti, Uganda, Mexico and Orange County, including a recent one where they cared for 2,000 patients in Garden Grove.
Jenny's background is in dance and musical theater and she had a dream to have a production company for at-risk kids that performed dances that are socially relevant. After sharing her dream with others, one man offered a community center as well as having the connection to at-risk kids. He said, "Let's make it happen," and they are.
The third to share was Laura whose idea was to write a book about a boy who survived human trafficking. She recently returned from Uganda and is exploring her next steps.
Participants left with journals and an evening's worth of inspiration and encouragement to keep exploring their ideas about using their passions and dreams to positively influence culture.
"What do you wish you could change, and how might you change it?" Kenton asked. "Can you imagine what God could do? We're a church who wants to walk alongside you and your dreams."
For further information, email Matt Olthoff [email protected], or go to www.marinerschurch.org. Cindy can be reached at [email protected].