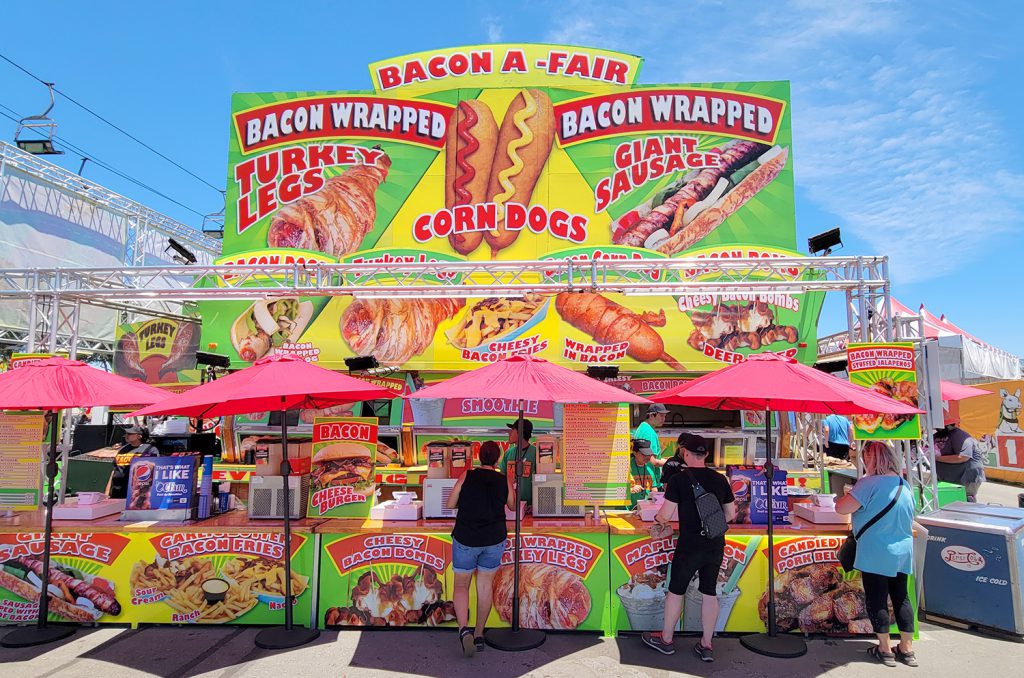 Deep fried Twinkies. Bacon wrapped turkey legs. Triple decker cheeseburgers with Krispy Kreme donuts as buns.
Yes, the Orange County Fair is back, along with the requisite crazy food items found only at the fair.
There are more than 100 food purveyors at the OC Fair this year, serving everything from relatively healthy items to ridiculous concoctions invented to challenge even the most adventurous palates.
But buyer beware: this is also a year of sticker shock. Inflation has hit the fair. You don't expect to find reasonable prices when you're at the fair, but even seasoned fairgoers like me will wince when forking over a credit card to get an $8 grilled ear of corn (the same corn I bought for 50 cents to grill at home on the Fourth of July) or a $30 bacon-wrapped turkey leg.
After perusing a list of new food items being offered at the OC Fair, I went on opening day ready to tackle unique dishes.
My first stop was to Tasty Burgers, a companion to the ever-popular Tasti Chips, which I have enjoyed for many years. They were offering an OC Fair exclusive: Nacho Average Cheeseburger Fries, which sounded plenty decadent. At least, for $18.75, I had high expectations to go along with the high price.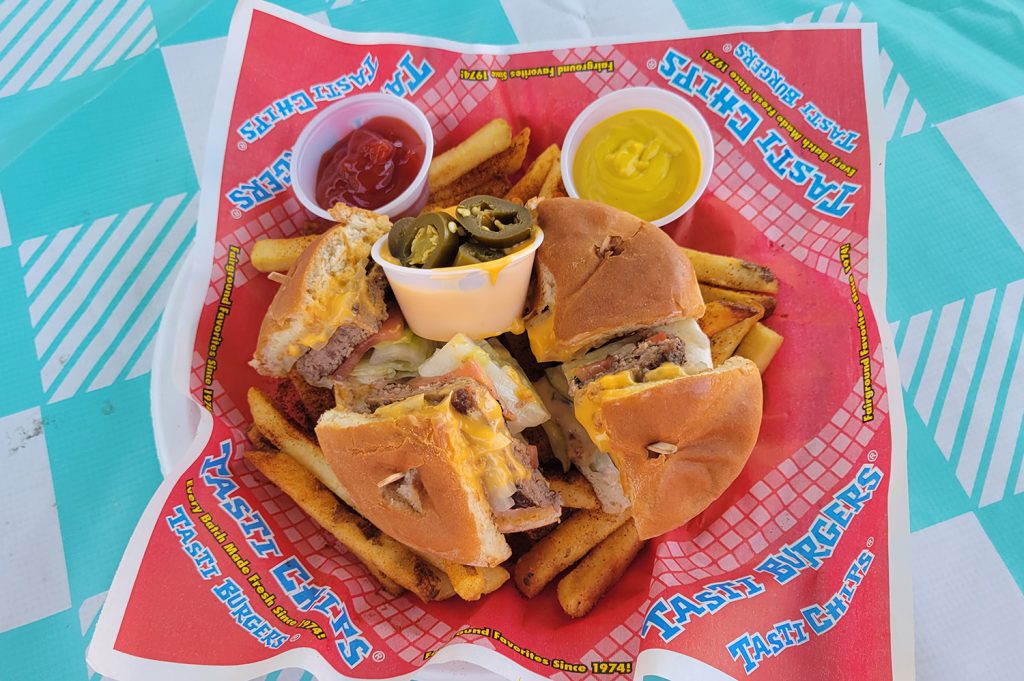 What I got was a cheeseburger cut into four pieces with a plastic cup of melted cheese sauce in the middle, atop a bed of French fries. Not what I expected, but let's go with it.
The burger was ok, not bland but not on my top 10 list. Not sure what I was supposed to do with the cheese sauce. The fries, however, were sensational—among the best I've had. They were seasoned and cooked perfectly: crispy on the outside, soft inside. I happily ate every one. Tip: skip the pricy gimmicky dish and order the fries separately.
Next stop was the always reliable Bacon-A-Fair stand, where everything is coated with – you guessed it – bacon. Their OC Fair exclusives are Candied Bacon-Wrapped Pork Belly Bites and a Maple Bacon Smoothie. I intended to get both items, but after spending $12 to park and $9 to get into the fair, and $18.75 for the nacho burger dish, I was reluctant to spend $16 for the pork belly bites and another $16 for the smoothie.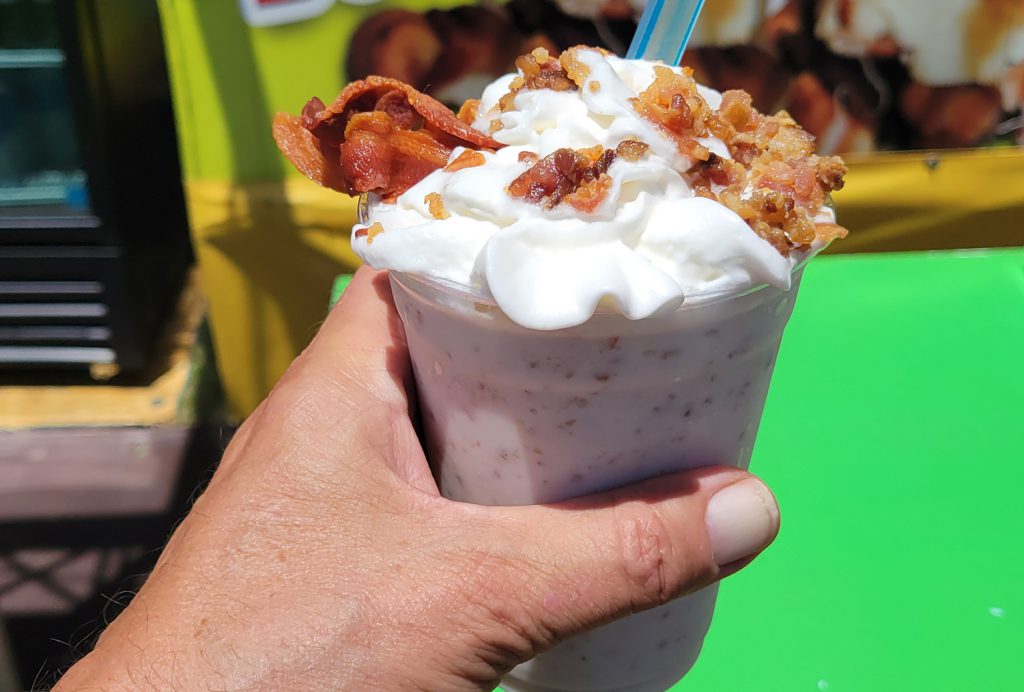 I opted for the smoothie, which had a nice maple flavor and bacon bits swirled throughout the smoothie with several bacon pieces on top. It hit the spot—and my wallet.
Total spent: $56.
Sure, I perused the fair exhibition buildings and marveled at the table setting competition (yes, they give ribbons for that sort of thing), but food-wise I would have been just as happy with In-N-Out for a fraction of the cost.
The real foodie deal is every Thursday when all 100+ food booths participate in Taste of the Fair, with small taste portions offered for $4 each between 11 a.m. and 4 p.m.
I returned on Thursday with a goal of spending $20 on five tastes.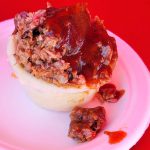 First up was the Chuckwagon stand serving 3 oz. BBQ Pork Sundaes for $4. The sundae came in a small plastic cup, with a heap of pork atop a bed of mashed potatoes. Tasty and certainly worth $4.
Next was the always reliable Chicken Charlie, known for deep frying almost anything. I chose the deep-fried bacon wrapped pickle, a fun $4 treat. I went back and had the $4 fried avocado, also a fun snack well worth the fee.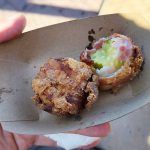 Next was Tasti Chips and their $4 sample size of Tasti Chips with Locas Topping. For some reason my order did not get placed, and after watching others who ordered after me get their meals first, I asked where my order was and after an apology got my taste. The chips were as good as ever, but the spicy topping seemed unnecessary. Next time I'd ask them to leave the topping off and give me the naked chips.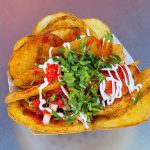 Finally, my fifth and final stop was back at Bacon-A-Fair and their $4 taste of a bacon bomb. What I got was a small "bomb" of a cheeseball wrapped in bacon and fried, atop a small mound of average fries. Their menu showed a four-piece bacon bomb priced at $11, so the $4 morsel I was served did indeed bomb.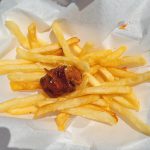 The OC Fair has a list of what each food stand is serving for Taste of the Fair on Thursdays: https://ocfair.com/oc-fair/things-to-do/taste-of-fair-food-menus.
For information on OC Fair tickets, visit https://ocfair.com/oc-fair. The Fair runs through August 13.